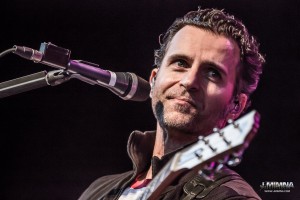 Dweezil Zappa returned to the Front Range last week to pay tribute to his father's monumental legacy.  The Arvada Center played host to the event and this was my first time attending a show at the beautiful venue. The crowd was fairly sparse, and with Dweezil performing Frank Zappa's epic catalog the audience has certain expectations in the music, and meeting those requirements is paramount to delivering a satisfying show.  While I salute his artistic attempts to make these songs his own to some degree, the Frank fan in me was not happy in the end. Nostalgia is a double edged sword, it can slay the enemy or cut you to death and not doing the songs in a way the audience can relate to is a dangerous thing.
As a side note, I found it ironic that, given all of Dweezil and the Zappa family's battles over rights to their dad's music, Dweezil forced all photographers who were covering the show to sign away all rights to any photos taken at the show and I found that simply unethical and particularly unpleasant given his longstanding family battle over a very similar issue.
Capturing life in various forms is what I do. I consider myself an archivist by nature. It is not a career choice that I consciously made, but it is something that has called me. I strive to freeze a moment in time with every frame, a moment that can retell its story with each viewing, forever. I also have a deep passion for music and have been photographing and recording live music for years. Capturing the energy and magic of a live performance in a photograph is one of my passions. In addition, I enjoy photographing in a wide variety of settings, from wildlife scenes to family portraits and everything in between. I am a lover of the earthscapes that we see all around us every day, both natural and manmade, and aim to make unique images that do justice to their beauty. Where others see darkness, I see streaks of light through long exposures. I shoot a very wide variety of subject matter including individual/family portraits, event coverage, landscapes, live concert/performance, HDR, product and commercial photography, architectural, weddings, food, and editorial photo journalism. With artistic expression, I aspire to create visual art that speaks volumes.