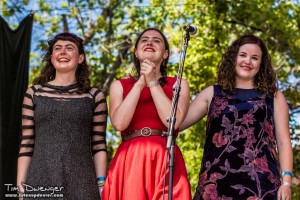 Photos by Tim Dwenger
After attending 11 out of the last 12 Folks Festivals (with the "Soaks Fest" in 2008 being the only one I've missed since 2005) this weekend is always circled on our calendar as soon as the dates are released.  It is simply one of the most magical experiences for our family as we reconnect with old friends, make new ones, mark the growth of our daughter by the milestones she achieves (like tubing from back stage to the beach by herself this year for the first time), and realize that while we aren't as young as we once were, there are a lot of folks out there festivating just as hard, or harder, who are well into their 70's.  Sure this festival is about music, but more than that it's about the community that surrounds the music as performers stand in line alongside fans for a bowl of Sister's Dumplings, hard fought for tarp dash numbers are graciously given away to unsuspecting families, and strangers look out for each other on the slippery river rocks.  For three days each August the real world melts away as we join the rest of the Folks on Planet Bluegrass.
Aside from near perfect weather, this year's edition of the Summit of Song had countless highlights, both expected (Gregory Alan Isakov & Elephant Revival) and unexpected (The Mae Trio & Ramy Essam), so let's take this one day at a time.
Friday kicked off by looking into the future with the annual Songwriter Showcase competition and we'd like wish congratulations to Heather Mae of Washington DC on her win and look forward to catching her next Summer when she joins us from the main stage for a full set!  The rest of the day featured some very familiar names to Folks Fest regulars, but it was Scottish songwriter Rachel Sermanni who pulled me from the river to the poser pit so I could really focus on her set.  With a mesmerizing voice (lightly touched by her brogue) and dry wit, Sermanni won over a legion of new fans with tunes like her own "Ferryman" and Johnny Cash's "A Thing Called Love."  She's bound to be back to Lyons as she is clearly a standout among the young talent at the festival.
After an energetic solo set from festival favorite Peter Himmelman, and the inspiring return of Deb Talan & Steve Tannen aka The Weepies, the stage was set for Rhiannon Giddens.  While I've seen Giddens perform with the Carolina Chocolate Drops a couple of times, I wasn't prepared for the mind blowing set she would deliver at Folks Fest.  With a seven piece band, Giddens put on a masterclass in performance as she serenaded the crowd with gems from her latest release Freedom Highway, alongside a goose-bump inducing of Aretha's "Do Right Woman, Do Right Man."  While her set was heavily colored by R&B, it also featured a rap interlude by her nephew that both surprised and impressed and a full on Gospel rave-up of Pops Staples "Freedom Highway" that saw the entire crowd getting into it.  Giddens closed her set with a song by the legendary Sister Rosetta Tharpe and I couldn't help but wonder if Giddens herself will go down in American folk history as legend in her own right.  She's certainly on the way.
Local favorite Gregory Alan Isakov got the nod to headline night one of the festival this year and quickly showed my skeptical side that he deserved the spot as he delivered a dynamic set of music that relied as much on a big, full band sound, as it did his minimalist vocals.  "Amsterdam" and "Big Black Car" were early highlights of the set but when Bonnie Paine of Elephant Revival emerged for a take on "If I Go, I'm Goin'" her ethereal voice seemed to haunt the night air.  Isakov and his band delivered a take on "Idaho" before huddling around a single mic huddle for "St. Valentine".  With the single mic still center stage, Isakov invited his friends in Mandolin Orange to the stage for another collaboration.  It was a fantastic set expertly laced with guests, that me into a fan.
Saturday dawned beautiful and after a champagne brunch with friends we high tailed to the stage to catch Australia's Mae Trio and boy were we rewarded.  The young threesome had the crowd eating from the palms of their hands as they bathed us delicate and flowing harmonies.  As the set progressed they delivered several songs from their new record Take Care Take Cover including "Parallel Park" and the beautiful planes, trains and automobile tale of "Skye."  Their enthusiasm was contagious and it was clear that the experience at Planet Bluegrass was truly memorable for them.
I must admit I retreated to the river during Ben Sollee's set to play with my daughter and get her tubing on her own, but was right back in front of the stage to hear Mandolin Orange deliver one of the stand-out performances of the weekend for me.  After opening with one of my favorite tracks from their 2016 release Blindfaller, "Hey Stranger," the quartet wow'd me with brilliant songs like "Wrecking Ball," "Jump Mountain Blues," and another one of my absolute favorites "Wildfire."  While I went into the weekend with high expectations for this set, Andrew Martin, Emily Frantz and the rest of the band exceeded my expecations and I can't wait for their November 2nd show at The Ogden.
After the exquisite beauty that was Mandolin Orange, Loudon Wainwright III managed to piss off a lot of parents of younger children by saying "that's right kids, you gotta learn to tell your parents to fuck off, that's right fuck off!" – immediately after acknowledging that this is one of the most family friendly places he had ever been.  While he spun some yarn about being high on painkillers from back surgery (and was maybe leaning on that as an excuse), as far as I'm concerned he took things a little too far for such a family friendly event.  I have some friends who loved his set, and it was cool to hear "Daughter in the Water" as I waded in the St. Vrain with my daughter, but in the end his colorful banter was a little much.
Elephant Revival had the coveted twilight slot this year and their ethereal folk sounds were a perfect way to send out the sun.  They wasted no time exposing the crowd to their recent album Petals by delivering "Hello YooHoo" and "Home in Your Heart" right off the bat.  It wasn't long before they welcomed Phoebe Hunt and Josh Ritter to the stage for the touching "Grace of a Woman."  To my delight Ritter stayed around after the song was over and picked up a guitar.  As he uttered the opening lines to "Girl In The War" I took a deep breath and sat back to enjoy what is probably my favorite song of his.  And, with the added instrumentation of the Elephants, it was nothing short of a magical treat for me since I knew I wouldn't be able to stay through his set on Sunday.  A little later on a very familiar bassline reverberated off the cliff as the band dove into Pink Floyd's "Have A Cigar."  It was a unique interpretation of the classic rock masterpiece but they did it justice in their own way.  The set closed out with a mass sing-a-long to "Rogue River" that wove in the chorus from "Motherless Children" as Ben Sollee, members of Mandolin Orange, and Josh Ritter all returned to the stage.
The Revivalists closed out Saturday night and unfortunately I really just didn't find this to be a good fit with Folks Fest.  Sure they injected some energy into the festival, but their relatively generic approach to rock just didn't have the sincerity and gravity that I've come to expect from the performers at this festival.  That said, they were probably the most fun band of the festival to shoot given frontman David Shaw's powerful stage presence.  I hung around for a little bit and caught their double encore of "Wish I Knew You" and "A Little Help From My Friends" from the deck of the house we were staying in.
Sunday brought with it the realization that the weekend was near it's end and the real world would soon be creeping back in.  We packed up and headed down to the festival catch two fantastic performances before we hit the road.  First up with the emotionally powerful Ramy Essam who was known as the bard of the Egyptian Revolution and penned the powerful "Irhal" which urged president Hosni Mubarak to resign and was referred to as the anthem of the revolution.  While many of his songs were in his native language, he did perform a version of John Lennon's "I Dont' Wanna Be a Soldier Mama" that rang true with many in Lyons.
Finally, we were treated to a performance from Fort Collins band Shel whose passionate and quirky stage presence was riveting as they rand through rock and bluegrass tinged folks songs from their two albums Just Crazy Enough (2016) and their 2012 eponymous debut.  As we were getting ready to head out and bid the planet goodbye for a year, the band turned our heads with an innovative cover of Led Zeppelin's "Battle of Evermore" that cemented their place in my memories of the weekend.
Music has always been a part of my life. It probably all started listening to old Grateful Dead, Peter Paul & Mary, and Simon & Garfunkel records that my parents had, but it wasn't long before they were taking me to concerts like Starship, Crosby, Stills & Nash, and Huey Lewis & The News. I got the bug to write about music after reviewing an Eric Clapton concert for a creative writing project in high school but didn't really take it up seriously until 2002. Since then I have published countless articles in The Marquee Magazine and done some work for Jambase.com, SPIN Magazine, and various other outlets. I started Listen Up Denver! as a way to share the music information that is constantly spilling out of my head with people who care. Please enjoy!