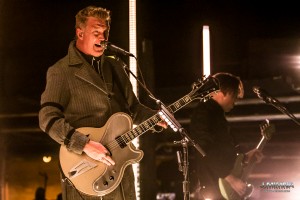 Photos by Jim Mimna
Queens Of The Stone Age brought their Villains Tour to Red Rocks Tuesday night to a sold-out audience.  This late in the season, Red Rocks can be an unpredictable host, but that didn't stop loyal fans from packing the joint and letting it all hang out in cold mountain air.  Like most of the fans in attendance, this was my last show at the church of music for the season, a bittersweet end.  This show, like the many I covered there over the years, was special for me for two reasons: 1st because music is the universal language.  After all, every heart has a beat. The 2nd is the magic of Red Rocks itself that elevates every concert it hosts to the next level.  Both are equally powerful, transcending language and culture to sooth the soul and nurture the spirit….two things that are needed now more than ever in these chaotic times.
For now enjoy the photos, I will see you next year!
Queens of the Stone Age – Red Rocks – October 10th, 2017
Feet Don't Fail Me, First It Giveth, Avon, The Evil Has Landed, My God Is the Sun, Smooth Sailing, Domesticated Animals, The Way You Used to Do, Leg of Lamb, I Appear Missing, Villains of Circumstance, Little Sister, Un-Reborn Again, If I Had a Tail, Make It Wit Chu, I Sat by the Ocean, Sick, Sick, Sick, Go With the Flow, No One Knows
Encore: Head Like a Haunted House, A Song for the Dead
Capturing life in various forms is what I do. I consider myself an archivist by nature. It is not a career choice that I consciously made, but it is something that has called me. I strive to freeze a moment in time with every frame, a moment that can retell its story with each viewing, forever. I also have a deep passion for music and have been photographing and recording live music for years. Capturing the energy and magic of a live performance in a photograph is one of my passions. In addition, I enjoy photographing in a wide variety of settings, from wildlife scenes to family portraits and everything in between. I am a lover of the earthscapes that we see all around us every day, both natural and manmade, and aim to make unique images that do justice to their beauty. Where others see darkness, I see streaks of light through long exposures. I shoot a very wide variety of subject matter including individual/family portraits, event coverage, landscapes, live concert/performance, HDR, product and commercial photography, architectural, weddings, food, and editorial photo journalism. With artistic expression, I aspire to create visual art that speaks volumes.