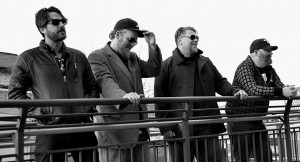 "When we first got back together two years ago, we didn't know what we were going to do," said Matthew McDonald, Perpetual Groove keyboardist, during a recent interview with Listen Up Denver! McDonald and the rest of the quartet are currently en route to Colorado for their upcoming two-night run on Friday at The Black Sheep in Colorado Springs, followed by their return to Cervantes Masterpiece Ballroom in Denver on Saturday.
After wrapping the current tour, which culminates with a two-night New Year's Eve stint in Charleston, the gang heads in to the studio to produce their first full-length album since reuniting in 2015. On the heels of 2016's four-song Familiar Stare EP, which introduced the first batch of new tracks since 2007, the new effort will be accompanied by a fresh game plan. "It's great that we have fans that come out to hear our old songs, but we are of the mindset that we want to make the best album yet, and we want people to come out to hear our new songs," said McDonald. In an effort to raise the funds to make the "best album yet," the band launched a whimsical Kickstarter campaign, a parody of legendary painter Bob Ross, with guitarist Brock Butler helming the effort. "We wanted to keep it funny, and not too heavy," McDonald said of "The Joy of Recording with Brock Ross." The band raised a total of $28,376, thanks to donations from 239 backers.
McDonald, Butler, Adam Perry (bass) and Albert Suttle (drums) will officially hit the studio in January to create their first-ever vinyl record under the production of Jason Kingsland. The decorated producer has worked with Band of Horses, Cut Copy, Belle and Sebastian, Iron and Wine, Washed Out and dozens of other artists, and the band has high hopes that Kingsland will remove the "democratic process" they've previously suffered from. "He will work much more actively with arrangements than we've let a lot of producers in the past; we're surrendering a lot of our creative process to him," McDonald noted. The band has already met with Kingsland in the studio to blueprint some structure. "We will play as much as possible as a band [as opposed to one instrument at a time], and we are going to have no rules regarding what to play and how to play it," McDonald said. "Jason will have the bird's-eye view to see and hear what we can't. We have to be completely willing to let go of our preconceived ideas." The foursome plans to utilize Kingsland's clean and minimalist techniques to influence less use of space in the studio, which will assist in leaving out elements that might have otherwise taken up room on prior releases.
The band's current live style embodies intent and aggressiveness, two components McDonald hopes to translate onto the studio recordings. "These things have never been captured on an album in the past," he said. And, under Kingsland's leadership, those qualities can be both showcased and preserved. "It's going to keep your head nodding the whole time, like a real perpetual groove, still with sentimentality from Brock, but with more of a pulse than albums past."
Before the band is due back in the studio, the boys are out to have some fun with a view in Colorado. "We actually scored a B&B in Hudson, and we're going to grill out, play football and poker, and enjoy the weather," McDonald shared. Ditching the typical hotel-hop, McDonald couldn't be more thrilled to have some time on the ranch. "We've already made our dispensary stop, so we're good," he said, laughing. "I'd say it's pretty medicinal for the band these days. That's about all we do – and maybe a little wine with dinner for me. It's healthy for us, considering our past recreational activities."
Don't miss two chances to see Perpetual Groove live this weekend in Colorado Springs and Denver as they get ready to retreat to the studio in early 2018.
Friday, November 10
Perpetual Groove with Charlie Milo & Mad Wallace
The Black Sheep
Doors at 7:00
Tickets: $18 to $20
PURCHASE TICKETS
Saturday, November 11
Perpetual Groove with Skydyed and MONTU 
Cervantes Masterpiece Ballroom
Doors at 8:00 – Show at 9:00
Tickets: $20 to $25
PURCHASE TICKETS

Tracy Block refers to herself as a 'Melodysiac' at heart, and like many show-goers in Colorado, looks to live music for its therapeutic release. With a decade of music and festival coverage under her blinged-out belt, Block relocated from Miami in 2015, and doesn't think she'll ever stop chasing the thrill of the boogie.