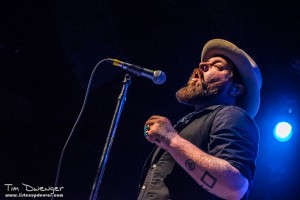 Photos by Tim Dwenger
The Scene: The line wound well down Colfax long before doors opened on Friday and while it was unseasonably warm, guys were warming up their ladies, and winter finery abounded as we waited patiently for the doors of The Ogden to open.  Once the initial rush into the theater subsided, the room filled up slowly over the course of the eight o'clock hour until it was pretty much packed with a wide variety of music fans.  From 20-something hipsters, to gray bearded veterans of the scene, it was clear that Nathaniel Rateliff's popularity in Denver doesn't follow any strict demographic lines and that he delights listeners from all walks of life.
Opener: Flaural. It's not often you find a hard driving Psych band paired with and old-school Soul and R&B band, but that's exactly what happened on Friday night when the local boys in Flaural took the stage before The Night Sweats.  Delivering a set that seemed to confuse some of the crowd, Flaural proved why they are being heralded as one of Denver's best Psych bands as they won me over with their densely layered sound.
Nathaniel Rateliff & The Night Sweats:  At about 9:15, The Night Sweats took the stage and broke into a slow boiling Soul jam that gradually built until Mr. Rateliff himself emerged from the wings and danced his way to center stage with all the flair of a true 60's R&B showman.  As Rateliff belted out "Look It Here" the crowd hung on his every word and sang them right back at him, but it wasn't until "Howling At Nothing" that the room really felt electric.
A little later in the set Rateliff picked up an acoustic guitar for a relatively new tune that was listed as "Hey Mama" on the on-stage setlist.  The tune bears obvious influences from The Band and Bob Dylan and instantly wormed it's way into my ear with it's incredibly hooky bridge that focused on the wonderful juxtaposition "you picked a bad time to listen to me."  The song showed off Rateliff's songwriting prowess and really got me excited for the new album.  The boys kept things at a slow simmer for a little while with a riveting version of "Wasting Time" that truly floored me as it picked up on some of the psychedelic influences floated by Flaural earlier in the evening.
After Rateliff took a quick break backstage, and the band jammed on Vince Guaraldi's "Linus and Lucy" from the beloved Charlie Brown Christmas special, things got heated again with "I Need Never Get Old" and the energy level in the building hit full-on frenzy mode!  Capitalizing on the intimate feel of the room, Rateliff took a beer from a fan in the front row, had a hearty swig, and then handed the beer back while joking about the sores in his mouth and saying something about Athlete's Foot.
As the set would down, the band delivered a sultry take on "Shake" that devolved into a beautifully dissonant jam before they moved on to "Out On The Weekend", the debut of another new tune called "You Worry Me," and finally the iconic "S.O.B." which featured a blistering take on The Band's "The Shape I'm In" sandwiched in the middle.  After a quick encore break, the band reappeared for "Trying So Hard Not To Know," pushed some of their gear over on stage in classic The Who fashion, and then bid us all goodnight.  What a treat it was to see this powerful band on their home court in the heart of Denver where they have played so many times before.
Energy: A
Musicianship: A
Sound: A
Stage Presence: A+
Set/Light Show: B
Overall: A
Music has always been a part of my life. It probably all started listening to old Grateful Dead, Peter Paul & Mary, and Simon & Garfunkel records that my parents had, but it wasn't long before they were taking me to concerts like Starship, Crosby, Stills & Nash, and Huey Lewis & The News. I got the bug to write about music after reviewing an Eric Clapton concert for a creative writing project in high school but didn't really take it up seriously until 2002. Since then I have published countless articles in The Marquee Magazine and done some work for Jambase.com, SPIN Magazine, and various other outlets. I started Listen Up Denver! as a way to share the music information that is constantly spilling out of my head with people who care. Please enjoy!