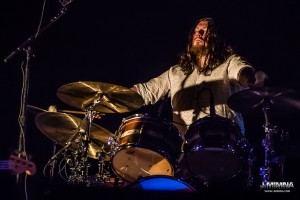 Photos by Jim Mimna
My Morning Jacket returned to the 1stBank Center in Broomfield for night two of their three night New Year's run and upped the energy level a bit from the deep cuts and mellow vibe of night one.  Opening with "Circuital" and "Off The Record," the band gave a foreshadowing of what was to come on New Year's Eve.  The show was highlighted by originals like "The Way That He Sings," "Wonderful (The Way I Feel)," and "I'm Amazed" alongside a pair of glorious covers in Simon & Garfunkle's "America" and Prince's "Purple Rain."  The encore wrapped with a monster "Mahgeetah" that left fans wanting more.
My Morning Jacket – December 30th – 1stBank Center, Broomfield, CO
Circuital, Off the Record, The Dark, The Way That He Sings, First Light, Picture of You, Wonderful (The Way I Feel), Only Memories Remain, Master Plan, Easy Morning Rebel, America, Steam Engine, The First Time, In Its Infancy (The Waterfall), Run Thru, I'm Amazed, Purple Rain
Encore: State of the Art (A.E.I.O.U.), Mercy Mercy Me, Like a Rolling Stone, Mahgeetah
Capturing life in various forms is what I do. I consider myself an archivist by nature. It is not a career choice that I consciously made, but it is something that has called me. I strive to freeze a moment in time with every frame, a moment that can retell its story with each viewing, forever. I also have a deep passion for music and have been photographing and recording live music for years. Capturing the energy and magic of a live performance in a photograph is one of my passions. In addition, I enjoy photographing in a wide variety of settings, from wildlife scenes to family portraits and everything in between. I am a lover of the earthscapes that we see all around us every day, both natural and manmade, and aim to make unique images that do justice to their beauty. Where others see darkness, I see streaks of light through long exposures. I shoot a very wide variety of subject matter including individual/family portraits, event coverage, landscapes, live concert/performance, HDR, product and commercial photography, architectural, weddings, food, and editorial photo journalism. With artistic expression, I aspire to create visual art that speaks volumes.