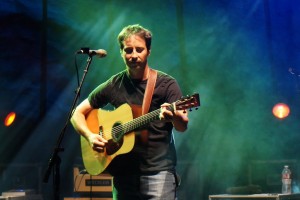 All Photos By Nicholas Stock
The Scene: Saturday August 20th at Red Rocks Amphitheatre marked the return of Colorado favorites Yonder Mountain String Band to the famed Front Range concert venue. Yonder was joined by bluegrass traditionalists The Infamous Stringdusters and East Coast Americana New Grass masters, Railroad Earth. For many people in this area, Yonder's annual throwdown at Red Rocks is a highlight of their summer, chock full of fast picking and solid vibes.
The show had sold-out the night before much to the dismay of many locals who never figured in a million years that this would happen. I mainly place blame/credit on Railroad Earth for the feat. Within the first 5 minutes of arrival on the Red Rocks compound I counted at least 7 young fingers in the air indicating poor planning and also assuring that it was going to be next to impossible to find a ticket while scouring the parking lots.
The parking lots filled up quickly and to my surprise the scene was awfully similar to the party that takes place before electronic shows in this area. I had never seen so many young people with fingers in the air at a Yonder show before. Honestly, I was surprised by this and very disgusted by the fact that the only tickets for sale in the parking lots were going for upwards of one hundred dollars. I really wanted no part in these shenanigans so I quickly headed to the stairs leading up to the venue. Once inside I noticed a nice contrast of young and old. Infants perched on shoulders, young hippie chicks in flowing dresses, and older couples sitting quietly in their reserved seats as the venue slowly filled to capacity.
Infamous Stringdusters: Clean and precise in their picking, the Infamous Stringdusters started the night off on exactly the right foot bringing to the table a complex blend of old and new grass.  They played huddled around each other as traditional bluegrass bands do. Their faces were smiling the whole time and their sound perfectly reflected the energy emanating from the stage. They were fine pickers capable of fast paced boot stomping melodies. Each member taking turns to showcase their talent without delay. They ended their set with a peaceful acapella number which paved a perfect path for Railroad Earth to follow.
Railroad Earth: New Jersey natives Railroad Earth have been making huge waves and blowing minds on the Newgrass/Americana scene for nearly 10 years now. This was to be my first experience with their East Coast take on traditional sounds and I realized early on that most of the people in attendance were there simply for them. These fellas were beyond talented musicians and made a fan out of me by the end of their heartfelt set.
I was lucky enough to stand next to a couple of guys who rode here on Harleys all the way from Jersey and it turns out one of them grew up with and have been seeing them play since their inception. I couldn't quite get any funky dance moves out of these stoic creatures, but it was clearly visible on their faces that they were filled with nostalgia and proud to see their band on stage at Red Rocks in front of a sold-out crowd.
Railroad Earth started the set slow with "Smiling like a Buddha" into "The Jupiter and the 119." I had never seen a bluegrass band with a flute before and was beyond impressed by Andy Goesslings playing. I found the lyrics dove a little deeper into the human psyche than I was used to with bluegrass and their sound was far more than that of your run of the mill jamgrass band. Molding together both laid back harmonies with borderline rock & roll guitar riffs near the end, they kept me captivated from start to finish. I walked away from their set high out of my gourd on their original take on classic Americana. I found myself wishing they were able to play for at least 3 more hours. I had truly forgotten the main reason I was even at Red Rocks; to see Yonder Mountain String Band.
Set List: Like a Buddha> The Jupiter And The 119, Potter's Field, Warhead Boogie>Head, Black Elk Speaks, Bird in a House, 1759
Yonder Mountain String Band: After being completely blown away by Railroad Earth, it was going to take a lot for Yonder to steal my heart back. They came out to an eruption only suitable for a band formed 45 minutes up the road. These guys have been local favorites for years, and despite not being the most talented of musicians to grace the stage on Saturday, they were certainly the crowd favorites. Pink safety jackets sprinkled the audience in memory of Lilli Trippe; a young girl who recently passed away and was undoubtedly one of Yonder's all time biggest fans. The vibe throughout the venue was a combination of serenity and pure excitement to "rage some fastass bluegrass" as Jeff Austin put it multiple times.
They started the first set strong and mixed in a couple of my favorite Yonder songs; "Criminal" and "Complicated." Then ended with another favorite of mine; "Side Show Blues" from soon to be folk legend Todd Snider. Their playing was on point aside from a few flubs only noticeable by a long time Yonder fan. That didn't take away from the raw passion and joy that Jeff Austin is able to bring to the front of that stage as he shreds away on his mandolin.
It was too bad that the section I chose wasn't necessarily feeling it as much as I and that kind of took away from the experience.  The band ventured deeper into psychedelia with their second set and encore and slid into a few stretched out jams that were a little difficult for me to wrap my head around. I was still very happy to hear them play "Pockets," "40 Miles from Denver," and "Two Hits and the Joint Turned Brown." By the end of their second set I was completely exhausted from dancing my ass off to their one of a kind Bluegrass sound.
Near the end of the second set Jeff announced a 5 day run for New Years at the Boulder Theater which warranted one hell of a response from the capacity crowd. You could hear it in their voices and see it on their faces that they loved every minute of performing in front of the fans that have been riding with them since days of playing small dives in Nederland, CO.  I heard rumblings of disappointment from quite a few "Jaded Vets," but I myself can't say a single bad word about their performance on Saturday night. This remains to be one of my favorite nights of music in the great state and I can't wait to see what these fine fastass bluegrass pickers have in store for us come December.
After close to 3 hours of playing they bid farewell to a raucous applause and left me wondering how in the hell I was going to get home, since the van I hitched a ride with broke down as soon as we made it to the box office. As if answering the call, some fine Kinfolk opened their doors to me and let me tag along. A night of music such as this does wonders for the state of mind. Freeing and full of love, all three bands went well out of their way to provide a splendid night for all of us. It may not have been life changing but it surely was a night to write home about.
Set 1: What the Night Brings, Night Out, Criminal, Easy As Pie, Pretty Daughter, Complicated, Ten>Shake Me Up>Ten, Town, Spanish Harlem, Little Lover, Little Rabbit,  Sideshow Blues
Set 2: East Nashville Easter, Finally Saw the Light, All the Time, Just the Same, Too Late Now, Pockets, Lord Only Knows, On the Run, Rain Still Falls, 40 Miles from Denver, Keep on Going, Dawns Early Light>Robots>Two Hits and the Joint Turned Brown>Keep on Going (Reprise)
Encore: Southern Flavor, Shady Grove
Energy: A
Sound: A
Musicianship: A
Stage Presence: A
Set/Light Show: B-
Overall: A
I rode my skateboard from school in 7th grade to my buddy Vince's house where he put on the song "Perfect Government" by NOFX and I was hooked. The next day I bought the album Duh by Lagwagon. The next year I saw Against Me! at the Starlight Theater in Fort Collins, my mom dropped me off. I've since devoted every waking hour to anything done with passion. My speakerbox bumps everything from Lil' Wayne to Pablo Casals. I was never very good at making music, but I am damn good at listening to it. I've been filling up yellow notepads with random thoughts and misspelled words for as long as I can remember. I enjoy whiskey of all sorts, Newport cigarettes and the company of my family. I've got an addiction to run-on sentences that I'll probably never cure. A solid handshake with a stranger who has become a friend over a few beers means the world to me. You'll often find me wide eyed and wandering with an ear to ear grin. I live for funky break beats and spreading the love.