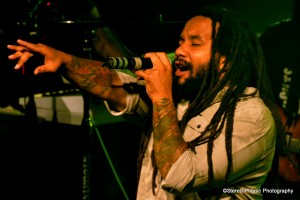 All Photos by Johne Edge
Outside of Montego Bay or Negril in the Jamaican countryside, you learn dancehall at street parties that rotate around the communities.  Signs go up on poles all around the community announcing the location and time of the Jamaican street party. Massive sound systems are brought in and, as the sun sets, guest DJs will get the party started.  As the night moves on and the scene gets a little wilder a featured artist will appear to the communities delight.
This was indeed the scene at Cervantes Masterpiece Ballroom on  August 19th.  The crowd came from  near and far, having read the line-up on the flyers that Cervantes masterful street team has posted all over town.  As I walked into the venue, the first thing I saw was a line of vendors selling everything from hand painted LP records to t-shirts to Colorado flag hats in varying hues of  red, gold, and green.  The special at the long bar was of course, Red Stripe.
A DJ, emcee, and guest artist got the party going and kept it going  until the nights featured artist Ky-Mani Marley too to the stage.  Paying homage to his surname, Marley played a set that featured a lot of his father's songs.  If I had any complaints about the evening, it would be that he did not play enough of his own material.  Despite being injured, and against doctors orders Ky-Mani kept the party dancing until the wee hours of the morning.  The only thing missing from their version of the Jamaican street party was the smell of jerk chicken on the grill, and the sound of slapping dominoes.
Wherever the music is, you'll find me with my camera, shooting on street corners, from barstools at clubs, from the side of the stage at theaters, and from photo pits in places like Red Rocks. Clicking away, trying to capture the emotive essence of music, and all those moments that we forget because of one too many Pabst Blue Ribbons.