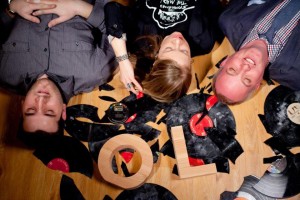 It's been three years since Orchard Lounge (OL) played Five Points powerhouse venue Cervantes'. The Chicago-based trio is back this Friday, February 2, and this time, with live talent in tow. However, don't expect a Phil Connors-style repeat this Groundhog Day. Orchard Lounge promises a refreshed vibe with plenty of new grooves. Still on the fence about throwing on your dancing shoes? Here are four reasons to catch this infectious dance party to kick-off your weekend.
1) Plenty of dancing room
The last time Orchard Lounge played at Cervantes' was back in 2015. "Denver has always been a city OL has loved to play," said Orchard Lounge member Ben Silver. "There is always good energy when we are there, and we have always had fun at Cervantes' – especially because so many friends come out." With plenty of dance floor to spare, Orchard Lounge can rest easy knowing fans won't be crammed into a small, loungey sardine can!
2) The unique transition planned
No stranger to the Disco Biscuits, Orchard Lounge last played with drummer Allen Aucoin at Camp Bisco 2016. Reuniting with Aucoin, along with Josh Fairman from Sunsquabi on bass/synths and hometown heroes, Tiger Party (Blake Mobley and Ashley Niven), Orchard Lounge has an exciting segue planned to meld seamlessly from the live show into the threesome's stacked DJ set.
3) Expect vinyl gems
In a musical time that is predominantly dedicated to full electronic components, this trio is still avid about incorporating vinyl, and spends a lot of time record hunting. Even though the outfit incorporates Serato software, the turntables still rotate regularly with danceable discoveries – old and new. "We are always digging for records, and have so many new tracks to play for everybody on Friday," said Silver.
4) Every show scheduled is special
With just a handful of shows played over the last few years (the Bethany and Spencer Lokken – two-thirds of the project – had a baby recently), every show scheduled is a big deal for the collective, as well as long-time fans. "There haven't been many shows with the full Orchard Lounge over the past few years, which makes each show special for us," Ben Silver says. "The times we do get together for a long set, we have so much fun playing off of one another again." Attendees should expect plenty of those older nostalgic vibes paired with new and palpable energy Friday night.
ORCHARD LOUNGE w/ TIGER PARTY
featuring Allen Aucoin (the Disco Biscuits) and Josh Fairman (Sunsquabi), jackLNDN and Binary Bits
Friday, February 2
Cervantes' Masterpiece Ballroom 
Doors at 8 p.m.
Show at 9 p.m. 
Tickets: $15 in advance/$20 day of show
PURCHASE TICKETS
Tracy Block refers to herself as a 'Melodysiac' at heart, and like many show-goers in Colorado, looks to live music for its therapeutic release. With a decade of music and festival coverage under her blinged-out belt, Block relocated from Miami in 2015, and doesn't think she'll ever stop chasing the thrill of the boogie.