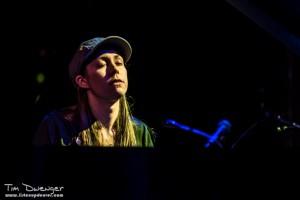 Photos by Tim Dwenger
Last Thursday night, innovative Piano virtuoso Holly Bowling made her headlining debut in Denver with a sold-out performance at The Bluebird Theater.  Bowling has made a name for herself over the past couple of years for her masterful interpretations of Phish and Grateful Dead music arranged for solo piano.  While she burst onto the scene with a wonderfully re-imagined take on Phish's legendary "Tahoe Tweezer," Bowling also works her magic on the tunes of Garcia, Hunter, Weir, Barlow and others.
Thursday's show was a mesmerizing blend of both Phish and The Grateful Dead with the first set featuring a rollicking "China Cat" that bled into the intricate "Divided Sky" as the opening one-two punch, and a beautiful run through the combination of "Althea" and "Cassidy" that left mouths agape.  After a set closing take on the Vermont foursome's "Taste," Bowling took a brief break that allowed the seated (yes, seated) crowd to stretch their legs and refresh their drinks before she returned to raise the bar with a non-stop 90 minute second set that opened with "Scents & Subtle Sounds" and was highlighted by a tight, yet exploratory, "Terrapin" that effortlessly flowed into "Days Between" before she deftly brought "Terrapin" back into the spotlight to the delight of the rapt audience.  Bowling closed the second set with "I Know You Rider" but returned to the stage with the Phish classic "Slave To The Traffic Light" to put a cap on the evening.
Bowling will be back in May with her new project, Ghost Light, so don't miss your chance to see this incredible talent live when they stop at Globe Hall.
Holly Bowling – The Bluebird Theater, Denver, CO – February 1, 2018 
Set 1: China Cat Sunflower > Divided Sky*, It's Ice, Althea > Cassidy, Taste
Set 2: Scents & Subtle Sounds > Terrapin Station Suite > Days Between > Terrapin Station Suite > Dirt > I Know You Rider
Encore: Slave to the Traffic Light
* w China Cat tease
Music has always been a part of my life. It probably all started listening to old Grateful Dead, Peter Paul & Mary, and Simon & Garfunkel records that my parents had, but it wasn't long before they were taking me to concerts like Starship, Crosby, Stills & Nash, and Huey Lewis & The News. I got the bug to write about music after reviewing an Eric Clapton concert for a creative writing project in high school but didn't really take it up seriously until 2002. Since then I have published countless articles in The Marquee Magazine and done some work for Jambase.com, SPIN Magazine, and various other outlets. I started Listen Up Denver! as a way to share the music information that is constantly spilling out of my head with people who care. Please enjoy!