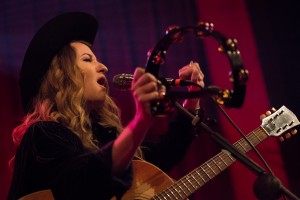 Photos by Ty Hyten
Margo Price has earned her place as one of the most buzzworthy independent country music stars to emerge in the last few years. Late last year, she released her second record on Jack White's Third Man Records, has played just about every TV show you can imagine, and has been universally praised, often by places that tend to overlook Country Music. Her current tour includes three nights at Nashville's historic Ryman Auditorium.
Her sold-out show last Wednesday night at The Bluebird was a fantastic example of why she's surrounded by all the hype. It was likely the last time she'll be playing a venue anywhere close to that size and the crowd seemed to cherish the opportunity. Price came armed with an extremely well oiled band, presumably plucked from the deep talent pool hosted by her home city of Nashville. Not only does she carry the torch of so many country greats, but she embodies their work ethic. Wednesday night's set was high energy, long lasting, and a damn good time.  
The cry of the pedal steel, the bite and twang of a well played Telecaster, and Price's honey-sweet vocals certainly painted a picture of a different era, but the hurt and occasional humor in Price's lyrics, along with a superb group of musicians, extended the show beyond a retro, old-school country novelty act and into something much more substantial.  
Highlights of the show included Margo hammering on the drums during two long jams, "Since You Put Me Down," "Four Years of Chances," the unreleased "1-800-Jesus," "Hurtin' (On the Bottle)," and "Learning to Lose," a duet that was recorded with Willie Nelson for last year's All American Made. Willie apparently had better things to do than to drop in at the Bluebird, but Price invited a friend up, who happened to be in town, to fill in for the legend. The singer, who goes by the stage name Particle Kid, was a dead-on Willie soundalike and the crowd ate it up. It wasn't until Googling him after the show that I realized that the guest singer was none other than Willie's son, Micah Nelson.
Prior to disappearing for the encore, the band cranked out a "Paper Cowboy" that melted into an extended groove-based odyssey which reached beyond a traditional, lick trading, country jam, and well into jamband territory. The long encore that followed included a smoking version of Creedence Clearwater Revival's "Proud Mary" with the addition of opening band Blank Range. Blank Range opened the night with a solid set and are worth checking out next time they're in town. They fall somewhere between Deer Tick, Dr. Dog, and Tom Petty, which isn't a bad place to be.