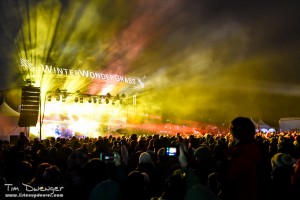 Photos by Tim Dwenger
First of all, before we get too far down the road, I have to commend each and every person who was in Steamboat for WinterWonderGrass last weekend.  From employees and organizers to fans and musicians, this was a dedicated bunch.  Together we endured temperatures down into the single digits as we worked, danced, poured, and played, but it has to be pointed out (as many of those on stage did throughout the weekend) that it's damn hard to keep acoustic instruments in tune in those kinds of wintry conditions and those who played music up on the big stage have to be singled out as the most hardcore of us all.  While many of us could bundle up and put on the heaviest of ski gloves to keep our fingers from freezing solid, those musicians had to keep their fingers dancing on the strings, skins, and keys in a vain attempt to keep the blood flowing.  Anders Beck of Greensky Bluegrass came prepared to dump accumulating snow off his dobro in a ski helmet and goggles while Jay Cobb Anderson was seen saying "I literally can't feel my fingers" into the wings two songs deep into Fruition's set.  It was truly the most extreme of conditions and while I didn't see anyone fall on the snow dusted stage, the same was not true back by the porta-poties where Friday's sloppy mud froze solid as the temperatures plummeted.
Despite the conditions, most in the crowd were prepared to boogie the nights away dressed in their winter finery.  While standard issue goggles, gloves, boots, and jackets dominated the scene, there were also a healthy number of throwback one-piece ski suits and other light-hearted costumes that were skillfully employed to keep their wearers toasty warm as the likes of Elephant Revival, Yonder Mountain String Band, Leftover Salmon, and The Travellin' McCourys graced us with their presence.
It was a treat to see Elephant Revival perform one of their final shows before they go on indefinite hiatus, and they added a sentimental touch when they brought out founding member Sage Cook to sit-in on Friday night, but it was Yonder's snowy covers of "Dancing In The Moonlight" and "Frankenstein" that stuck in my head on Saturday as I made my way back to the festival to catch the second set from the Fort Collins based Tallgrass.  These guys have always impressed me and the the two sets I caught on Saturday only cemented my view that they are one of the more unique bands on the Front Range.  While they are decidedly not a "Bluegrass band," the presence of a banjo and the back porch feel of their Blues soaked sound resonates with many fans of progressive Bluegrass and they set the stage nicely for a day that featured the most stacked line-up of the weekend.
I got my first taste of The Lil Smokies when they took the main stage on Saturday and their high energy and tight harmonies converted me as a fan before Fruition shifted the focus from Bluegrass to Rock when they showcased their ever evolving sound on tracks like "Stuck On You," "Northern Town" and "There She Was" from their great new record Watching It All Fall Apart.  As the snow started to fall again, Greensky Bluegrass took the stage with "Don't Lie" (a song they claimed to have written in Steamboat) and proceeded to re-write the book on how a festival set should be played as they simply destroyed Steamboat with a mix of some of their best originals and well placed covers.  Early in the set Anders Beck hosted a Dobro summit of sorts and then his  "Broke Mountain Breakdown" segued nicely into James Gang's "Walk Away" before the band invited Allie Krall up to add fiddle to "Worried About The Weather."  It was one for the ages and set a very high bar for any future WWG headliners.
Sunday finally offered Billy Strings the chance to strut his stuff on the main stage and he wow'd the afternoon crowd with a sun drenched set that featured two of his best originals in "Turmoil and Tinfoil" and "Meet Me At the Creek" alongside Sam Bush's arrangement of the classic Creedence Clearwater Revival gem "Proud Mary" and Phish's "Back On The Train."  Strings name checked both Cody Kilby of The Travelin' McCourys and Tyler Grant as two of his favorite flat pickers and mentioned how honored he was to have his set sandwiched between them.  The McCourys offered up some Grateful Dead and Waylon Jennings alongside their original tunes before Leftover Salmon closed out 2018 edition of Colorado's WinterWonderGrass with some classic "FESTIVAL!" moments and left us all wanting more.
While all the established members of the scene gave it their all and dazzled in their own way, I walked away from this festival knowing that I had witnessed something special in 25 year-old Billy Strings.  Throughout three sets at the festival proper, and a late night throwdown at Schmiggity's downtown, Strings never missed a beat as he dug deep into his repertoire of originals and covers to showcase his versatility as a songwriter and interpreter.  I don't claim to be a Bluegrass aficionado, but there's no doubt in my mind that this kid is going to be one of the leaders of the next generation of pickers coming out of the scene.  His incredibly precise flat picking could go toe-to-toe with just about anyone out there and I'd go so far as to say that he'll be a headliner at festivals like WinterWonderGrass in a year or two if he keeps up his current trajectory.
It has to be noted that, at one point during the weekend, I turned to my friends and said "what the hell is wrong with us?  We are standing in the dumping snow when it's 5 degrees out listening to live music."  The simple truth is that nothing is wrong with any of us, we just live for unique musical experiences and WinterWonderGrass provided them in spades.  Here a few superlatives we pulled together from an amazing weekend in the mountains.
Most Genre Defying Cover: Elephant Revival's psychedelic take on Pink Floyd's "Have A Cigar" was perhaps the most non-Bluegrass moment of the weekend.
Most Sentimental Moment: Elephant Revival brought out founding member Sage Cook to sit-in on Friday night
Warmest Looking Outfit: Allie Krall's green coat and matching hat on Friday night had me conjuring up images of Siberian winter nights.
Most Optimistic Song Played: We may have been catching snowflakes on our tongues during Yonder's take on "Dancin' In The Moonlight," but there was moonlight somewhere above those clouds.
Biggest Earworm: "Always Something There To Remind Me" as covered by The Lil' Smokies.  I can't tell you how many people I heard singing this Saturday night and Sunday.
Best Song Sandwich: Billy Strings dropped a "White Freightliner Blues" -> "China Doll" -> "White Freightliner Blues" sandwich during the second of his two tent sets on Saturday that blew me away.
Best Quote From The Stage: "Dobro's aren't just for breakfast anymore!" said Greensky's Anders Beck as he headed up a three dobro attack featuring Jay Starling and Andy Dunnigan during Bill Monroe's "I'm Working On A Building" on Saturday night.
Song That Fired Up The Crowd The Most: Greensky's version of Steve Windwood's (via The Spencer Davis Group) "Gimme Some Lovin'" set the crowd on fire early in the band's Saturday night set.
Best Choice For An Opening Song: On Saturday night Billy Strings took a great tune by a beloved Colorado band and showed he meant business as dropped a blazing version of String Cheese Incident's "Black Clouds" to open his late night set on Saturday Night at Schmiggity's
Most Ambitious Tatoos: Billy Strings took off his shirt in a steamy Schmigity's on Sunday night and showed off a chest inked to the extremes.
Most Ubiquitous Band: The Grateful Dead as they appeared for two Grantful Dead sets, two Pickin' On The Dead" sets, and during the sets of at least Billy Strings and The Travellin' McCoury's
Ballsiest Promoter: Scotty Stoughton; because who the hell else would have the balls to put on a Bluegrass Festival in the dead of Winter, let alone sell it out!  Thank You Scotty!
Music has always been a part of my life. It probably all started listening to old Grateful Dead, Peter Paul & Mary, and Simon & Garfunkel records that my parents had, but it wasn't long before they were taking me to concerts like Starship, Crosby, Stills & Nash, and Huey Lewis & The News. I got the bug to write about music after reviewing an Eric Clapton concert for a creative writing project in high school but didn't really take it up seriously until 2002. Since then I have published countless articles in The Marquee Magazine and done some work for Jambase.com, SPIN Magazine, and various other outlets. I started Listen Up Denver! as a way to share the music information that is constantly spilling out of my head with people who care. Please enjoy!