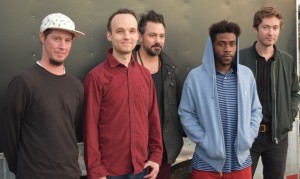 If there is one place in Denver known for whipping up a party, it's Cervantes' and on Friday night things got moving early with a powerful set from Asheville North Carolina's Toubab Krewe.  The quintet tore down the boundaries between genres as they deftly took African rhythms, overlayed funky guitar licks, and got the room moving.  Toubab – as translated from West African dialects – means "Foreigner" while their spelling of Krewe references New Orleans so it is clear that these guys are aiming to blend musical influences to create a whole new sound.  While the music that was pumping through Cervantes' was understandably reminiscent of some of the other African bands that have made their way into the American Jam scene like Tinariwen, Bombino, or Amadou & Mariam, that didn't make it any less entertaining.  Toubab Krewe recently returned from a 5 year hiatus and in addition to older songs, their set showcased a few tracks from their brand new album Stylo.
Midway through their set, the band mentioned that they are currently collaborating and raising money for Seed Programs International, an Asheville based non-profit that works thorough other humanitarian organizations, church groups, service clubs and individual donors, to provide quality seed to impoverished communities in developing countries enabling them to grow some of their own food. In addition to seed, SPI provides critical seed expertise and experience operating seed based self help programs.  This kind of admirable humanitarian effort is just another part of what makes this band so intriguing.  Sure lots of bigger bands make the effort to donate to non-profits, but for a small band touring the country in a van and playing clubs to do it is a wonderful testament to the kind of people they are.  Kudos to you guys!
Once Toubab Krewe wrapped their set, The Pimps of Joytime took over and delivered a set chock full of their trademark feel-good Electro-Funk.  Brian J and the crew (including Denver's own Kim Dawson) got things off to a great start with "This Funk (Give Me A Hand)" from their 2017 release Third Wall Chronicles and from the get-go the crowd was dancing and singing along with the hook laden tune.   "When I Dream" followed a bit later and the band kept the energy in the room up near the sultry mark with great takes on "Janxta Funk" and one of my personal favorites "Bonita" from their 2007 record High Steppin'.
While I'm not sure these two bands were 100% suited to be sharing a bill, there's no doubt that fans of each band gave the other a chance as the room stayed pretty well packed until the lights came up.  Yet another successful night at Cervantes'.
Music has always been a part of my life. It probably all started listening to old Grateful Dead, Peter Paul & Mary, and Simon & Garfunkel records that my parents had, but it wasn't long before they were taking me to concerts like Starship, Crosby, Stills & Nash, and Huey Lewis & The News. I got the bug to write about music after reviewing an Eric Clapton concert for a creative writing project in high school but didn't really take it up seriously until 2002. Since then I have published countless articles in The Marquee Magazine and done some work for Jambase.com, SPIN Magazine, and various other outlets. I started Listen Up Denver! as a way to share the music information that is constantly spilling out of my head with people who care. Please enjoy!