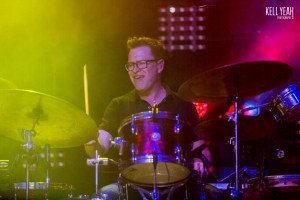 Photos by Kelly Hueseman
The Scene: Last Saturday night, the Fillmore Auditorium was as full as I'd seen it in years as droves of tireless revelers showed up to support two bands who have both previously played sold-out headlining shows in Denver. It was St. Patrick's Day, and although most of this crowd had been drinking all day under the bright Colorado sky, they definitely weren't slowing down.
Greyboy Allstars: If we hadn't just stepped off Colfax, you could have convinced me this concert was in New Orleans as the show was kicked off by the exuberant music of The Greyboy Allstars. Having formed in 1994 in southern California, The Greyboy Allstars have maintained all but one original member, and their dynamic sound can be attributed to all of the band's talented musicians. With Robert Walter on keys, Elgin Park on guitars and vocals, and Chris Stillwell on bass, The Greyboy Allstars is practically a supergroup, featuring some of the best talent in the business. It can't be denied, however, that the band's co-founder and frontman Karl Denson is a magnetic force for the group, attracting a diverse crowd and surprising audiences with a level of entertainment and talent that is pure musical genius. It's hard to miss Karl Denson these days; if he's not playing with bands he co-founded, The Greyboy Allstars or Karl Denson's Tiny Universe, then he could be seen touring with Slightly Stoopid or The Rolling Stones. An electrifying musician with a larger-than-life persona and the talent to match, Denson regularly wows audiences on saxophone, flute, and lead vocals.
The band's set last Saturday, as typically expected at a Greyboy Allstars show, featured minimal vocals; but the crowd lit up when they heard the familiar tune of Michael Jackson's "The Way You Make Me Feel," played in a funkified way that would surely get Jackson dancing in his grave.
Another chance to catch Karl Denson in Denver is on April 20 for the the 420 On The Block party, where Karl Denson's Tiny Universe, joined by Galactic drummer Stanton Moore, will present "Eat A Bunch Of Peaches," a celebration of music from The Allman Brothers Band.
Galactic: Another group of veteran musicians on the Funk scene, Galactic has maintained all but one of their original band members since its 1994 formation in New Orleans. And, with each lead vocalist who has joined the band throughout the years, Galactic's sound has evolved along with them. Since 2015, the soulful Erica Falls has led Galactic on vocals, and has spiced up the band's sound with a vintage style and dynamic vocal range that serves as an excellent contrast to the instrumentals. Falls was impressive on Saturday night, showcasing her powerful voice and leading the audience into the signature groove of Galactic before turning the spotlight over to the musicians who originated that sound. Drummer Stanton Moore, for one, plays a "second line," or "New Orleans style," which has become the signature groove of Galactic and admired by fans. Throughout Saturday's set, Moore rocked a huge smile and filled the room with contagious energy and joy.
A standout performance of the night came from a guest musician who joined original band saxophonist Ben Ellman in the horn section. Playing a pocket trumpet, this energetic player took numerous solos and was a welcome addition to the group.
The Fillmore stayed packed until Galactic's encore was over, and the drunk, happy crowd maintained a high level of energy all night. For a band like Galactic, I can imagine their shows in Denver are attended by one of the more appreciative audiences throughout their tour. Denver has always been a coveted destination for jam bands on tour and I'm certain their performances here are delivered with a little extra gravy.
Energy: A
Musicianship: A
Sound: A+
Stage Presence: A-
Set/Light Show: A
Overall: A
After growing up in Missouri listening to vintage records of The Allman Brothers, Carly Simon, and Stevie Ray Vaughan, I was hooked to the live music scene and the contagious sounds of guitar licks and soulful lyrics. After moving to Colorado, I've been contributing to Listen Up Denver! as a freelance photographer and writer. I've also started a side project, KellYeah Photography, which gives me the opportunity to pair my passion for live music with my creativity and love of being around people. Aside from photography and writing, I'm an avid hiker of Colorado 14ers and a beer enthusiast.