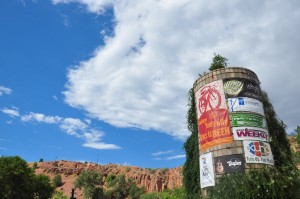 All Photos By Tim Dwenger
The 21st annual Rocky Mountain Folks Festival was another smashing success.  Selling out in advance for the second year in a row thanks to yet another outstanding line-up put together by the good people over at Planet Bluegrass, the grounds were full, but not packed.  It's a real testament to the folks that run this event that they put a hard cap on the ticket sales so everyone can be comfortable.  Sure, they could sell hundreds more tickets, but they don't because they care about the comfort of the fans.  Lines for food and beverages were sometimes long, but never too long, and there was always room to dance, play in river, or just lay on tarp soaking in the late afternoon sun.
Friday opened the festival with a some pretty steady rain in the afternoon but the Festivarians were prepared with tarps, raincoats, and umbrellas and some of us even took refuge in a restaurant in town to grab some food and a few margaritas while the rain fell.  When it passed, the blue skies rolled out for a majority of the rest of the weekend and we all enjoyed a few summer days in the Colorado mountains listening to some beautiful music on a pristine piece of land nestled along the St. Vrain river.  Some might say it's as close to heaven as we are going to get down here, but I just like to soak it all in and be thankful that we have one of the best music festivals in the country right in our backyard.
Friday August 19th
The music started on Friday with the Songwriter Showcase finalists performing on the Main Stage of the festival.  These 10 performers were selected from nearly 500 entries and this year's winner was Caleb Hawley.  As a prize he received a new Taylor guitar and a main stage spot at the 2012 Folks Festival (Aug 17-19, 2012).  The top 5 finalists included: RJ Cowdery (2nd place), Jason Sponner (3rd place), Kyle James Hauser (4th place), and Annabelle Chvostek (5th place).  These are some very talented folks so keep your ears out for them to make some noise in the future around the music world.
Following the Songwriter Showcase, Vance Gilbert came out and gave us all something to laugh about before the rains came.  His dry sense of humor had even the most stoic looking folks cracking a smile as he joked about being one of the only African Americans in Colorado and telling us he only played Folk music for the women.  His sense of humor was infectious and he made the most of his hour long, mid-day set which included several tracks from his recent album Old White Men including the title track and the hilariously funny "My Bad," which he sang in the style of jazz vocalist Billie Holiday.  He also featured his "hit" "Unfamiliar Moon," and an a cappella take on the traditional folk tune "Spencer The Rover" that got a very warm reception from the attentive audience.  When it was all said and done, he delivered a very solid set that eased us all into the weekend very smoothly.
What followed were two sets of music that sadly sort of blended into the background for me.  Anais Mitchell's high sing songy voice sadly didn't really suck me in except for when she broke out a powerful cover of Bob Dylan's "Hard Rain."  The timing of this song was unfortunate though, for only moments later the heavens opened for the first time of the day.  As the crowd scrambled to dig out their rain gear she acknowledged the coincidental timing and apologized for the faux pas.
The rain came and went for the next couple of hours as Livingston Taylor (James Taylor's younger brother) took the stage for a set left me flat and reminded me a little of some medicore kids music I listened to back in the early 80's.  It wasn't long before we tired of the constant drizzle and made the short walk into town to grab a table at Cilantro Mary's for some food and a Margarita or two.  As we watched out the window, the rain continued to fall and some pretty soaked festivarians sloshed by in their rain gear, and we were confident we made the right decision.
When we returned to the festival grounds Sweet Honey In The Rock was welcoming the sun back with a powerful set of Gospel music that warmed us all from the inside.  Their rich harmonies were on full display as they covered Bob Marley's "Redemption Song" and threw down a stunning version of "Jesus On The Mainline."  They closed their set and brought most of the crowd to their feet as they belted out their version of the traditional blues song, "Midnight Special."  These six women have something really special going and it was a treat to see them perform live.
Following the traditional Gospel of Sweet Honey, Martin Sexton shook things up a bit and gave the ladies a run for their money vocally as he opened his set with an a cappella version of the "Star Spangled Banner."  From there he launched into a mesmerizing set that took us back through the years and touched on most elements of his back catalog.  From "Freedom Of The Road" off his 1996 album Black Sheep, to "Happy," the opening track on his 2007 record Seeds Sexton wowed the crowd with his monstrous vocal range and deft finger picking skills.
The upbeat and melodic character of songs like "Diner," "Things You Do To Me," and "Diggin' Me" had the dancers in the crowd kickin' up some dust and while Sexton slowed things down for tracks like "Candy," he never lost control of the crowd and pretty much had us all eating out of the palm of his hand.  At several points during the set he stepped back and just seemed to take it all in as his voice reverberated off the canyon wall to the left of the stage that seemed to glow almost orange as the setting sun reflected off of it.  As darkness settled in and enveloped us all Sexton wrapped up his set and left us slack jawed and in awe of one of the best sets of the weekend.
Following Martin Sexton is no easy task, but Brandi Carlile brought out the big guns and did her best to show us all how to rock after a day of relatively mellow music.  Her set began with a thundering drum solo and it wasn't long before she riled us all up as she segued from "Jackson," a tune made famous by Johnny and June Carter Cash, into Johnny Cash's own "Folsom Prison Blues."  Though the band was strong, far and away the centerpiece of the performance was her incredibly powerful voice.  While her own tracks "Before It Breaks," "Have You Ever," and "Turpentine," put it to good use, the stand out moments of the set were when she covered Patsy Cline's "Crazy" and then when she closed the set with the song that put her on the map "The Story."
Then, just when we thought it wasn't possible, she one-upped herself when she wrapped up a four song encore with the strongest cover of the night, Leonard Cohen's "Hallelujah."  It truly left me speechless and the next morning as we waited in line for the tarp dash, I heard at least four or five different people bring it up.  I think it's fair to say that Carlile made a real impression on the crowd on Friday night and that was only the end of Day One.  Two more days to go.
Saturday August 20th
Saturday dawned with crystal blue skyes, the kind of blue that you only see in the mountains of Colorado and while there was a slight crispness in the air at 7, it slowly gave way to the heat that has been plaguing the Front Range in recent weeks.  Don't get me wrong, it was a beautiful day, but in a perfect world it would have stayed down around 75 for the day.  Wishful thinking I guess.
The mainstage performances opened with the winner of last year's songwriter's showcase, Megan Burtt.  When she took the stage Burtt was obviously very excited to be performing at a festival that she had been coming to her whole life, and while she was a tad nervous, she and her band came off extremely well prepared  The day before we had spotted her giving out temporary tattoos of her logo near the vending area, and chatting with festivarians old and young.  Burtt is a woman in her mid-20's who obviously approaches her music not only with soul, but also with voracity.  Her guerilla marketing and the appreciation she showed for standing on the Folks Fest stage also showed her willingness to put in the work.  I doubt she will get lost in the singer/songwriter scene if she keeps working this hard.
Megan had her band, The Cure For Love, gave us a solid set filled with her intelligent lyrics, but also the full sound of a well-practiced band.  She switched between three different guitars, relying mainly on an older acoustic, and threw in just the right amount of witty banter.  There were people in the dance pit the entire hour, and a core group were reciting every lyric and hanging on every word to songs like "Mississippi" and "Picture."  At one point she exclaimed, "I didn't think I would make it 365 days, I thought the excitement would do me in!" As I glanced around it was easy to see by the smiling faces that her enthusiasm had caught hold. [Thanks to Brian Turk For The Words on Megan Burtt's performance]
After catching a few Delta Blues influenced songs from John Butler's wife, Mama Kin and spending some much needed time wading in the river, we drifted back toward the main stage where we were Mary Gauthier was serenading the crowd with poignant, earnest songs that grabbed me immediately.  While I wasn't familiar with her music before the festival, she is one of those artists that just cut you to the core from note one.  While Gauthier played the traditional folk instruments acoustic guitar and harmonica, the set was sweetened by the addition of the uber-talented Tania Elizabeth on fiddle.  The song that stood out most to me of the five or six that I heard was "Mercy Now," a tender ballad about how we all need a little mercy now and then. even if we might not deserve it.  Truer words were never spoken and it was a great sentiment to impart to a large gathering of people who had stepped away from the hustle and bustle of daily life for a bit.  Let's hope that more than a few folks took those words to heart and back home with them.  Gauthier closed the set in humble fashion by yielding the stage to Elizabeth who dazzled the crowd with a blistering reel and brought us all to our feet for a massive ovation as the two performers bowed from stage smiling ear to ear.
Next up in the afternoon slot was the husband and wife duo of Sara Lee Guthrie and Johnny Irion.  Guthrie is bred of one of the great american folk music families being the daughter of Arlo Guthrie and granddaughter of the late, great Woody Guthrie.  Their sound effortlessly bridged the gap between folk and pop and tracks like "Speed of Light" and "Target On Your Heart" were damn near radio friendly.  My favorite moment of the set was when they slowed things way down Guthrie took control of  lead vocals for the sweepingly beautiful "Butterflies," a song that she explained was written after driving a country road and encountering a huge swarm of butterflies that she didn't want to become a dried up spot on her grill.  Their way with words was endearing and I think they sucked in a good portion of the crowd with their emotional performance.
As the heat of the day began to subside, one of my favorite folk singers was about to take the stage with his new project Red Horse.  I've been listening to John Gorka since I was in High School and have always been impressed by smooth voice, smart lyrics and, of course, the tongue in cheek wit that comes through in his writing from time to time.  Red Horse is a sort of folk super-group that Gorka embarked on with fellow musicians Eliza Gilkyson & Lucy Kaplansky.  The trio released their first collaborative album a little over a year ago and it has certainly made some waves in the folk world.
Red Horse opened their set with a take on Neil Young's "I Am A Child," and from there they weaved back and forth through each others catalogs picking and choosing songs to sing that one of the the other members of the group had written.  The performance was really a window into one of their living rooms and it was easy to imagine the three of them sitting and doing this same thing at home rather than in front of 3,500 people.  In addition to tracks from their collaborative album, the trio pulled out a few more covers including Dylan's "Just Like A Woman" which Gorka sang while playing piano, and a take on "People Get Ready" by the legendary Curtis Mayfield.  No matter what they tackled the trio executed it perfectly while still putting their own mark on each and every song.  It was a true pleasure to watch them perform.
The twilight set on Saturday featured Josh Ritter and The Royal City Band and while I had never seen Ritter perform, it was clear that many in the crowd were very familiar with his music and excited for his set.  From the moment he took the stage it was clear that Ritter and his band were absolutely in love with performing and their enthusiasm was contagious as Ritter's ear to ear smile which was reflected in the faces of almost everyone who stared up at the stage as the sun drifted behind the mountains.  While the set contained many of the staples of Ritter's catalog including "Thin Blue Line," and "Wolves," he surprised me when he stepped out to the front edge of the stage and teased The Talking Heads "Once In A Lifetime" to the delight of the crowd.  One of the many highlights of his performance took the form of one of the bands newest songs, "Sir Galahad."  The song told a humorous story of the Grail seeking Sir Galahad and the conversation that he had with and angel and it was a perfect window into the playful sense of humor that Ritter sometimes employs in his songwriting.  As he left the stage I kicked myself a little for missing his show at Chautauqua in Boulder this summer but was thrilled that Folks Fest had yet again introduced me to such a powerful performer.
With much of the day behind us, one of the most anticipated sets of the weekend, and perhaps the summer, was just about upon us and a little before nine Bob Weir, Chris Robinson, and Jackie Greene walked out of the shadows and into the light of the stage to a thunderous ovation.  After exchanging some grins with the crowd and tuning up a little, the trio launched into a set that proved to be much heavier on Grateful Dead songs than many of us had predicted.  The opener, "New Speedway Boogie," and many of the rest of the songs in the set, featured the three trading off lead vocals as they shared acoustic guitar duties.
Midway through the set, Weir busted out Dylan's "When I Paint My Masterpiece," a song that he frequently sang with The Grateful Dead over the years, and then each of the songwriters ran through one of their own tunes.  Greene chose his 2002 gem "Tell Me Mama, Tell Me Right," Robinson picked "Appaloosa" from The Black Crowes 2009 album Before The Frost, and Weir showcased one of the best tunes he has written in years, "Big Bad Blues."  From there the three eased back into some classic Dead sing-alongs with "Sugaree," "Uncle John's Band," a great take on the classic one two punch of  "China Cat Sunflower" into "I Know You Rider."  After a brief break the trio returned with a peaceful version of "Ripple" to end another great day of Folks Fest with more than 3,000 voices singing in unison as lightning lit up the night sky in the distance.
Setlist: New Speedway Boogie, Friend of the Devil, Ramble On Rose, When I Paint My Masterpiece, Catfish John, Tell Me Mama Tell Me Right, Appaloosa, Big Bad Blues, Sugaree, Bird Song, Peggy-O, Uncle John's Band, China Cat Sunflower > I Know You Rider
Encore: Ripple
Sunday August 21st
Much like day 2, the final day of Folks Fest dawned to a crystal blue sky and though it quickly proved to be much hotter than Saturday, some cloud cover rolled in later in the afternoon to break the heat a bit.  While we started the day with a hearty meal at local brewery Oscar Blues and a walk through Downtown Lyons, we were sure to make it back to the festival for Canadian Dan Mangan's first ever Colorado performance and boy, were we glad we did!
His set mixed slower numbers like the tear-jerking song "Basket," a song about the pains of getting old, and a story about a crumbling relationship "Tina's Glorious Comeback," with several high energy tunes from his upcoming album Oh Fortune, including "Post-War Blues," the title track, and the barnburner "Rows Of Houses."  At one point Mangan even used a beer bottle to play slide on his guitar so ferociously that he ended up smashing it.  Throughout the set Mangan was very humble, and even thanked Craig and Brian from Planet Bluegrass for taking a chance on him and allowing him to play the festival.
It was a great set, but it got even better when he jumped off the stage and crossed the barrier between the crowd and the band to lead everyone in a sing-along on the chorus of his song "Robots."  As he poured every ounce of energy he had into giving the most memorable performance of the festival, it was clear that Mangan was doing what he loves most, brightening people's lives with his music.  Let's hope he returns to our state very soon!
Next up was a duo that has been making major waves in the music world over the past several months.  The Civil Wars have been featured on Late Night TV several times and their song "Barton Hollow" has been getting massive radio airplay from coast to coast.  Though their old timey sound is not 100% my cup of tea, they did not disappoint their fans as they delivered a set that included several tracks from their Barton Hollow album, including the title cut of course, and a newer song called "Oh Henry" alongside reworked covers of The Jackson 5's "I Want You Back," and Michael Jackson's "Billie Jean" that surprised and delighted the crowd.
The Carolina Chocolate Drops really picked things up on the heels of the mellow set from The Civil Wars and gave the big crowd in the dancing area what they were looking for with a high energy set of banjo and fiddle music that included some traditional numbers, a Sonny Boy Williamson cover, and "Old Cat Died" from their 2007 record Dona Got A Ramblin' Mind. While their was some speculation from folks that had seen the Chocolate Drops before that recent shake-ups in the line-up would hurt their sound, all doubts were erased soon after their kicked things off and by the time they wrapped things up with "Snowden's Jig," the dust cloud that hung in the air and the standing ovation they received spoke for themselves.
With the end of the weekend bearing down on the Festivarians, Aussie Missy Higgins took the stage all by herself and poured her heart into a stripped down set of her songs that revealed some real songwriting chops as she switched between her guitar and the piano.  A newer song, "Cooling Of The Embers," threw a hush over the ranch as she spoke about the pain of watching someone close to you slowly fade away to death while relationship songs "Scar" and "Peachy" drew big reactions from the crowd.
With only one act to go, very few people were heading for the gates as we waited for the legendary Jackson Browne to take the stage for a much anticipated solo acoustic set.  He walked out in front of a big rack of guitars about which he dryly commented later "I'm not trying to display my guitar wealth, but I did pull out enough to win" and received a massive welcome fitting for a songwriter with his pedigree.  During a set that included "The Barricades of Heaven," "Giving That Heaven Away," and "Off To Wonderland," he praised the beauty of the Festival and even went so far as to say that it was "the nicest festival I have ever played."
Browne was in great voice and seemed relaxed up on stage as he traded one guitar for another and even took a seat behind a keyboard for several tunes including "The Pretender."  As the night went on his between song banter remained loose and he even acknowledged a request from a fan who was dying to hear "Take It Easy," a song he wrote with Glenn Frey of The Eagles back in the early '70's.  Before the festival drew to a close Browne had touched on most of his hits with "In The Shape Of A Heart," "These Days," and "Running On Empty" bringing the loudest applause.
As Browne waved goodbye, and the curtain fell on the 2011 Folks Festival, anticipation turned to how the Planet Bluegrass staff could possibly better this year's line-up in the future.  While it may seem impossible now, they always seem to have some tricks up their sleeves that allow them to do just that year in and year out.  We'll just have to wait and see what they have in-store for us next year.
Music has always been a part of my life. It probably all started listening to old Grateful Dead, Peter Paul & Mary, and Simon & Garfunkel records that my parents had, but it wasn't long before they were taking me to concerts like Starship, Crosby, Stills & Nash, and Huey Lewis & The News. I got the bug to write about music after reviewing an Eric Clapton concert for a creative writing project in high school but didn't really take it up seriously until 2002. Since then I have published countless articles in The Marquee Magazine and done some work for Jambase.com, SPIN Magazine, and various other outlets. I started Listen Up Denver! as a way to share the music information that is constantly spilling out of my head with people who care. Please enjoy!