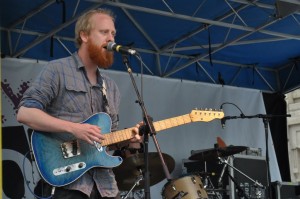 Photo by Tim Dwenger
Although young in age, Denver quartet The Congress has established itself as a musical tour-de-force across the nation since the group began touring in May 2010. This year The Congress has been featured on the line-ups of several major festivals including Wakarusa, High Sierra, Tall Tree Lake, Jazz Aspen Snowmass, Groovefest, and Targhee Fest. Deeply-rooted yet modern, their sound boasts a foundation in Rock and Roll and Southern Rhythm and Blues, their lyrics steeped in the traditions of Virginia and the American songbook. The musicianship is rock solid, complemented by a profound songwriting partnership between lead guitarist Scott Lane and vocalist Jonathan Meadows, whose powerful tenor voice has been compared to the likes of Joe Cocker, Chris Robinson, and Lowell George.
The Congress' debut self-titled EP has harnessed critical acclaim since its release in March 2010, and has seen airplay on FM radio across the country as well as on a fundraising campaign on CNN for Haitian relief. The band plans to release their first full length album in the beginning of 2012, with their new material largely focusing on their live sound — a unique brand of powerful Rock and Roll that has been turning heads with each performance.  Listen to their EP here.
Their Late Summer Tour kicks of with a performance at The Jazz Aspen Snowmass Festival next weekend and will take them all the way to Virginia and back.
The Congress Late Summer Tour
9/3 Jazz Aspen Snowmass Festival
9/5 Boulder Hometown Fair
9/7 Kansas City, MO @ Crosstown Station (Working Man's Beauty; A Dead Tribute feat. Steve Molitz on Keys)
9/8 Springfield, MO @ The Highlife
9/9 Oxford, MS @ Proud Larry's
9/10 Memphis, TN @ The Flying Saucer
9/11 Atlanta, GA @ Smith's Olde Bar
9/13 Charleston, SC @ The Pour House
9/14 Charlotte, NC @ Double Door Inn
9/15 Roanoke, VA @ Martin's Downtown
9/16 Richmond, VA @ The Camel
9/17 Norfolk, VA @ The Jewish Mother
9/18 Baltimore, MD @ Street Beat Music Festival
9/20 Cincinnati, OH @ Stanley Pub (W/ Rumpke Mtn Boys)
9/22 Louisville, KY @ Gerstales (W/ Rumpke Mtn Boys)
9/23 Goreville, IL @ Late Night set, Tall Tree Lake Music Festival
9/24 Goreville, IL @ Main Stage set, Tall Tree Lake Music Festival
10/8: Denver, CO @ Cervantes Masterpiece Ballroom
Music has always been a part of my life. It probably all started listening to old Grateful Dead, Peter Paul & Mary, and Simon & Garfunkel records that my parents had, but it wasn't long before they were taking me to concerts like Starship, Crosby, Stills & Nash, and Huey Lewis & The News. I got the bug to write about music after reviewing an Eric Clapton concert for a creative writing project in high school but didn't really take it up seriously until 2002. Since then I have published countless articles in The Marquee Magazine and done some work for Jambase.com, SPIN Magazine, and various other outlets. I started Listen Up Denver! as a way to share the music information that is constantly spilling out of my head with people who care. Please enjoy!