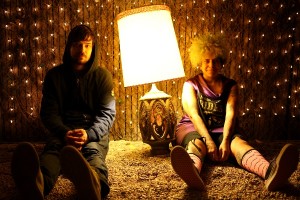 The Scene: I have a special soft spot in my heart for shy folk artists singing songs about the perils of life. Kimya Dawson has been a favorite of mine for a couple of years now even though she has been pouring her emotion into song for well over a decade. When I found out she was going to be playing a few Colorado shows with a favorite MC of mine, Aesop Rock, I knew I had to make it out for at least one of their 4 Front Range dates.
Aesop Rock has been on the forefront of alternative Hip-Hop since the early 90's and has frequented the speakers of my stereo system since high school. His complex rhyme schemes and robotic cadence is now a staple in underground music. I was both curious and intrigued by the prospect of a Kimya, Aesop collaboration since both of their styles are so different, yet eerily similar.  After reading a review of their performance a few nights prior, I was more than excited to see 2 of my favorite artists take the stage at the Fox Theatre together.
Kimya Dawson: Humble and shy, Kimya Dawson was first on the bill. She sat in a chair with a mic on a stand and guitar in hand with Aesop standing off to her right. They started with the first of the many duets they would do together throughout the night. Aesop left the stage and the entire place fell dead quiet as this beautiful creature sat alone in front of a couple monitors. It's very rare to see a performer interact with their crowd in such a way that Kimya did. Quietly responding to every question both whispered and shouted. "I love you Kimya" a girl hugging the speaker directly in front of her whispered under her breath. "I love you too girl," she whispered back.
By this time the theater had begun to fill.  A few younger kids sat cross legged in the middle of the dance floor while folks of all ages and walks of life stood with ears at attention for the songstress to begin. Her songs are written with a sort of passion not seen, or heard, often these days. Childlike lyrics and kindhearted truth made light of the real life issues that most of us face on a daily basis.
After a few songs from her album for kids, "Alphabutt," she began to delve into a darker side of her songwriting. Halfway through "The Beer," a song I relate all too well, to I found myself wiping tears from my eyes for the first time at a concert in years.  The emotions her songs evoke were almost too much at times. A few people sang along, a few people were mid conversation, but a good majority of the crowd was completely enthralled with every word being formed by her soft voice.
The set ended after one more tear jerking duet with Aesop called "Walk Like Thunder" (download it here)off of her upcoming album Thunder Thighs. I've been waiting to see Kimya ever since the first time a friend of mine introduced me to her "I don't give a shit" sound. She advocates being yourself and never letting anyone dictate how you should live or love.  A message that is all too often forgot in this fast paced world of smart phones and never ending trends. She absolutely deserved every bit of the ovation that followed. "Your songs are amazing!" rang out from a kid around my age in the back of the theater. "You are amazing!" rang out from the angel sitting on stage.
Aesop Rock: Now the dance party was about to begin. Aesop came to the stage with his sidekick Rob Sonic and DJ Wiz on the wheels of steel. He started out fast and in your face with the dirty underground Hip-Hop so many of us grew up on. Bouncing back and forth between old songs and now he paused every so often to thank the crowd and give respect to the men on the ones and twos.
I can't even recall the last time I saw a DJ come out with real wax and scratch actual records. DJ Wiz is just that, a wiz on the turntables. Even taking over the show for a song while Aesop sat to the side and bobbed his head to the scratched out break beats and heavy bass drops. Rob Sonic perfectly complimented Aesop as both a hype man and duel MC. Watching them throw rhymes off of each other made it clear these guys have been doing this together for longer than most of the kids in attendance have been alive.
He dropped all of the crowd favorites and a new version of "No Regrets;" a song that changed my life and initially got me into Aesop so many years ago.  I, along with everyone else busting moves on the dance floor were thrilled when he asked "What do you want to hear, 'Night Light?'" The place erupted and he followed with "The Happier Brother" and another favorite of mine "Day Light."
Near the end of the night he brought out Kimya one last time to showcase her rapping skills, and rapping skills she has. They debuted a new song titled "Bats" written about one of Aesop's longtime friends and underground Hip-Hop legend Eyedea who recently left this world to spit frosty flows in the afterlife. Every hand in the place was up in the air, every head bobbed, Hip-Hop was more alive in that small theater than I have seen in a very long time. The evening ended with the title track from "None Shall Pass."
I left the theater speechless and amazed with the talent I had just witnessed for the last 4 hours. Two amazing, beautiful souls, came together from two entirely different walks of life and put on one of the greatest performances I been a part of all summer long. Keep your eyes open for the Kimya Dawson, Aesop Rock collaboration album that will be dropping in the near future. Go out of your way and buy that shit, these people deserve to be supported. They have come so far in their lives, beat addictions, dealt with more stress than most ever even recognize exists, and have ended up on top of the world.
Energy: A+
Sound: A+
Musicianship: A
Stage Presence: A
Set/Light Show: B-
Overall: A+

I rode my skateboard from school in 7th grade to my buddy Vince's house where he put on the song "Perfect Government" by NOFX and I was hooked. The next day I bought the album Duh by Lagwagon. The next year I saw Against Me! at the Starlight Theater in Fort Collins, my mom dropped me off. I've since devoted every waking hour to anything done with passion. My speakerbox bumps everything from Lil' Wayne to Pablo Casals. I was never very good at making music, but I am damn good at listening to it. I've been filling up yellow notepads with random thoughts and misspelled words for as long as I can remember. I enjoy whiskey of all sorts, Newport cigarettes and the company of my family. I've got an addiction to run-on sentences that I'll probably never cure. A solid handshake with a stranger who has become a friend over a few beers means the world to me. You'll often find me wide eyed and wandering with an ear to ear grin. I live for funky break beats and spreading the love.