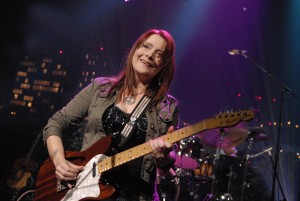 Photo By Scott Newton
The Scene: Cervantes' Other Side turned into a raucous Texas roadhouse on wednesday night. There was no chicken wire screen or bottles being flung, but there was a fierey red head on stage, throwing back shots and making her guitar scream!  The mostly older crowd seemed to enjoy opening act Pete Kartsounes Band, but had an intense buzz of anticipation for Carolyn Wonderland.  Wednesday nights can be tough for music, but this crowd had no intentions but to rock, and were in it for the long haul!
The Opener: Pete Kartsounes, and his band (PKB), started the night off with eclectic opening set which demonstrated the varied styles Kartsounes has in his arsenal. He is a staple in the Colorado music scene and is firmly rooted in our well-developed jamband and bluegrass collective.  His unique,smoky voice and harmonic skat prove that distinct vocals can be a whole other instrument when used correctly.  PKB played straight-no-chaser rock, jazz/fusion and some down home blues.  Kartounes stage presence and his obvious experience playing so many different kinds of music gave everyone in the audience something to hold on to.
Carolyn Wonderland: Carolyn Wonderland is a force to be reckoned with plain and simple. She took to the stage with a strategically placed fan blowing her red hair in true rock star fashion, glass in hand and dressed all in black.  Wonderland may be small in stature but she is huge in talent and her gleaming telecaster looked like a weapon slung across her shoulder. I have heard her compared to Janis Joplin and Stevie Ray Vaughn and I saw both of them in her, not in talent but in her fiery presence.  This is not to say that Carolyn Wonderland doesn't have chops, she can cut throats with the best of them, it's just that no one could fill those shoes.
From the first note it was as if Wonderland's body was occupied by some kind of blues demon.  Her guitar playing is ferocious, and her small fingers pluck the strings without the use of a pick while her left hand worked the neck of the guitar with the precision of a surgeon.  While the blues was the focus of the evening, Wonderland and her band proved they could do much more with a great ragtime jam that keyboardist Cole El-Saleh really shined on.  El-Saleh also had double-duty holding down the bass line with his left hand the entire night!  After taking us through a blues filled set with bits of gospel and country, the band settled in on an amazing, slowed-down, sultry version of Bob Dylan's "Meet me in the Morning," which will appear on her new album (see interview below).  Wonderland's songs seem as if you have heard them before as they have immediate resonance and hit-hard.
Paying homage to her Texas roots, she broke out into an explosive version of Johnny Winter's "Still Alive and Well" and it would have made him proud.  She put so much soul into the song that it looked as if this road-savvy musician was proving her legacy, and it worked.  What really blew the crowd away was the song "Golden Stairs."  With words written by Grateful Dead lyricist Robert Hunter and music by Grateful Dead Keyboard player Vince Welnick, it is an amazing composition which will also be appearing on her new album. Carolyn's first set wrapped up with her playing trumpet on a sexy merengue number.
Carolyn is a true multi-instrumentalist. She came out for her second set, put her hair up, took a seat and shredded on the lap steel. Shots were brought to the stage by amazed fans as if they were placing gifts on an alter. Carolyn played her song, "Judgement Day Blues" and it was true to her nature and song-writting, full of blues, mystery, travel and pain.  Carolyn's writing and playing were evidently forged through years of being on the road.  She is raw and rough around the edges but has a certain sweetness much like her fore-mother, Janis Joplin.
Energy: A
Sound: B-
Musicianship: A
Set/Light show: B
Overall: A-
INTERVIEW
Listen Up Denver! was lucky enough to sit down with Wonderland after the show, and here is some of the amazing conversation that we had:
ListenUpDenver: You played a song that really hit the crowd tonight, "Golden Stairs."  What is the story behind this song?
Carolyn Wonderland: I used to perform that song when I played with Jerry Lightfoot's Band of Wonder.  The lyrics were written by Robert Hunter, and Vince Welnick put the music to it.  Vince played keys in the band.  Both Vince and Jerry Lightfoot have passed and I could't play this song for the longest time, it just didn't seem right.  I had the honor of going to Levon Helm's studio in Woodstock, NY last year, and I played this song for Larry Campbell (Front man for the Levon Helm Band and Grammy award winning writter and producer) who immediately loved it.  We worked together on it and put it on the new album.
LUD: Was this the first time you had worked with Larry Campbell?
CW: No.  I know Larry from when he used to play with Bob Dylan.  Bob would call me up, tell me to show up for a gig and off I would go.  He must have thought I was independently wealthy, because I never said no and would go anywhere.  The fact of the matter was I was broke, but I just couldn't say no!  It was like graduate school for me.  I showed up, payed attention and soaked everything in.
LUD: You have a very interesting style of finger-picking on an electric…how did that develop?
CW: It's pretty simple actually, my mama grounded me from the pick!
LUD: You must come from a very musically family, that's not normally what you get grounded from!
CW: I do.  My mama was a guitar player and singer and I started playing music at eight years old.  I play a lot of instruments, but the guitar just stuck.
LUD: How old were you when you got your first paying gig?
CW: 14
LUD: Do you remember what you spent the money on?
CW: I do!  New guiatar strings.  I didn't have any money, so i would boil my guitar strings to get the rust off!
LUD: You have a new album coming out and have been on the road alot.  What's the release date?
CW: The new album Peace Meal will be out on September 27th.  We just got back from Austria, Finland, Amsterdam and Canada.  Before that we covered 9,000 miles in 36 days here in the states.  Then  a very short break and out this way.
LUD: Well Denver really loves your music and we are glad you came through!
CW: I appreciate you all takin a chance on me.

Brian Turk grew up in the shadow of the Catskill Mountains, near Woodstock, NY. He comes from a family of music lovers, audiopliles, Dead Heads and avid concert goers.The musical magic that can only be created in the Catsklills, both past and present, is what Brian cosiders the epicenter of his music addiction. The music of The Band, and most recently The Levon Helm Band, is the soundtrack of home for him. Brian's mother took him to his first concert at 5years old...it was Johnny Cash and Roseanne Cash at Jones Beach Amphitheatre. For Brian, music is a family affair. He feels the same way about live music...we all convene to celebrate together. Brian's writing life started when he wrote his favorite author, southern fiction writer Clyde Edgerton, a fan letter at age 13. When most kids were idolizing baseball players and television, he was worshipping writers and musicians. The two became friends and Clyde shared his craft with Brian. The next year Brian attended Duke University's Young Writers Camp. This is the extent, of what Brian considers, his "formal" training in writing. From then on his goal was to capture snapshots of life through words. Brian has been involved with live music in various facets over the years, and combined with his enthusiasm and love for Denver's music scene, he creates a vivid description of what he sees and hears. If you see him out at a show, dancing with a notebook in hand, say hello.