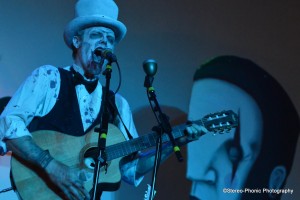 All Photos by Johne Edge
The Scene: On Friday night I packed my two pound re-sealable bag of peanut-shaped marshmallow candy  and headed down to the historical Oriental Theater in Northwest Denver.  After all, it's not every day that the circus comes to town. There were no marching elephants or lion tamers when I arrived, instead musicians and artists mingled outside the theater smoking cigarettes and talking.  With a cold PBR in hand, I began to ponder, "who names a circus after a French Enlightenment writer, historian and philosopher famous for his wit?"  I needed to look no further than the lobby walls for my answer.  Hung on the walls was the art of Brandan Styles and Ellie Rusinova.  The artistic duo that form Mad Tatters had coordinated the nights surreal circus event to promote  intellectual exchanges, oppose intolerance, and just maybe have a little fun along the way.
On entering, I found the walls of the one time movie theater lined with more artists and vendors.  Dark visual sculptures and paintings mixed with satirical t-shirts, handcrafted jewelry, and even fresh roasted cinnamon nuts.  Waiting for the start of the show, I passed the time viewing the vendors wares and talking with local artist Chris Guarino.  Shortly after 8:00, the house lights went down and it was time for the main event.
Dr.B.Zurk, Brandan Styles the evenings ringmaster, rode in on a tricycle for introductions, and the circus began.  The stage was filled with sideshow acts, burlesque dancers, mentalist magic, aerial performers, a bearded lady, and even an animal act with a  trained monkey playing cymbals.  According to animal welfare groups, these types of performances constitute animal cruelty.  So, imagine my relief when I discovered during the big reveal  that this giant monkey dancing on stage was actually burlesque dancer Andrea de la Garza.  The magic, acrobatics, beautiful dancers, and sideshow performers chewing on razor blades and your dads LP records got the crowd primed for the nights musical acts.
Champagne Charlie: Champagne Charlie was up first.  This eight piece band took to the stage and began playing their self proclaimed brand of New Orleans Swamp and Satanic Oompa Music.  The theaters expanded dance floor filled quickly.  Hulihee adorned front man Ryan King delighted the crowd as he sung the band's songs like a drunken sailor who had smoked to much the night before.  A great set,  hopefully they got paid more than a pound and a half a week and two pints of beer nightly that their namesakes writer received for his work.
The Widow's Bane: The Widow's Bane appeared dressed in their undead finest.  Like the zombies of the B rated movies that they looked like they came from, this band had an insatiable hunger.  A hunger that could only be fed by music.  Luckily for the crowd The Widow's Bane came prepared and delivered dark cabaret style music, with strong roots, not in Hell, but in Americana and folk music.  This band is not to be missed so run out and catch them at Denver Zombie Crawl on October 22nd, or at the Walnut Room on October 28th.
If you enjoy full sensory overload and great music,  "Like" the Mad Tatters Facebook Page and look for a future announcement about the next installment in this recurring circus.
Energy: A
Sound: B+
Musicianship: A-
Stage Presence: A
Set / Light show: B-
Overall :  A
Wherever the music is, you'll find me with my camera, shooting on street corners, from barstools at clubs, from the side of the stage at theaters, and from photo pits in places like Red Rocks. Clicking away, trying to capture the emotive essence of music, and all those moments that we forget because of one too many Pabst Blue Ribbons.