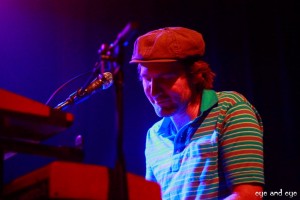 All Photos By Ben Wilson
The Scene: Saturday night at the Bluebird Theatre marked the first time in a long while that I was one of the younger folks in a venue. Incidentally, this was a good thing since Saturday also marked the first time I ever decided to bring my mom along with me for a show. That show was the Animal Liberation Orchestra (ALO). ALO have been playing music together under different names ever since the four members were in high school together. These days they are signed to Jack Johnson's label, Brushfire Records. Still relatively unknown they are slowly gaining steam to become one of the more recognizable bands in the funky, jamband scene.
Now don't get me wrong when I say "Jamband." They may segue between songs and rock out in a way many jambands do, but they don't let that get in the way of the soulful intelligent lyrics. I've been meaning to catch these guys live for quite some time now and was thrilled to find out they would be in town for Ned Fest and also be headlining a two set show at the Bluebird.
We drank a few beers at a bar down the street and headed over the venue around 10. I was warned beforehand that it might sell out and by the looks of the steadily growing crowd of young professionals and seasoned music veterans it was pretty clear that a sold-out theater was a big possibility. I could only hope they didn't sell to max capacity in order to allow me maximum dancing room.
ALO: ALO came to the stage roughly around 10:30 and received a very warm welcome. The set started strong with "Pobrecito," followed by Zach Gill declaring "It feels like New Year's Eve!" It didn't take long before everyone in the room was moving along to the music. I was worried at first that the whole "jamming" aspect of their show would be hard for my mom to understand, but much to my surprise every time I looked to the balcony she was dancing her ass off. "Liberating" is nothing less than a perfect way to describe their jazz infused funky sound.
At 11 o'clock the room was damn near at capacity. Zach announced they were going to test run a few new songs and traded his keyboard for a ukulele. If I counted correctly, I think he shuffled through at least 4 different instruments throughout the night, displaying a musical range unmatched by many artists of today. By not letting one instrument, or style, confine his creativity he is clearly a big inspiration to the positive sound that forms this group.
Acoustic guitarist Dan Lebowitz adds an interesting element to the group. If you didn't know any better you would think the noises coming from him were those of an electric. Instead, he is able to manipulate his acoustic in ways that add to the "jam" and are less abrasive then most of the solos I hear coming out of this Colorado Jamband scene.  The first set ended with the two upbeat numbers "Try" and "Walls of Jericho."
The second set started with "Maria" and then things got really funky. The animal inside everyone was slowly becoming liberated by their smooth sounds. You can't help but bounce around and bust a move with these guys on stage. Their show is a one of a kind experience of old and young coming together to do nothing more than boogie and be merry. Zach even took the time near the end of this set to step to the front of the stage and tell a short story. They brought together so many aspects of performance into a giant melting pot of groovy tunes and good times. They ended the second set by covering "Eye of the Tiger" sandwiched between one more blast of absolute positivity in the form of "BBQ."
ALO finished the night off with a short encore that included a new Zach Gill song and an extended "Lady Loop." Sweaty and sore from shaking what my momma gave me for the past  3 hours, I was more than impressed with what had just happened. Coming into the show I was hoping they would leave the "jamming" at home and I had to eat my foot after hearing what they were capable of. I knew being in Colorado that it is almost a prerequisite to jam out and segue between songs if you are going to play around here. That being said, I thought they did a perfect job of combining their tightly constructed songs with improvisational playing.
With one last glance at the balcony all I could see was the biggest smile beaming from my mother's face as she flashed me two giant thumbs up. If you knew my mom then that alone should be enough of a review. I awoke the next day to a text message that read: "Thank you so much! Last night was surreal." I couldn't agree more. I suggest you get on board with the Animal Liberation Orchestra. They are easily one of the most underrated bands in music today and deserve to be selling out venues nationwide. Keep an eye out for them in the future. I feel big things are in store for these fellas. I also suggest you do yourself a solid and bring your mother along, she will have the time of her life.
Set One: Pobrecito, IV Part 1->Man of the World, Big Appetite->I Love Music, Storms and Hurricanes, Shapeshifter, Shine, Try, Walls of Jericho
Set Two: Maria, Blew Down the Walls->Suspended, Hot Tub, Plastic Bubble, BBQ->Eye of the Tiger->BBQ
Encore: New Zach Song, Lady Loop
Energy: A+
Sound: A+
Musicianship: A
Stage Presence: A
Set/Light Show: C
Overall: A
I rode my skateboard from school in 7th grade to my buddy Vince's house where he put on the song "Perfect Government" by NOFX and I was hooked. The next day I bought the album Duh by Lagwagon. The next year I saw Against Me! at the Starlight Theater in Fort Collins, my mom dropped me off. I've since devoted every waking hour to anything done with passion. My speakerbox bumps everything from Lil' Wayne to Pablo Casals. I was never very good at making music, but I am damn good at listening to it. I've been filling up yellow notepads with random thoughts and misspelled words for as long as I can remember. I enjoy whiskey of all sorts, Newport cigarettes and the company of my family. I've got an addiction to run-on sentences that I'll probably never cure. A solid handshake with a stranger who has become a friend over a few beers means the world to me. You'll often find me wide eyed and wandering with an ear to ear grin. I live for funky break beats and spreading the love.