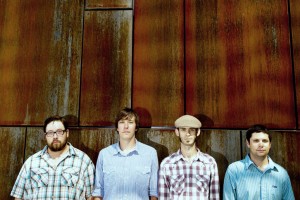 Listen Up Denver! has a pair of tickets to give away to see Head For The Hills at The Mish on Saturday, September 17th. You don't want to miss this!  The Mish is a legendary music venue in the stunning Poudre Canyon in Bellvue, CO outside of Fort Collins.  If you've never been there, you need to go, and if you were just there last weekend, you're probably jonesing to go back!
All you have to do to enter is post "I want to go to Head For The Hills at The Mish!" on our Facebook Wall.  For those of you not on Facebook, shoot us an email at listenupdenver@gmail.com telling us you want to go to see Head For The Hills at The Mish!
PLEASE NOTE: Entry deadline is Noon MST Wednesday September 14th and the winner will be notified by email or Facebook no later than 5pm MST the same day.  Please be prepared to respond within quickly to confirm you can attend or we'll pick another winner.
Head for the Hills will perform a very special concert event at the historic Mishawaka Amphitheatre in Bellvue, CO on Saturday September 17th. Tickets for the event are now on sale now through Head for the Hills Fan Ticketing, where for each ticket purchased, one tree is planted. VIP Ticketing options are also available.   Tickets are also available through The Mishawaka website.
"Head for the Hills has created a sound that is all at once organic, precise, timeless, and brand-new," as reported by the Missoula Independent. The acclaimed Colorado Bluegrass quartet has been receiving nation-wide recognition in response to their refreshing take on acoustic music. Described as progressive acoustic/contemporary roots, H4TH produces an endearing mixture of homegrown compositions, traditional harmonies, and improvisation. In the live setting, H4TH effortlessly ventures into a myriad of musical styles and sonic landscapes that appeal to a boundless array of listeners.
The past year has been outright explosive year for the quartet, having been voted by the Westword Magazine Music Showcase (Denver, CO) as the "Best Bluegrass" band in Colorado, a highly esteemed honor, for 2 years in a row (2010 & 2011). Additionally, the band has been receiving national attention, from their recently released self-titled studio effort. The group was selected to perform at SxSW in March of 2011, and was also a "SxSWCritics Picks-Must See" choice, via the Austin Statesman/360. The band has a host of music festivals scheduled for summer 2011 including: DelFest, NightGrass at Telluride Bluegrass Festival (Sold Out), High Sierra Music Festival, Crested Butte Music Festival (Bluegrass in Paradise), Yarmony Grass Music Festival (Late Night Set), NedFest, Strings Music Festival, Boats & Bluegrass & many more.
To get a sense of Head for the Hills' snowballing momentum, look no further than the surrounding talent on their self-titled sophomore release (2010), Head for the Hills. The album garnered the group a charted position on the CMJ Top 200 national radio listings. The six-year old pickers attracted heavyweights like longtime bluegrass aficionado, Drew Emmitt (Leftover Salmon) as their producer who took them up to Bill Nershi's Sleeping Giant studio to record. Studio engineer Gus Skinas engineered the effort, boasts a particularly intriguing history having digitally remastered Pink Floyd's Dark Side of the Moon; helped Sony develop the early iterations of digital audio; and invented an innovative multi-tracker called Sonoma that combines the warmth of analog with the ease and efficiency of digital. In addition, Vance Powell — who adorns his mantle with a Grammy for his work on the Raconteurs wildly successful Consolers of the Lonely album — mixed the record.  The self titled release earned the group a #29 position on Colorado Radio's "Top 50 Albums of 2010."
H4TH Tour Dates
September 8- Venue 515-Manitou Springs, CO
September 9- KTAO Solar Center-Taos, NM
September 10- Flagstaff Brewing Co.-Flagstaff, AZ (Outdoors)
September 11- Mystic Hot Springs-Monroe, UT
September 17- Mishawaka Amphitheatre-Bellvue, CO
September 20- Zoo Bar-Lincoln, NE
September 21- Iowa City Yacht Club-Iowa City, IA
September 22 – Boats & Bluegrass-Winona, MN
September 23- Miramar Theatre-Milwaukee, WI
September 24- Martyrs'-Chicago, IL
September 25- Bluegrass Battles Hunger Festival-St. Joseph, MO
Music has always been a part of my life. It probably all started listening to old Grateful Dead, Peter Paul & Mary, and Simon & Garfunkel records that my parents had, but it wasn't long before they were taking me to concerts like Starship, Crosby, Stills & Nash, and Huey Lewis & The News. I got the bug to write about music after reviewing an Eric Clapton concert for a creative writing project in high school but didn't really take it up seriously until 2002. Since then I have published countless articles in The Marquee Magazine and done some work for Jambase.com, SPIN Magazine, and various other outlets. I started Listen Up Denver! as a way to share the music information that is constantly spilling out of my head with people who care. Please enjoy!