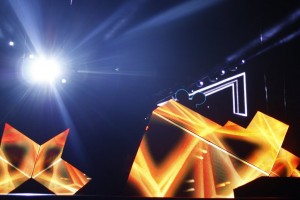 All Photos By Levi Macy
The Scene: I arrived at Red Rocks around 9pm on Tuesday evening to parking lots packed with cars and heavy bass rattling the surrounding hills. A high profile electronic dance party is not where I would usually find myself on a Tuesday night, but I made an exception this week for the opportunity to witness the spectacle of Deadmau5. Joel Zimmerman, better known as Deadmau5 (Pronounced Dead Mouse), is a staple in the electro-house music scene and arguably one of the more popular producer/DJ's in the world.
Anticipation was already at the boiling point by the time I got myself into the venue. Scantily clad females of questionable ages filled the aisles and ravers decked out in colorful bracelets and ear to ear grins stretched as far as the eye could see. Although the show was sold out there were still a good 20 rows at the top that resembled a ghost town. Nearly everyone was crammed shoulder to shoulder as close to the stage as they could possibly get. I tried to count the homemade mouse heads that dotted the crowd, but soon realized that was a futile effort.
Deadmau5: Rarely do you see an electronic artist who is both a DJ and producer. The art of being a DJ is a completely different beast than the art of simply producing your own tracks and pressing play while you dance around on stage. Deadmau5 is a performer in every sense of the word. He mixes his own tracks while also manipulating whatever electronic devices are hidden atop the giant cube on which he stands to add an improvisational angle that keeps the crowd entertained. To call him simply a dance music DJ would be an understatement and an insult.
His set kept both old and new fans happy by shuffling through classics and fresh tracks. He started off early with the progressive house numbers "Arguru" and "Brazil" off of his 2008 release Random Album Title. Personally, I was impressed with his stage set up, even though it appeared that one of the cubes had a small malfunction and quit working half way through the set.
For a good portion of the show all you could see was his iconic mouse head bouncing back and forth among the breathtaking visuals dancing on the screens that surrounded him. By the end of his nearly two hour set he had run the gamut of fan favorites including "FML," "Ghosts n Stuff," "Animal Rights," and "Some Chords." After stating multiple times how much he absolutely loves being at Red Rocks and in front of this crowd in Colorado he started "Sofi needs a Ladder" followed by "One Trick Pony." Both of which were accompanied by the spunky Sofi Toufa live on the front of the stage.
I decided it would be smart to head out before the throngs and started my trek down the stairs as he went into a remix of Daft Punk's "Harder, Better, Faster, Stronger," and I decided I had to find a spot and dance a little more. When I finally did leave the venue there were still snare claps and bass kicks bouncing off the rocks as wide eyed, fish netted girls ran franticly in circles as if they didn't know whether to hit the bathroom one last time, find water, or make it back to their spot for the last few minutes of Deadmau5's set.
He is truly a master of his craft and it's no wonder he has headlined in front of 100,000 people. He is able to build energy and keep it going all night long. Never once did he lose the beat or attention of nearly everyone in the place. I could only imagine the energy present during one of his sets at larger venues. He is a ambassador of the electronic scene, constantly reinventing his sound and pushing the boundaries of what can be done from a DJ booth. He surely made a fan out of me and I wouldn't have rather spent my Tuesday night any other way.
Energy: A-
Sound: B
Musicianship: B-
Stage Presence: B
Set/Light Show: A
Overall: B+
I rode my skateboard from school in 7th grade to my buddy Vince's house where he put on the song "Perfect Government" by NOFX and I was hooked. The next day I bought the album Duh by Lagwagon. The next year I saw Against Me! at the Starlight Theater in Fort Collins, my mom dropped me off. I've since devoted every waking hour to anything done with passion. My speakerbox bumps everything from Lil' Wayne to Pablo Casals. I was never very good at making music, but I am damn good at listening to it. I've been filling up yellow notepads with random thoughts and misspelled words for as long as I can remember. I enjoy whiskey of all sorts, Newport cigarettes and the company of my family. I've got an addiction to run-on sentences that I'll probably never cure. A solid handshake with a stranger who has become a friend over a few beers means the world to me. You'll often find me wide eyed and wandering with an ear to ear grin. I live for funky break beats and spreading the love.