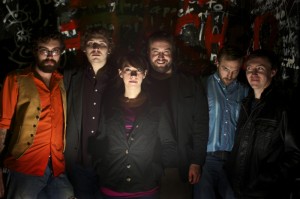 Tommy and the Tangerines is a Boulder based six-piece band that plays original music with the sounds of classic and indie rock, with a sprinkle of blue-eyed soul and psych-pop. Formed in the Summer of 2010, the band is comprised of some veteran musicians from Colorado and both coasts.  Their memorable originals and live antics grab new fans every show.  They recently took some time on the heels of a memorable night in Telluride to subject themselves to our 20 Questions.  Read on to learn a little more about this unique band that is soon to be grabbing headlines!
Listen Up Denver!: How did you come up with your band's name?
Tommy & The Tangerines: It all started with a Crayola Crayon.  We thought Atomic Tangerine would be a good band name.  We entered it at an open mic, and the MC misheard and announced Tommy Tangerine, the name fell into place. We get some flak for it for sure, it's kind of a joke, but we prefer not take ourselves too seriously.
LUD: What is the line-up of the band?
T&TT: Matt Hendrick: Rhythm Guitar, Backing and Lead Vocals – Ian Hendrick: Lead Guitar – Laura Stratton: Keyboards – Patrick Coleman: Bass – Ben Batchelor: Drums, Backing Vocals – Mic C: Lead Vocals, Acoustic Guitar
LUD: How would you describe your sound?
T&TT: Rock & Roll.  Blue-eyed soul.  Fun.  More jelly, less jam.
LUD: Who would you count as major influences on your band?
T&TT: Rock & Roll past and present: The Beatles, Stones, Hall & Oates, Wilco, Spoon, Cake
LUD: How did you guys get started playing together?
T&TT: Matt and Ian are brothers and have a history of playing in bands together. Most recently, they were involved in a New-Wave throwback band called Black Market Empire. After that band dissolved, it took about a year before they started playing some songs with Mic, who is practically their brother and also quite the karaoke host. Mic had recently befriended Ben around that time through their mutual love of drinking and general shenanigans, and it turned out Ben was a pretty good drummer. Ben recruited Laura from his last band, The Soft Focus, and Patrick joined after seeing us rock the house a few times.
LUD: Does anyone in the band have any formal musical training?  If so, what is it?
T&TT: Matt and Ian both studied guitar in college. Laura is a classically trained piano player, and Patrick is currently studying composition at UCD. Ben played drums all through his younger days. Mic is the only natural in the band.
LUD: Where was your first gig together and how did it go?
T&TT: Technically?  The day before our first real gig we played at a children's swim team barbecue at Rally Sport in Boulder.  It was hilarious.  There was even a Conga line of parents and kids who all loved our Beatles covers.  Our first real gig was at Uplsope Brewery.  We put it together ourselves, and had only 5 original songs, but it was a party.  Now we have over 20 originals and it's still a party.
LUD: What's your favorite memory of playing together?
T&TT: It may not be anyone's favorite memory, but this last Friday will go down in the books of Tommy lore. We played at the Llama in Telluride during Film Fest, but a certain member of the band was arrested just outside of Grand Junction the day of the show. We had to scramble to get him bailed out and to the venue on time. Long story short, the show went on, but we had to start an hour late, and we played straight through 'til last call. In the end, we had a great crowd and put on a great show and the venue was happy.
LUD: Are you playing any shows coming up that you are particularly excited for?
T&TT: We are playing September 9th at the Old Curtis St in Denver, and Septemeber 10th at the Lazy Dog  in Boulder. Both these shows will be great as we are playing with our friends Painted by Numbers.
LUD: What is your favorite song to cover?
T&TT: Mic C would say Party All The Time by Eddie Murphy, but it depends on who you ask.  We have probably gotten the most love for Power of Love by Huey Lewis & The News, or Born to Run by Springsteen.
LUD: What is the strangest request you've had at a show?
T&TT: Most recently we had a crew chanting "Toto! Africa!" but I don't think that counts as strange because we really want to learn that song.
LUD: What was the first song you wrote together as a band?
T&TT: That would definitely be "Face."  Matt had the soon-to-be famous guitar line and the top-of-your head first verse that gave us the name of the song.  When we rehearsed it the song came together and still might be our most popular.
LUD: Do you still play that song live?  If not, why?
T&TT: Yes
LUD: Have you released any of your material yet?  If not, do you have any plans to?
T&TT: We released our first EP, Main Squeeze, in July. It was recorded in one day in April at Coupe Studios with the help of engineer Ryan White. We are focused on getting back into the studio in the coming months, and hopefully will have more time, a bigger budget, and a hot shot producer.
LUD: What is your favorite venue in Colorado, and why?
T&TT: So far we've been treated great everywhere we've been, but our favorite venues are ones that we haven't played yet.  Right now that would be the Fox or Bluebird. We are also really excited about Shug's in Boulder. It used to be the B-Side Lounge and was always a great room. Now they have remodeled and reopened and have a great staff and killer food.
LUD: If you could play on any stage in the world where would it be and why?
T&TT: I'm gonna say Madison Square Garden because it makes the most sense. To be honest though, most of us would probably say Ke$ha's bedroom.
LUD: If you could open for any band or artist, who would it be and why?
T&TT: Any band?  In an effort to avoid the cliche we're gonna go with Yonder Mountain String Band. We'd like to show their fans what we're all about, were not a jam band per se, and definitely not bluegrass, but we think they'd love it – we put on a really good party.
LUD: What is the most outlandish thing your band would consider putting in your backstage rider?
T&TT: 12 pack of Mountain Dew (ice cold cans, none of that bottled bullshit), Rumple Minze (to clear the throat), and a copy of Home & Garden magazine (obviously)
LUD: What is your bands drink of choice?
T&TT: See above, unless you count the whiners who only drink Whiskey and Coconut juice ( Matt and Ian).
LUD: Can you name a few local Colorado bands that are really impressing you right now?
T&TT: Painted by Numbers are a brand new Boulder band that are opening for us at Old Curtis St this Friday and at the Lazy Dog this Saturday, September 10th. We were all instantly impressed the first time we saw them – great songwriting, guitar work, and stage presence. Overall though, we just love Boulder and Denver because there is so much talent and everyone is about cooperation and making each show the best. That's why we are proud to host the Open Mic at Catacombs Bar every Thursday, it's turned into a great scene and has provided a home base for not just us, but a lot of other local artists to build a fan base.
Music has always been a part of my life. It probably all started listening to old Grateful Dead, Peter Paul & Mary, and Simon & Garfunkel records that my parents had, but it wasn't long before they were taking me to concerts like Starship, Crosby, Stills & Nash, and Huey Lewis & The News. I got the bug to write about music after reviewing an Eric Clapton concert for a creative writing project in high school but didn't really take it up seriously until 2002. Since then I have published countless articles in The Marquee Magazine and done some work for Jambase.com, SPIN Magazine, and various other outlets. I started Listen Up Denver! as a way to share the music information that is constantly spilling out of my head with people who care. Please enjoy!