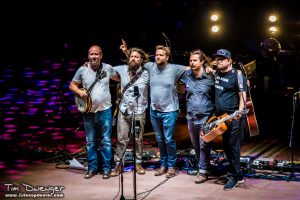 "Never miss a Sunday show." It's the age old Jamband adage that has been circulating through the scene for years and, while I've seen many Sunday shows over the years, until this past Sunday night when Greensky Bluegrass and Billy Strings played Red Rocks, I had never seen one that really proved the saying.
To say that expectations were high for this one is an understatement. My crew, and the Jamgrass scene in general, had been buzzing for months. As the date approached, more and more folks jumped on the bus (literally and figuratively) and when the day finally arrived, we were at a fever pitch.
Some serendipitous moments led to a comfortable home base near the soundboard in row 15, so we were smack in the middle of the action all night long. We had great sound, could see the smiles on the guys faces as they traded licks, and felt the roller coaster of emotion that coursed through the venue all night long. As a friend who works the venue all summer said to me this week, "energy like that doesn't happen there often." He's right, this was a special evening.
A few minutes after six, Billy Failing (Banjo), Royal Masat (Bass), Jarrod Walker (Mandolin), and the one and only Billy Strings emerged from the canopies stage left and got their first glimpse of the thousands of fans nestled between the stone monoliths that make Red Rocks so special. It was immediately apparent that Billy was overwhelmed with the scene as he took a minute or two for some deep breaths and to take it all in but he soon led the band headlong into a tight version of "Dust In A Baggie" that kicked off a set heavy on original compositions.
One of my favorite Strings' tunes, "While I'm Waiting Here," showed the newbies in the crowd that he can write a powerful ballad as well as he can a barn-burner. Then the band dropped into a four song run that showcased some stellar tracks from the band's new album Home (out September 27th on Rounder Records) including "Taking Water," "Everything's The Same," "Away From The Mire," and "Hollow Heart." The crowd ate them up but the energy level in the venue level bumped up a few notches when Strings tore into his blistering original "Pyramid Country." The glorious instrumental eventually segued into the traditional Bluegrass number "Little Maggie" before Strings took to the mic to pose the rhetorical question "Is there love here at Red Rocks? Is there love?" The crowd responded with a deafening cheer as the band paid the first tribute of the evening to Jeff Austin with a performance of "Run Down" from the late mandolinist'sSimple Truth album.
As the clock was approaching seven, Strings led the band into the title track from his 2017 album Turmoil & Tinfoil and nine minutes of bliss followed. Smoking solos, deft word pairings, and even some headbanging cemented Strings as a fixture of Red Rocks' summer calendar and, as he took a bow and headed off stage, it looked like everyone on The Rocks had their hands in the air.
After a break of about a half-hour, as darkness began to envelop the foothills, Greensky Bluegrass took the stage to thunderous applause for their first night three at Red Rocks. The boys came out of the gates strong with "What You Need?" and followed it up with "Wish I Didn't Know" and "It's Not Mine Anymore" to kick off the show with a trio of songs from their recent release All For Money that set the stage for the biggest bust-out of the run, a take on the title track of Phish's 1992 album Rift. The crowd started to buzz when Anders Beck kicked into the song on Dobro and Mike Devol fell in step on bass, but it was the dissonant harmony of "Last night…" and Paul Hoffman's subsequent delivery of "in the moments my thoughts were adrift" when the place exploded. Though this take showed a touch of rust, it was a highlight of a powerful first set that continued with Dave Bruzza's "Bottle Dry," a song that has been part of the catalog for more than 13 years.
The set wound to a close with an electric run that started with "Lose My Way," a heartfelt thank you to the crowd from Hoffman, and a nod to Strings when he said "Ya'll like Billy Strings? That band's got one mode – CRUSH!" As the cheering died down Greensky slipped into "Jaywalking" and finally an extended "Run or Die" to close out their fifth set in three days.
After allowing us to cool down, and catch our breath a bit, Hoffman, Beck and company returned with another heartfelt thank you, this time from Beck, and a humorous version of "Casual Wednesday" (or do I mean "Red Rocks Sunday") that set the tone for a magical second set.
Hoffman led the band from the humor of "Red Rocks Sunday" into a spacey and psychedelic "All For Money" (that is worth a listen) before easing into "In Control" which allowed the band to soar for a bit before landing in the quick paced, old-school feel of Bruzza's "Letter To Seymour." It was at this point in the set where things really took off with a 15 minute "Last Winter In Copper Country." I've always loved this tune and only recently found out it wasn't actually written by Greensky, but by Joshua Davis (formerly) of Steppin' In It so I guess I've got some back catalog to check out! The jam that kicks off about six minutes into the tune was one of the more interesting of the evening and primed the pump for the explosive improvisation that was to come.
It was at this point, about halfway through the second set, that Beck invited Billy Strings to the stage and we all buckled up for was sure to be a wild ride. The energy was high, the weather was perfect and literally everyone at Red Rocks had been waiting for this moment. Beck welcomed Billy Strings to the stage with his classic "everybody say 'Hi Billy'" and then Hoffman introduced "I'd Probably Kill You" by saying "I wrote this song about people I really admire and that's why Billy Strings name is in this song." After tweaking the lyrics a bit to reference their guest, the song wrapped and Billy Failing and Jarrod Walker joined the six musicians on stage. As they were getting situated, Hoffman said "call the babysitter, you're gonna be late!" A statement that rang very true for my wife and I as we glanced at the time.
The next 40 minutes featured some of the best music I've heard at Red Rocks (and I've been going to shows there regularly since 2001) as the band jammed from their "Don't Lie" into Strings' signature "Meet Me At The Creek" and back into "Don't Lie" to polish off a monster second set. The thing that struck me the most about this closing segment was that the boys in Greensky allowed the spotlight to shine squarely on their guest by featuring his song in such a prominent slot. This was a truly humble and selfless move that gives significant insight into the kind of people they are, and the positive vibe that saturates their shows. In short, Greensky is a class act.
As if that wasn't enough, when they emerged for the inevitable encore, Beck stepped to the mic and told a little story about how he got a text from a friend the first time he played Red Rocks reminding him "there's only one Red Rocks, it's the best venue in the world. Your first time is special, and don't forget to take the time to enjoy it." That friend was Jeff Austin and after encouraging everyone to "hug your friends" Beck and the band went on to dedicate The Rolling Stones' "No Expectations" to Austin and even did it in the style of "one of those old timey, single mic kinda numbers" as Austin used to say. Tears flowed on stage and off as we were again reminded of how precious life is and how important it is to ask for help when you need it and be there for others when they need you. This life thing is a wild ride, and we are all in it together.
Thanks Greensky Bluegrass for finally proving to me that you should "never miss a Sunday show!"
Music has always been a part of my life. It probably all started listening to old Grateful Dead, Peter Paul & Mary, and Simon & Garfunkel records that my parents had, but it wasn't long before they were taking me to concerts like Starship, Crosby, Stills & Nash, and Huey Lewis & The News. I got the bug to write about music after reviewing an Eric Clapton concert for a creative writing project in high school but didn't really take it up seriously until 2002. Since then I have published countless articles in The Marquee Magazine and done some work for Jambase.com, SPIN Magazine, and various other outlets. I started Listen Up Denver! as a way to share the music information that is constantly spilling out of my head with people who care. Please enjoy!