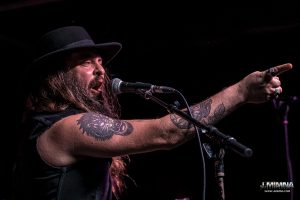 Strand of Oaks is no newcomer to the music scene despite being new to so many music fans, but the secret's out as Globe Hall had been sold out weeks prior. The place was packed with mid-thirties to 40 year old music connoisseurs, and they were justifiably excited. As the band opened the set the same way they open their stellar newest album, Eraserland, with the song "Weird Ways," the room came alive! Every word was sung out loud as if it was a choir. Frontman and songwriter, Tim Showalter was on point with his vocals and his guitar sounded outstanding, heavily soaked in reverb causing the sound to melt together. His band sounded good too, this was actually the best sound I've ever heard at Globe Hall, but some of the songs did lack the climactic highs that they have on the record. For example, "Moon Landing" just didn't seem to get me high enough. I wanted one more toke on that number.
As they worked their way through the set, lots of fans were floating after cuts like "Hyperspace Blues" and "Keys." At one point, as the song "Keys" was played to the sold-out audience, there was a look of humble satisfaction as he sang the words "I swear I'll have a hit and get paid." Despite the irony intended, I believe him and I believe in his music. It's powerful and so real, so everyday life, so badass. He's not the best kept secret in rock and roll anymore, people are starting to find out about Strand of Oaks and this may very well be the last time Denver will ever see this guy in a room so small.
Capturing life in various forms is what I do. I consider myself an archivist by nature. It is not a career choice that I consciously made, but it is something that has called me. I strive to freeze a moment in time with every frame, a moment that can retell its story with each viewing, forever. I also have a deep passion for music and have been photographing and recording live music for years. Capturing the energy and magic of a live performance in a photograph is one of my passions. In addition, I enjoy photographing in a wide variety of settings, from wildlife scenes to family portraits and everything in between. I am a lover of the earthscapes that we see all around us every day, both natural and manmade, and aim to make unique images that do justice to their beauty. Where others see darkness, I see streaks of light through long exposures. I shoot a very wide variety of subject matter including individual/family portraits, event coverage, landscapes, live concert/performance, HDR, product and commercial photography, architectural, weddings, food, and editorial photo journalism. With artistic expression, I aspire to create visual art that speaks volumes.