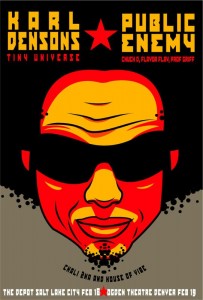 Why You Should Go: It's gonna be a great night of Jazz, Funk and Hip-Hop colliding at full speed ahead.
Public Enemy's old school hip-hop has been on the scene for more than 20 years and they show no signs of slowing down. Their messages are as urgent and compelling as ever, their performances just as electrifying. A group whose musical style and incendiary delivery have earned them critical acclaim and millions of fans throughout their career, Public Enemy continues to blaze musical andtechnological trails with new songs and new media, pulling rap music into the future, all while keeping its musical roots firmly intact.
Karl Denson's Tiny Universe brings forth the most delicious variety of grooves ever sampled by a listeners feet. The menu has been expanding since its inception in 1998. Led by Karl Denson, who over the past 15 years has collaborated with such luminaries as Lenny Kravitz, Fred Wesley and The Greyboy Allstars, the Tiny Universe creates a dynamic sound that defies categorization. The band members, Denson on vocals, tenor and alto sax and flute, guitarist Brian Jordan, bassist Chris Stillwell , keyboard player David Veith, trumpet player Chris Littlefield and drummer John Staten, have earned a reputation as kings of the unstoppable all-night show.
Venue:
The Ogden Theatre, 935 E. Colfax Ave Denver, CO 80218 – 303-832-1874
Doors:
7:00 PM
*Price:
$25.00 ADV
$30.00 DoS
Buy Tix Here
*All times and prices are gathered from other sources and I am not responsible for mistakes or inconsistencies. They are intended only as guidelines. Please, always call the venue if you desire the most accurate information possible.

Music has always been a part of my life. It probably all started listening to old Grateful Dead, Peter Paul & Mary, and Simon & Garfunkel records that my parents had, but it wasn't long before they were taking me to concerts like Starship, Crosby, Stills & Nash, and Huey Lewis & The News. I got the bug to write about music after reviewing an Eric Clapton concert for a creative writing project in high school but didn't really take it up seriously until 2002. Since then I have published countless articles in The Marquee Magazine and done some work for Jambase.com, SPIN Magazine, and various other outlets. I started Listen Up Denver! as a way to share the music information that is constantly spilling out of my head with people who care. Please enjoy!