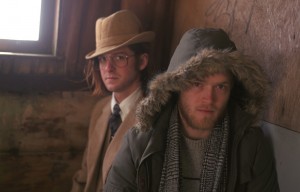 After nearly a three year hiatus, and fresh off of a short west coast and European tour, the bluesy-folk rock duo Two Gallants have hit the road once again on a grueling tour through the U.S.  Despite their long days, and short nights, they let me follow them into the dingy basement of the Hi-Dive in Denver after their late sound check last Friday for a chance to pick their brains.  Perhaps it was the whiskey I had been drinking prior, but to call the interview "strange" would not do it justice.  Bearded and road weary after just arriving in Colorado from Utah only a few hours earlier, Two Gallants carry the aura of timeless blues legends with roots deeper than their young exteriors could truly portray.  Soft spoken and humble, Adam Stephens and Tyson Vogel are a duo of troubadours, shrouded in mystery, who have developed a vast following of diehard fans.  I couldn't have imagined a better place to talk with these guys then the dungeonesque room beneath the bar with ratty couches and a table donned with two bottles of Jameson.  Drummer; Tyson offered me a warm Fat Tire which I gladly accepted and away we went.
Listen Up Denver!: How does it feel to be back on the road?
Adam Stephens: It feels good. We've already done a west coast string of shows and went to Europe for a month. So, we've kind of already been back at it for a while. It's going well.
LUD: What was going on in your lives for the past 3 years?
AS: We both did our own separate solo projects, Tyson played in a couple bands.
LUD: Can you talk about what lead to you guys deciding to stop playing together, and did you know at that time that you would eventually play again?
Tyson Vogel: Well, it was a really conscious calculated decision.
AS: I don't think we really knew what we were doing as far as the band went. We didn't know if it was a break, or how long of a break, or anything like that. We didn't really plan anything. We first started talking again about playing together about a year ago but weren't really able to get around to it until April or March.
LUD: Is there any new material in the works?
AS: Yeah, we are planning a new album but don't have a time frame. We are kind of hoping to release something early next year.
LUD: Can you discuss what goes into the song writing process?
AS: I think the way we write songs has sort of evolved a lot. This is really the first time ever that we have gotten together with the intention of sitting down and writing songs. We have gotten together three times a week for the last month to practice and write while before we used to just write songs.  In the past we always just had songs to work on and this is the first time we have sat down to write for a singular record. It used to be song by song, now there is a little more focus to it.
LUD: How was it getting back into playing the songs you wrote before the break up?
TV: I think that just naturally and honestly when you aren't paying attention to it things can get blurry. I don't think that for either of us it was too difficult to get back into it, I know I had to remember a few things and Adam forgot a few chords, but thats just natural. A song is a living thing. If you don't nurture it, it changes as you change.
LUD: Do they mean the same to you as when you first wrote them?
AS: I don't know, I kind of felt like during our first few shows back we were almost a Two Gallants cover band. The songs were written during such different circumstances and stages in our lives.
TV: At the same time a song is never supposed to stay the same. I don't think you can approach a piece of art, anybody, any life, the same as when you first started or came in contact with it.
LUD: What is going to be different this time, are you approaching the project any differently?
AS: I guess so, we are trying to keep things a little more precise and to the point. I don't think they are lacking in character, we haven't sacrificed a lot, just perhaps being a little more focused. We have never really had plans too far into the future; we are just going with it right now.
LUD: Can you talk about influences?
AS: As far as literature I would have to say Faulkner. Musically, I would have to say John Fahey or Rev. Gary Davis
TV: My influence is some sense of urgency of expression. Honesty. Anyone who is honest to what it is they want to achieve.
LUD: You are both clearly wordsmiths, you know your way around the English language. If you had one word to describe the Two Gallants what would it be?
TV: That's a tough one…I guess, I'll have to say "Alchemy"
AS: (laughing) I had a good one, I lost it
While I walked away from the interview not sure if I had gathered any information I was more than excited to see them take the clubs tiny stage.
Their live show is a performance that words cannot honestly portray. I have not been moved in the way I was by the Two Gallants since I first saw Tom Gable of Against Me! on stage  playing anarchist folk songs when I was 13 to a sold out crowd of punk rockers.
From the first note of "Steady Rollin" I couldn't help but continually wipe tears from my eyes.  Having the opportunity to sit with these guys and then to hear them play all of the songs that mean so much to me was beyond any musical experience I have had in quite some time.  Both of them are effortless in their playing and honest in their words.  Timeless lyrics and heart wrenching tales of love, loss, death, and a whole mess of pain that nearly everyone can relate to really resonated in that dive.  Shoulder to shoulder, everyone sang along under their breath and looked on in joy at one of their favorite bands who was back on stage after such a long break.
It takes a lot for an artist to touch fans in the way that the Two Gallants do.  While it's a shame and a wonder that they remain relatively unknown, at the same time it is almost as if that is exactly where they belong; in the depths of a scene that has recently lost steam.  Hopefully, with help from these fine young men, one day this scene can be as amazing as it was when I first discovered the passion of punk rock music and decided that it would be my passion for the rest of life.
I'm sorry I can't go deeper in the performance itself but these brilliant musicians caused me to completely lose myself in the music and my mind and loose track of everything else.  It reminded me of being sandwiched in a mosh pit with one fist in the air and my feet floating above the ground with no cares in the world because the guys on stage took the blues and pain and everything else in the world and transform them into song so that I no longer have to feel the way I feel . . . at least for the hour that they are in front of me.
Do yourself a favor and buy their albums, support their craft.  Hell, just listen to a few songs on youtube and hopefully you will be able to understand the power and infinite beauty that is the Two Gallants. That is really all I can say about them, their sound speaks for itself.

I rode my skateboard from school in 7th grade to my buddy Vince's house where he put on the song "Perfect Government" by NOFX and I was hooked. The next day I bought the album Duh by Lagwagon. The next year I saw Against Me! at the Starlight Theater in Fort Collins, my mom dropped me off. I've since devoted every waking hour to anything done with passion. My speakerbox bumps everything from Lil' Wayne to Pablo Casals. I was never very good at making music, but I am damn good at listening to it. I've been filling up yellow notepads with random thoughts and misspelled words for as long as I can remember. I enjoy whiskey of all sorts, Newport cigarettes and the company of my family. I've got an addiction to run-on sentences that I'll probably never cure. A solid handshake with a stranger who has become a friend over a few beers means the world to me. You'll often find me wide eyed and wandering with an ear to ear grin. I live for funky break beats and spreading the love.