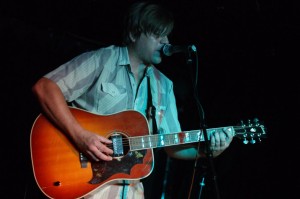 All Photos By Jeff Hyatt
David Dondero may be the best musician you have never heard of. You can't really dance to his music, the cyborg-manned radio stations won't introduce you to him, he doesn't travel with a band, and he stays in one spot on stage for his entire set, hunkered down and intense. He is on a small record label—the third one in 15 years—and he plays at bars where the promotions department consists of the sound guy and the bar-back. He is 42 years old, not a fashionista and he speaks his mind.
David Dondero works very hard at his craft, and has been for a long time. His first solo album, Pity Party released in 1999, reflects where he was at that point in his life. It was rough, punk influenced, and raw.  Over time his guitar playing became more refined, but always kept a certain edge. His 2002 album The Transient, features his more polished style, and contains the song "Less Than The Air," an extremely in-your face account of his self-loathing. However, David also writes songs that are humorous social-commentary like "Not Everyone Likes Your Doggy Like You Do," or "Job Boss." His most recent album, A Pre-Existing Condition stays true to his amazing songwriting abilities and his gift of storytelling.
Eight albums into a solo career that began when his punk band split up, his guitar is still his only band mate. It is the two of them against the world. They have seen a lot of places and made a lot of sacrifices to capture the experiences they have. It is to our benefit that he relays these stories in such an intelligent, detailed and introspective way.
David Dondero is one of the hardest working musicians out there. His current calendar has him playing thirty dates in the next sixty days, ten of which are in England, Ireland, Scotland and Wales.  All this hard work, all the miles, all the plane tickets he pays for out of his pocket…none of it seems like it will ever stop him. It is what he must do. David Dondero is a wandering, blue-collar storyteller who works enough to get back on the road, and tours till the money runs out. This authenticity, commitment and honesty led NPR to declare him one of the top ten living singer-songwriters back in 2006.
These reasons and countless more are why those who know his music love him and why you may well have no idea who he is. Listen Up Denver! had the pleasure of sitting down with David before his recent gig at the Hi-Dive.
LUD: You started off in the punk band Sunbrain. How did you make the transition to a solo singer-songwriter?
David Dondero: Well it kind of was by necessity. I tell you what, we had this band that was kind of like all for one and one for all, you know, till death do us part. Then two of the members just decided to quit and just leave. We had a lot of shows scheduled, so it just kind of forced me to play alone. Well, we fulfilled the dates, just me and the guitar player. So that kinda got me out on the road of playing alone and into the whole acoustic thing. But at the same time, it was the early 90's, I was getting into Woody Guthrie and I had been listening to Billy Bragg.
LUD: So you are now going the solo route. How about the writing? Did you write before you went out on your own?
DD: I had done of a lot of writing before. I wrote all the lyrics for Sunbrain. I was the original drummer, and then I started writing lyrics, and then slowly transitioned into guitar because we found a better drummer. The last album we did, I wrote about three quarters of the songs.
LUD: Were you a writer when you were young? Have you always processed your thoughts this way?
DD: I was. I was real into early hip-hop, along with Simon & Garfunkel and Bruce Springsteen. I used to compete with my sister to see if we could memorize Houdini lyrics or UTFO lyrics. So this was the early 80's, I would try to write these rhymes. But at the same time I was influenced by Bruce Springsteen, like "Blinded by the Light," he uses a lot of words.
LUD: The last time I saw you play here at the Hi-Dive, you played "Less Than The Air," ("self-deprecation is a boring hand. You're just bringing everyone down man") and told us a story about you being that guy at the party.
DD: Yes, "The Bummer." The guy who when you ask "how are you doin?" he says "Shitty man. I want to go fuckin' kill myself," and everyone would be like, "Fuck you man." One night this guy called me out on it, and he said, "You know what man, why don't you just go fucking do it!"
LUD: Is that guy still part of you? Are you still like that?
DD: Well sometimes. Everyone gets depressed, I get depressed. But ya know, you got to keep it in check. It's like catchin' a cold, ya know, you are gonna get over it eventually. But then again, some people never get over it I guess.
LUD: Does performing help you with those feelings? Just putting it all out there?
DD: It does. It most certainly does. It helps me, and sometimes it helps other folks too. Well…I hope it does anyway.
LUD: You have a song called "Job Boss." It sounds like you have done a lot besides playing music?
DD: Oh yeah. I work in between. When I get off the road I got to go to work right away. I gotta find a job. It's not like my records sell enough to provide me any kind of an income. If I am not out playing shows, I am working, because the money runs out real quick.
LUD: So what kind of work do you do to keep yourself going?
DD: I do everything from carpentry to restorations. I've done solar installations in San Francisco. Painting, roofing. Landscaping in Austin,Texas. Truck driving in Oregon. Waiting tables and bartending. I have been a bartender for awhile.
LUD: Where are you living now?
DD: Oh, I don't have a place. I move around a lot. I haven't had a place for like two years.
LUD: How do you pull off a European tour, like the one you are doing at the end of the month?
DD: I buy all my tickets, personally. Then I go over to Europe and it's a crap shoot. Then I see if I can actually make the money back through these gigs in England and Ireland. There is minimal promotion.
LUD: It sounds like a big risk.
DD: I gotta keep trying. You've just got to do it. You know, playing all over the place, it makes you better at your craft. I just have to do my best and that's about all I can control. I can't control who buys my records or how well they get publicized by the record company.
LUD: Has snack food ever been a problem in a relationship?
DD: What? Yes it has. How did you know that?
LUD: I spoke with Laura King of The Moaners a couple days ago. She said I should ask you that question.
DD: Fuck. This is being recorded. Well yea, so I was dating this girl who hated Doritos, and she said: "if you ever eat Doritos around me I swear to God I will break up with you!" So, after a while things weren't going so well and I was getting kind of tired of her. We were driving and I asked her to pull over at a gas station. I went in, bought a bag of Doritos, and went back to the car and ate them in front of her. Turns out she wasn't kidding.
LUD:  Your song "Building the New Berlin Wall" is a powerful song dealing with immigration. What is the story behind this song?
DD: What made me write that song was getting a gun pointed in my face while I was crossing over the border in Juarez. I peeped through the fence and saw about 200 Mexican men with gauze on them in some kind of pen…and guys in S.W.A.T. gear were standing around them with M16s. Then I saw, in another holding pen, women and children with guns being held on them. Then I take out my camera to take a picture, and I get a gun in my face, right. They tell me I better get out of there. Then I see these silver buses with blacked out windows and no writing on them. I was like, where are those people going? What is going to happen to them? It had had this kind of vibe, you know, of a Nazi-type situation. A police state. They've criminalized these people. They aren't doing anything wrong. They are just trying to find opportunity. I think they should tear that fence down. I think they have created an atmosphere of fear. The border situation is crazy man. That whole border war has created a blood bath, and I think it's wrong, dead wrong in my eyes. So that's what I mean by that song. People can walk out when I get on stage and play it, that's up to them. We are free to say what we feel. Creating that atmosphere of non-freedom, between the two nations…it's like dangling a carrot. Fuck that, tear down the border and let them have some opportunity too. That's my take on it.
Shortly after our conversation, David took the stage and went to work. From the very first note, he poured his soul into every note and word. When he performs, no one is moving around. They are frozen, staring and hanging on every word. His songs are detailed stories with humor, realism, pain, and directness.
The Gibson Hummingbird that David plays is as road savvy as he is. They travel together and both share equal responsibilities in sharing his stories. David added dual humbucker pick-ups, usually found on Gibson Les Paul's, to the sound-hole of the acoustic instrument. This adds an electric warmth and power to his playing, and a dynamic that keeps it from sounding flat. It is hard for a reserved man and his guitar to keep a crowd entertained for an hour, but David seems to make it look easy. The combination of his rich voice, clearly sung and enunciated lyrics, small bits of witty banter and his percussive, robust guitar playing keeps the crowd mesmerized.
Earlier in the evening I had met a girl who got dragged to David's show by a friend. I tried explaining his music to her and while she didn't seem impressed, by the second song I noticed that she was sitting on a stool at the front of the stage, captured. Her chin resting in her hands, she sat and listened to every word for the hour he played. That's the kind of power this man has.
Brian Turk grew up in the shadow of the Catskill Mountains, near Woodstock, NY. He comes from a family of music lovers, audiopliles, Dead Heads and avid concert goers.The musical magic that can only be created in the Catsklills, both past and present, is what Brian cosiders the epicenter of his music addiction. The music of The Band, and most recently The Levon Helm Band, is the soundtrack of home for him. Brian's mother took him to his first concert at 5years old...it was Johnny Cash and Roseanne Cash at Jones Beach Amphitheatre. For Brian, music is a family affair. He feels the same way about live music...we all convene to celebrate together. Brian's writing life started when he wrote his favorite author, southern fiction writer Clyde Edgerton, a fan letter at age 13. When most kids were idolizing baseball players and television, he was worshipping writers and musicians. The two became friends and Clyde shared his craft with Brian. The next year Brian attended Duke University's Young Writers Camp. This is the extent, of what Brian considers, his "formal" training in writing. From then on his goal was to capture snapshots of life through words. Brian has been involved with live music in various facets over the years, and combined with his enthusiasm and love for Denver's music scene, he creates a vivid description of what he sees and hears. If you see him out at a show, dancing with a notebook in hand, say hello.