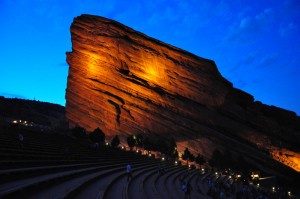 Photo By Tim Dwenger
9 News ran a story yesterday that caught our eye.  Apparently, on Saturday night, a fan climbing the mighty Creation Rock on the North Side of Red Rocks Amphitheatre knocked some rocks loose that fell into the Amphitheatre and injured several  concert goers.  "Four people were taken to the hospital to be treated for their injuries . . . The smaller ones ranged in the size of a football, some of the bigger ones the size of an exercise ball."
This really struck home because on Friday night I was at the STS9 show, standing in Row 49 when we looked up to notice several people waving glowsticks and flashlights from a recessed area in Creation Rock about halfway up.  In fact we noticed other people watching the show perched up on the rock further down toward the stage as well.  While we were aware that it was incredibly dangerous for these fans to be up there, it didn't really dawn on me that they could injure people below them.  I was only really thinking, what if they slip and fall.  Well it sounds like on Saturday people attempting to reach a similar vantage point did in fact injure several people below them.
Please click through on the link below so you can fully understand what happened and please, please, please be smart about the way you enjoy concerts at Red Rocks.  We are truly lucky to have this amazing natural amphitheatre in our backyard, and I for one want it to remain open and hosting concerts of all kinds far into the future.  I really hope that a few selfish fans don't ruin it for the rest of us and let me tell you that if this kind of thing happens again, I could see the Denver Parks Department re-evaluating the way the venue is used.
Music has always been a part of my life. It probably all started listening to old Grateful Dead, Peter Paul & Mary, and Simon & Garfunkel records that my parents had, but it wasn't long before they were taking me to concerts like Starship, Crosby, Stills & Nash, and Huey Lewis & The News. I got the bug to write about music after reviewing an Eric Clapton concert for a creative writing project in high school but didn't really take it up seriously until 2002. Since then I have published countless articles in The Marquee Magazine and done some work for Jambase.com, SPIN Magazine, and various other outlets. I started Listen Up Denver! as a way to share the music information that is constantly spilling out of my head with people who care. Please enjoy!