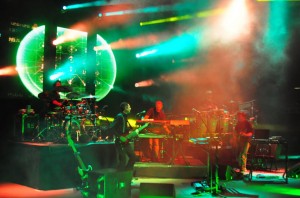 All Photos By Tim Dwenger
The Scene:  When STS9 takes over Red Rocks, as they have each of the last nine years, you can expect quite the scene, and Friday was no different.  Day-glo neon and fancy head dresses were everywhere as thousands of party kids descended on the park well before show time.  There were literally lines of party busses shuttling people onto the grounds and thundering bass could be heard pumping from carload after carload of  fans.
While the amphitheatre didn't start to really feel crowded until Snoop Dogg was midway through his set, it was largely due to the massive lines for security that stretched well down the stairs and the ramp.  The hardworking men and women who were working the gates were literally going through everything . . . and it took forever.  While I do understand that they are doing their jobs, there has got to be a happy medium here.  It shouldn't take 3 minutes to screen a single person for entry.
Opener: Jay Murphy, aka Up Until Now, took the stage promptly at 7:30 and cranked through an eclectic set of 80's influenced dance music that had everyone who made it in early on their feet and dancing.  Despite the relatively low numbers, people seemed focused and into the music in a way that most warm up acts don't have the pleasure of enjoying.  Murphy milked every minute of set and surely won over some new fans.  Toward the end of the evening he thanked the guys in STS9 before nodding to Snoop when he said "I'm sure I don't even have to tell you who's up next!"
Snoop Dogg: Before Snoop even emerged from the shadows the crowd was on their feet.  First two DJs dropped some heavy Hip-Hop beats as three scantily clad dancing girls took their places, and then, to the delight of the rapidly filling venue, Snoop took the stage and opened with "I Wanna Rock."  From the get go, Snoop's trademark soft and subtle flow was in great form as paced the stage puffing on what may or may not have been a big joint.  He's definitely got an image to maintain and he did his best to do just that as he called on the crowd to smoke their "chronic" on several occasions.  As plumes of sweet smelling smoke filled the air, Snoop delivered hit after hit.  From "Ain't Nothing But a G Thang," to "Gin N Juice," he had everyone waving their hands in the air and dancing their asses off.  There was so much energy coursing through the Rocks that you never would have known he was opening for someone.
He's been on the scene for more than 20 years and his performance on Friday night showed that he is still on the top of his game.   While he dropped a couple of new songs during the set, it was clear that he was relying on tunes from his mid-90's chart toppers to keep the energy at a fever pitch. Midway through the set his dancers changed their outfits and as the show began to wind down The Doggfather really turned up the charm and courted the ladies in the crowd with "Beautiful," the track he released with Pharrell in 2004 and kept up the pressure with "Wet" from his recent "Doggumentary" album complete with auto-tuned vocals.
Snoop, or "Ol Brown Eyes, The Frank Sinatra of Hip-Hop" as my wife likes to call him, wrapped up the set with "Jump Around," "Drop It Like It's Hot" and one of the tracks that put him on the map "Who Am I (What's My Name)."  As he left the stage Snoop's parting words were very fitting as he called out "smoke weed mother fuckers!" and vanished into the wings.
Sound Tribe Sector 9: I've got to be honest here, I've never been a huge fan of STS9.  I loved their "Axe The Cables" set at DU a couple of years back as it really showed what outstanding musicians these guys are as they ventured into the realms of acoustic Jazz, but the couple of times I've caught them electric it just didn't grab me.  Last Friday at Red Rocks they showed me a different side of their music and I was sucked in.  While I heard some complaints that the massive lighting rig they featured at the show did little to augment the performance, I've got to disagree.  Simply put the light show was mind-blowing and matched up perfectly to the massive sound that they were cranking out all night long.  Technicolor explosions of light were nearly blinding at moments as an array of LED screens displayed various space themed images that fit right in and transformed Red Rocks into a giant spaceship.
One of my main complaints in the past was that the music of STS9 never really got to that climax point that I think music like this needs in order to truly electrify an audience.   Just three songs into the set they showed me that they were indeed capable of hitting that kind of peak when the broke out "Hidden Hand, Hidden Fist" from 2008's Peaceblaster album.  As I surveyed the crowd everyone was on their feet with their fists pumping in the air as the band took them off into space.  The first set featured two more tracks from Peaceblaster, "Metameme," and "Empires" before closing with the the meandering and vaguely spooky Ad Explorata number "Oil & Water."
The second set opened with "373 Interlude" which slipped smoothly into the almost euphoric "Scheme" and we were right right back in the thick of it.  Though I had retreated to about row 50 or so when the crowd really began to fill in after Snoop's set, I decided to head back down into the lower rows for a few tunes to see what the energy of the crowd was like.  As I threaded my way through the crowd in row 23, camera in hand, I quickly realized why the top 10 or 15 rows of the amphitheatre were pretty much deserted.  Every row was packed 3 or 4 people deep and there were spots where I literally couldn't get through and had to rely on the outstretched hands of people in the row below to steady myself as and I tip-toed on the front edge of the bench.  When I emerged on the other side, I was literally wet with the sweat of the dancing masses I had just made my way through.  It was a cool Colorado night but in the middle of the mayhem it might as well have been late July in South Florida.
STS9 kept the energy high for the rest of the night with tracks like "Evasive Maneuvers," "Beyond Right Now," and a nearly 15 minute "Circus" that ended the set in a majestic fashion.  The evening wrapped up at about 1am with a two song encore that included "This Us" and a mayhem inducing "Monkey Music" that we heard reverberating off the massive rocks as we made our way to our car.
All in all it was a fantastic and eclectic night of music at Red Rocks and I've got to admit that it peaked my interest to see what these guys might have in-store for their annual Red Rocks run next summer.
Set List
Set 1: Artifact, Arigato, Hidden Hand Hidden Fist, Metameme, Be Nice, Empires, Breathe In, Instantly, Oil & Water
Set 2: 373 Interlude, Scheme, Rent, Evasive Maneuvers, Eb, Beyond Right Now, Aimlessly, EHM, Circus
Encore:  This Us, Monkey Music
Energy: A
Sound: A
Musicianship: A-
Stage Presence: B
Set/Light Show: A
Overall: A-
Music has always been a part of my life. It probably all started listening to old Grateful Dead, Peter Paul & Mary, and Simon & Garfunkel records that my parents had, but it wasn't long before they were taking me to concerts like Starship, Crosby, Stills & Nash, and Huey Lewis & The News. I got the bug to write about music after reviewing an Eric Clapton concert for a creative writing project in high school but didn't really take it up seriously until 2002. Since then I have published countless articles in The Marquee Magazine and done some work for Jambase.com, SPIN Magazine, and various other outlets. I started Listen Up Denver! as a way to share the music information that is constantly spilling out of my head with people who care. Please enjoy!