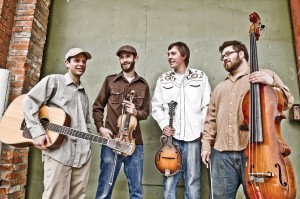 Photo by Tobin Voggesser
Fort Collins bred, genre bending bluegrass pioneers, Head For The Hills have had an all around amazing year so far and are barreling full speed ahead toward their dreams. Their original take on bluegrass music has rocketed them into the spotlight and put them at the forefront of both the Colorado and national music scenes. They have won multiple awards, worked with some of the biggest names around these parts, and were voted "Best Bluegrass band in Colorado" in The Westword Music Showcase the last two years in a row.  I had the pleasure of sitting down with bass player Matt Loewen for a short phone conversation regarding the current state of the band and what they have in store for us in the not so distant future.
Listen Up Denver!: When did Head for The Hills start playing together as a band?
Matt Loewen: We started jamming and playing together in the dorm rooms at CSU, in 2003 I think. Adam [Kinghorn] and Mike [Chappell] grew up together in Golden, but the rest of us met up at CSU. I grew up outside of Chicago and Joe [Lessard] lived in Tennessee for a short time but mostly grew up in Boulder, so I'm kind of the odd man out.
LUD: How long have you been playing the bass?
ML: I've played the electric bass since I was 14 or 15, but started playing the upright for a year when I was 10.  I didn't quite feel it so I switched to clarinet and stuck with that for quite some time, then started back again with the upright in '03 when I got together with Head for the Hills.
LUD: What is your musical background, in terms of what you found yourself listening to as you grew up?
ML: I came from a classic rock background, you know when I was in high school one of my early favorite groups was Pink Floyd but I'm pretty all over the place at this point. Now I listen to a lot of jazz and varied musical stylings.
LUD: 2011 has been, and continues to be, a huge year for you guys; can you talk about some of your highlights so far?
ML: We've had a great summer. Got to play a few pretty big festivals that were awesome. We played High Sierra in July and got to do an official Night Grass show for the Telluride Bluegrass Festival which was fun. As always love our sets at the Mishawaka Amphitheatre, it's kind of our home spot. We played there in May and will actually be playing there again soon. Those would definitely be my highlights.
LUD: Your show at the Mishawaka in September is coming up on the 17th. What makes that show so special for you guys?
ML: Well, it's really our home turf.  Aside from the Aggie in Fort Collins it's our home venue. The Mish is just more rarified with the shorter season. We have been able to build a really solid following and bring out a good crowd for the shows up there so we always enjoy being able to come back.
LUD: I read somewhere that for each ticket purchased a tree is planted, can you explain this?
ML: (Laughs) We have a ticketing service set up on our website where you can buy tickets directly from Head For the Hills. The ticketing agency we partner with has it set up so that for every ticket purchased from the Head for the Hills website, a tree will be planted.
LUD: Right on! H4THs sound is so unique and spans so many genres. What are some of your main influences and motivations?
ML: I think the genesis of the band started with groups like Hot Rize and Tony Rice and all of those associated people that sprung from there. You know, there is no banjo in the band but we still draw influence from the likes of Bela Fleck and Tony Trischka. All of those kinds of people are where we started in terms of bluegrass. Otherwise, we all have pretty open ears and listen to a lot of varied music, whether it is stuff coming out currently or stuff from the past. Joe and I both collect records so we are constantly going to record stores and getting ideas from that and take inspiration from whatever it is we are listening to at the time.
LUD: Can you name the top three records you've bought in the past year?
ML: That's tough, I'm actually looking at some right now…How about…Steely Dan – Countdown to Ecstasy. How about Roy Wood – Boulders, and Grizzly Bear's Veckatimest!
LUD: Awesome, I'll have to look into those. So, is H4TH's working on new material?
ML:  Yeah we are, we are developing material for the next H4TH's record right now. We have also been in the studio working with our friend and singer/songwriter Jessica Kilroy.  She is based in Montana and we just recorded 7 songs with her working on a collaborative project. We aren't sure what to call it yet or what the name of the album is, but that's about half way done. Then we will be heading into the studio as soon as humanly possible to start working on the new H4THs album.
LUD: Alright, aside from the show in the 17th at the Mishawaka, do you have any more Colorado dates coming up?
ML: We actually have one on October 7th at The Fox and then we just announced two nights opening for Leftover Salmon on November 25th and 26th at the Ogden for their post Thanksgiving shows. After the Mish show we head out on tour in the Midwest and then onward from there.
LUD: That's Great! Sounds like you guys are in full gear and will continue to wow audiences for a long time to come. To end it can you give me a one phrase that best describes Head For The Hills?
ML: I guess we are trying to be… "New yet Familiar."

I rode my skateboard from school in 7th grade to my buddy Vince's house where he put on the song "Perfect Government" by NOFX and I was hooked. The next day I bought the album Duh by Lagwagon. The next year I saw Against Me! at the Starlight Theater in Fort Collins, my mom dropped me off. I've since devoted every waking hour to anything done with passion. My speakerbox bumps everything from Lil' Wayne to Pablo Casals. I was never very good at making music, but I am damn good at listening to it. I've been filling up yellow notepads with random thoughts and misspelled words for as long as I can remember. I enjoy whiskey of all sorts, Newport cigarettes and the company of my family. I've got an addiction to run-on sentences that I'll probably never cure. A solid handshake with a stranger who has become a friend over a few beers means the world to me. You'll often find me wide eyed and wandering with an ear to ear grin. I live for funky break beats and spreading the love.