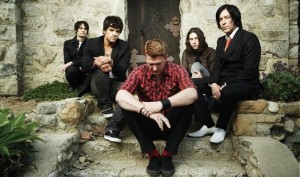 Date: Fri, Apr 8, 2011
On sale: Sat, Feb 19, 2011 10AM
Ticket Prices*: $29.75-$35.00
Formed from the ashes of stoner rock icons Kyuss, Queens of the Stone Age reunited the group's along with new guitarist/keyboardist Dave Catching. The project's origins date back to Homme, who in the wake of Kyuss' 1995 demise relocated to Seattle to tour with the Screaming Trees; he soon began working with a revolving lineup of musicians including the Trees' Van Conner, Soundgarden's Matt Cameron, and Dinosaur Jr.'s Mike Johnson, recording a series of 7″s originally issued under the name Gamma Ray. After rechristening the group Queens of the Stone Age, Homme recruited Hernandez to begin work on their self-titled debut LP, issued in late 1998 on Loosegroove; after the album was completed, Oliveri left the Dwarves to rejoin his former bandmates, with the subsequent addition of Catching rounding out the roster. In addition to extensive touring, Homme put together a series of albums for the indie label Man's Ruin; the various volumes of the Desert Sessions feature Homme's collaborations with a loose-knit, revolving-door lineup of likeminded musicians, some from bands like Soundgarden, Fu Manchu, and Monster Magnet.
When QOTSA reconvened for the March 2005 LP Lullabies to Paralyze, the lineup featured Homme, Joey Castillo, Alain Johannes, Van Leeuwan, and Lanegan. The Over the Years and Through the Woods CD/DVD appeared in November that same year. It featured live material from the band's tour for Lullabies, but also included rare and archival Queens footage. In 2007, the band (Lanegan at this point was only a guest) released the excellent Era Vulgaris, which also included contributions from the Strokes' Julian Casablancas, among others.
~ Jason Ankeny & Greg Prato, All Music Guide

Music has always been a part of my life. It probably all started listening to old Grateful Dead, Peter Paul & Mary, and Simon & Garfunkel records that my parents had, but it wasn't long before they were taking me to concerts like Starship, Crosby, Stills & Nash, and Huey Lewis & The News. I got the bug to write about music after reviewing an Eric Clapton concert for a creative writing project in high school but didn't really take it up seriously until 2002. Since then I have published countless articles in The Marquee Magazine and done some work for Jambase.com, SPIN Magazine, and various other outlets. I started Listen Up Denver! as a way to share the music information that is constantly spilling out of my head with people who care. Please enjoy!