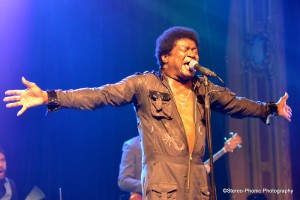 Photos By Johne Edge & Tim Dwenger
The Scene: Weekday night shows can be slow, and with only one of two bars open at the Bluebird Theater, I wasn't sure what to expect when I arrived shortly after 8:00.  The opener had already taken the stage and was delivering a high energy set full of funk and rock infused numbers.  Slowly, the East Colfax theater began to fill and soon you could hear the hushed, and not so hushed, conversations of an audience anxious for the evenings headliner.
The Opener:  Colorado's own seven piece funk army Bop Skizzum opened up the evening.  Having recently caught these guys at the 2011 Bohemian Nights, I was excited to see them perform again. The vocals of Erin Jo Harris and Andy Guerrero backed by a driving bass, horns, and block-rocking beats filled the floor with dancers as they cranked through original numbers like "Hit It On The One," "I'm So Much Cooler" and "Beauty Queen" from their Beauty Queen EP.  At one point in the set Harris nearly blew us all away with her powerhouse vocals when the band covered Adele.  These guys have been gaining a lot of momentum lately and they don't look to be slowing down any time soon!!!
Charles Bradley and The Menahan Street Band: In 1962 James Brown played The Apollo in New York City and a teenager named Charles was there.  That show must have made a huge impression on the young man, because what I witnessed on stage on September 13th had the same energy and showmanship that I personally had only seen on documentaries like  James Brown: Live at the Boston Garden.  Nearly 37 years later, after working jobs just to get by and playing music when he could, Charles Bradley committed himself to his true love of performing music.  Everyone at the Bluebird Theater on Tuesday is indebted to him for that decision.
Bandleader Thomas Brenneck took to the stage with guitar in hand and led The Menahan Street Band through three smooth and funky instrumentals that seemed ripe with 70's flavor as he warmed up the crowd for the introduction of the one and only Charles Bradley.  The Menahan Street Band, a collaboration of musicians from The Dap-Kings, El Michels Affair, Antibalas,  and the Budos Band, steadily built anticipation for the arrival on stage of "The Screaming Eagle of Soul" with tight guitar riffs, staccato horn lines and a rock solid backbeat.  As the crowd began to sway Bradley walked to the microphone in the center of the stage adorned in a sequined jacket and jumpsuit, and opened his portion of the night with "Heartaches and Pain."  A true entertainer, Charles got the audience up and going and kept them going with a passionate delivery of song after song as the sweat flowed freely from his face.  One of the nights highlights was an expertly arranged cover of Neil Young's "Heart of Gold."  The band reinvented so professionally that I'd bet a lot of people did not realize they were listening to a cover of a legendary folk song.
I am not sure if it was Bradley finally getting to perform on stage after living a life full of trials and tribulations or what, but he was one of the most loving, humble, and genuine artists I have ever seen grace a stage of any size.  From those not old enough to drink with the "X" on their hands, to sixty and seventy somethings, Bradley and the band connected to the audience with their honesty and apparent love for the music they performed.  If you haven't had a chance yet go out and grab a copy of  No Time for Dreaming.  Take a listen to the CD, and I think you will hear why this show is now on my 2011 top 10 list of best shows.
Energy: A+
Sound: A
Musicianship: A+
Stage Presence: A+
Set / Light show: B
Overall :  A+
Wherever the music is, you'll find me with my camera, shooting on street corners, from barstools at clubs, from the side of the stage at theaters, and from photo pits in places like Red Rocks. Clicking away, trying to capture the emotive essence of music, and all those moments that we forget because of one too many Pabst Blue Ribbons.