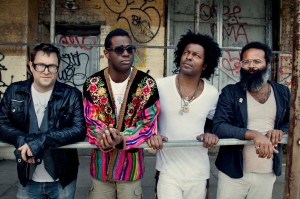 Why You Should Go:  Canadian darlings Broken Social Scene recently headlined their own show at The Boulder Theatre and this week they are on the same bill as TV On The Radio!  This is a rare chance to catch two of the most revered bands in Indie Rock together in one evening.  Both bands have released strong records in the last year and have come off some big success on the Festival Circuit this summer.  While TVOTR is surely still reeling a bit due to the loss of Bassist Gerard Smith who succumbed to lung cancer in April, they have returned to the road to do what they love and their shows have been getting rave reviews.
If you are an Indie Rock fan, you won't forgive yourself if you don't head out to The Ogden and catch at least one night of this mighty two night stand this week!
Venue:
The Ogden Theatre, 935 E. Colfax Ave Denver, CO 80218 – 303-832-1874
Doors:
7:00 PM
*Price:
$35 – ADV Buy Tickets
$40 – DOS
*All times and prices are gathered from other sources and I am not responsible for mistakes or inconsistencies. They are intended only as guidelines. Please, always call the venue if you desire the most accurate information possible.