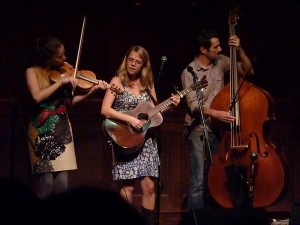 Photos by Paul Murin
The Scene: The L2 Arts and Culture Center was the ideal setting for the extraordinary music that Crooked Still, and openers The Bee Eaters, provided on Thursday night. Walking up to the stairs to the Renaissance Revival styled building, on the corner of Colfax and Josephine, I didn't know quite what to expect. I had passed by this building many times, but never really knew it's function. Walking in to the terrazzo foyer, I was amazed at the beauty and simple elegance of the space. There is no alcohol served here, just a small concession stand with more Puritanical beverages.  It gave an instant feeling of warmth and refinement, much different than most of the venues I frequent.  This show was part of 10 performance series put on by the Swallow Hill Music Association.
The crowd was made up of all different ages, but the most solid representation was the older, PBS and NPR loving, subdued and placid crowd Swallow Hill is known and loved for. The setting was stunning and nostalgic, much like the bands that played that night. With beautiful woodwork, theatre style seating for 500 and high ceilings designed with acoustics in mind, I couldn't help but realize how long it had been since I attended a "proper" performance. After a lengthy presentation and motivational speech on the benefits of becoming a Swallow Hill member, of which there are many, the quiet murmuring ceased as the opening band, The Bee Eaters, walked onto the stage.
The Opener: The Bee Eaters are an acoustic quintet whose members are as unique as the instruments and arrangements they play.  The group consists of Crooked Stills Tristan Clarridge on cello, his sister Tashina on fiddle, Courtney Hartman on guitar, and the most visible member on stage, Simon Chrisman playing the hammered dulcimer. This intimidatingly talented group of musicians attacked a beautiful set of bluegrass, Celtic and traditionally inspired material. The Bee Eaters are all formally trained musicians and are each virtuosos of their respective instruments. The hour they played was a dream -like whirlwind of masterfully crafted string-induced bliss. Nearly all instrumental , I was amazed by the musicianship that was being presented. I could have easily listened to them for another hour, and was almost disappointed when their set ended.  Everything about The Bee Eaters is unique, impressive, traditional and prestigious…with flavors of simple roots. Before the group left the stage, they acknowledged the amazing sound and audio engineer, I couldn't wait to hear more well-crafted music come out of the speakers.
Crooked Still:  From the first notes of Crooked Still's set I marveled at how well their sound meshed with The Bee Eaters.  All these musicians were probably once beautifully unique band geeks. The obvious cream of the band geek crop, the last to be picked at dodge ball, but the first to be invited to schools like The New England Conservatory of Music and Berklee College of Music.  Older now, there are few visible traits left from their possibly socially awkward past and they are left to dazzle people with their exceptional musical abilities.
Crooked Still is comprised of Aoife O'Donovan on vocals, Dr. Gregory Liszt on Banjo, Corey DiMario on double-bass , Tristan Clarridge on cello, and Brittany Haas on fiddle. From the first lyric to the last I was captivated by Aoife O'Donovans siren song. Her voice is haunting, angelic, powerful and seductive.  She presented the lyrics with all the same subtleties, details and precision as the strings played behind her.
Crooked Still plays mostly reinterpreted traditional songs but they don't just simply "cover" these tunes, they tear them apart, digest them, analyze their components and reassemble it into something all their own.  It becomes a different song, yet caries the same qualities and tells the same story.  Songs like "Ain't No Grave", originally written by Claude Ely in 1934, are presented in an amazingly passionate and energetic way.  The only way to interpret these songs the way Crooked Still does is to immerse yourself in musical history.  The songs are sung and played with understanding, as if all the members on stage were present when the material was originally written.
As traditional as these songs are, Crooked Still gives them a modern feel.  Tristan's percussive and surgeon-like cello playing is as entertaining to watch as it is pleasant to hear.  He obviously is fully consumed by the experience. Dr. Gregory Liszt is the mad scientist of banjo playing. His wildy curly and unruly hair compliments his lead guitar/frontman approach to the banjo.
Another traditional number, "The Golden Vanity" was the highlight of the evening for me.  As Ms. O'Donovan leaped to the microphone, gripping her skirt with her left hand, she stomped her feet with a deliberate cadence.  The fury of Brittany Haas's fiddle, and the thump of Corey DiMario's bass rose so climatically that it actually gave me goosebumbs.
Crooked Still also played two more modern reinterpretations; The Beatles' "We Can Work It Out" and Paul Simon's "American Tune".  Both were amazing.  This show was a true gift to Denver's music community, but at the expense of my heart being stolen by Aofie O'Donovan.  Take good care of it Ms. Donovan, I expect it back in one piece at your next show in Denver!
Crooked Still captures the phrasing and imagery of the times these songs were originally penned.  The listener becomes lost in the historical references and well-developed characters the material presents.  Obvious students of the musical past, they are also preserving its legacy by translating it for a modern audience. This night was filled with a caliper of music that I rarely see, and it looks like this venue will be keeping this standard for the rest of Swallow Hills music series.
Energy: B+
Sound: A
Musicianship: A+
Stage Presence: B
Set/Light Show: C
Overall: A-
Brian Turk grew up in the shadow of the Catskill Mountains, near Woodstock, NY. He comes from a family of music lovers, audiopliles, Dead Heads and avid concert goers.The musical magic that can only be created in the Catsklills, both past and present, is what Brian cosiders the epicenter of his music addiction. The music of The Band, and most recently The Levon Helm Band, is the soundtrack of home for him. Brian's mother took him to his first concert at 5years old...it was Johnny Cash and Roseanne Cash at Jones Beach Amphitheatre. For Brian, music is a family affair. He feels the same way about live music...we all convene to celebrate together. Brian's writing life started when he wrote his favorite author, southern fiction writer Clyde Edgerton, a fan letter at age 13. When most kids were idolizing baseball players and television, he was worshipping writers and musicians. The two became friends and Clyde shared his craft with Brian. The next year Brian attended Duke University's Young Writers Camp. This is the extent, of what Brian considers, his "formal" training in writing. From then on his goal was to capture snapshots of life through words. Brian has been involved with live music in various facets over the years, and combined with his enthusiasm and love for Denver's music scene, he creates a vivid description of what he sees and hears. If you see him out at a show, dancing with a notebook in hand, say hello.