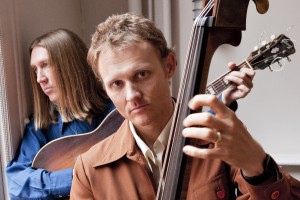 Photo By Taylor Crothers
In 2004, two extremely talented musicians made the decision to take the risk of working together.  They each had their own careers, they lived 900 miles apart, and each played a totally different style of music.  When the fact they are brothers is added to the equation, well, you might wonder if it ever worked out.  Seven years later, The Wood Brothers are going stronger than ever!  Oliver Wood, who played guitar with the Atlanta based roots/blues band King Johnson, and upright-bass player Chris Wood of jam-jazz group Medeski Martin and Wood have just released their third album, Smoke Ring Halo.
In these days of 99 cent electronic downloads and short attention spans, it is rare to find an album that you can listen to all the way through, and some people have never even heard of this practice.  Smoke Ring Halo is the most cohesive, flowing, emotion invoking, lyrically perverse, and well recorded albums I have heard in years.  Honestly, the only album I have listened to as much is Bob Dylan's Blood on the Tracks.  These two men write amazingly simple yet powerful lyrics.  There is nothing hidden or encrypted, just well crafted stories.  Oliver's delta inspired guitar playing and unique, soulful voice gives the songs a sense of timelessness.  Combine that with the precision and power of Chris's bass playing and the brothers create one of the most full and dynamic sounds I have heard from only two instruments.  With the recent addition of a drummer, this trio is hitting the road with force.  Listen Up Denver! had the honor of speaking with Oliver Wood recently about the new record, a new band member, and living in the South.
Listen Up Denver:  So, where are you right now? Are you at home or on the road?
Oliver Wood: I'm home, here in Atlanta. We kick off the tour next week, in Salt Lake City.
LUD: And then quickly to Denver?
OW: Yeah, we will be in Denver on the 23rd.
LUD: You lived in Colorado for a while, right?
OW: Yes, Chris and I grew up there for the most part, in Boulder. Our family moved there sometime in the mid-seventies.
LUD:  Where too after Boulder?
OW:  I was in California for a while and then ended up in Atlanta. Chris was in Boston for a while, then New York City and he finally landed in upstate New York.
LUD: So, having grown up in Colorado, what are you looking forward to while you are here for a few days?
OW: Well, it's always super nostalgic…and our dad still lives in Boulder. So we get to see him, which is good because we miss dad. I love getting to see the mountains, it's just so beautiful out there. I love being outside, and the climate in Colorado is great.
LUD: I lived in the south for awhile, and it definitely has a certain charm. What keeps you in Atlanta?
OW: Well, I'm raising a family here. I wound up playing in a band [King Johnson] and followed everyone to Atlanta. It just kind of stuck. I guess the south really suits me. There's just something about this place. The music of course, and how the South's history has affected it, you know. The pain of the south's past produced some beautiful music. It is the two sides of its history, from the darkness comes light. It is the weird duality of the south. The food is also amazing, also with rich history behind it.  I have been living in Atlanta for 20 years, I am really connected here, but I do love the Woodstock area of New York. It has its own historic, laid-back- vibe. I love going up to hang with my brother.
LUD:  That's exactly what I hear in your music…the combination of that laid-back, Americana, Woodstock, Catskill Mountain, rolling hills kind of feeling with the bluesy grittiness of the South. WAs the band you were in before pairing up with your brother Chris, King Johnson, strictly a blues band?
OW:  It was definitely inspired by all the Kings of the Johnsons of the Blues…that's where our name comes from. It was definitely rooted in that, but our music was much more.  Just like the Wood Brothers, it was an eclectic mix of all roots music.  King Johnson used some horns, like a New Orleans/Funky Meters kind of thing. We didn't' want to play just the blues, that had already been done well and we couldn't do it justice. We brought in Gospel, Country and other roots and Americana influences.
LUD:  Since you and your brother Chris are able to combine the feeling of two separate areas of the country, that laid-back Americana of the Catskills with the bluesiness of the south, can you explain your writing process?
OW: Well, it took a while for us to learn how to collaborate, just to work together at all.  That's hard, to come together and write such personal songs.  You have to learn how to relinquish control and all your preconceived ideas. That in itself was hard and it's even harder, since we live so far apart. So, once we got used to the idea, we do it at any time, at any chance we get. On tour, we actually jam at sound-checks, or backstage. You can flip open lap tops these days and share ideas. Between emailing lyrics back and forth and seeing each other on the road, we seem to get something done.  It's not easy, and we try to get together for a few days every once in a while. Usually just before or after a tour. Then we will really bear down on some stuff. For the most part, the ideas will start on the road. We will work on them some on the road, then go home and exchange ideas long-distance. Then we will get together and refine them. Anyway and any time we can do it, we do it.
LUD: Well, it seems to be workin', that's for sure. I would love to talk about your new album, Smoke Ring Halo. It has a totally different feel than your last album, Loaded. It sounds like The Wood Brothers have had a lot of growth since then. What's changed?
OW: Well, musically, we wanted our sound to be a little bit bigger, more like a band. Which isn't to say we didn't have full band songs on our last album, we did, but the musicians were just hired for the album, session players. After that album, we toured as a duo, so what was recorded had a different sound live.  Starting last year, we decided our next job was going to be a band record, a trio record. We decided to start touring with a drummer… get a third member of the band, not just someone for the studio. Have someone feel they knew the music, were part of the music and part of building the music. We toured with a drummer for a couple months before we made the record, with the idea that when we go in the studio, we would play the songs as a band.
LUD: And that drummer was Tyler Greenwell?
OW: That was Tyler Greenwell. He toured with us before the record, and plays on the album. Tyler plays drums for Derek Trucks and Susan Tedeschi, and it was basically Derek's year off…he and Susan took time off to make their album. So during that time we used Tyler. We now have a great drummer out of Austin, Jano Rix. He is more of a permanent guy now. I would also say that this album kind of rocks harder than Loaded. It is more cohesive, with our trio sound. Of course we had John Medeski come play keybords on a few tracks, we had some horn guys on a couple. But for the most part, Smoke Ring Halo was recorded as a trio, live in the studio . This album is a great representation of what we have been doing for the last year or so, and more of what our shows are like. Lyrically, our new album is more collaborative than the last ones. Loaded was written while our mom was sick and dying of ALS, Lou Gereig's disease, so a lot of the songs on that are pretty heavy, and come from that experience. Smoke Ring Halo has some more light, rockin' tunes especially the first couple tracks, "Mary Anna" and "Shoofly Pie".
LUD: Those songs are even danceable too!
OW: Yeah, they are danceable!
LUD: At your show here in Denver I expect to see some people shaking their ass!
OW: That's what is so fun about having a drummer with us on the road, we have that extra gear that we can shift in to while we can still do the real stripped down thing. The other thing is that Jano Rix sings real well, so we have been doin' a lot of three part singing, so we have been able to add that to the show. There are still some heavy songs on our new album. The title track, Smoke Ring Halo, is a tribute to a friend who passed away last year. There is definitely more variety than our last album.
LUD: I have to tell you, the promotion of your new album is great. You moved to a new label, correct?
OW: We did! Zac Brown, from the Zac Brown Band, who are hitting it pretty big nowadays, started a label. I am friends with those guys, and Zac is fan of our music. Zac is a fan of all kinds of music, he isn't just a country guy. We were needing a new home for our new record, so we went with Zac. It was a cool decision, because a lot of bigger labels are struggling, and his label, Southern Ground Artists, has been extremely successful. It is also great that the president of the label is a fan of the Wood Brothers! Zac even sings backup on a song. It is so cool to have this type of relationship with a label, instead of suits up in an office. The people involved on our label are musicians themselves.  So that feels good.
LUD: It looks like the label is backing you up too. When I went to Twist and Shout to buy Smoke Ring Halo, there was a great display…and I even got an amazing lithograph and keychain with it. I think on vinyl it was $11! We appreciate music that is so accessible. It is rare to get that type of support from a label these days.
OW: Yeah, we are happy to be where we are at! To be honest, I am kind of jaded. I have been doing this for a lot of years and I just like to be able to focus on the music. That's hard when you're frustrated and worried about what's gonna happen with your record. These days it is hard to expect much. I love the fact that now I can sit back and focus on what I do now.
LUD: Well, like I said, whatever you are doing…it sure is working! I look forward to meeting you at your in-store at Twist and Shout next week!
OW: Yeah man, 'til then!
The Wood Brothers will be performing an acoustic set at Twist and Shout on Friday September 23rd at 6pm. They will also be signing copies of Smoke Ring Halo. After there in-store appearance, they will be performing a full show at L2 Arts and Cultural center at 8pm. On the 24th they will be at The Fox in Boulder and at The Aggie in Fort Collins on the 25th. Listen Up Denver! will be on hand at both their Twist and Shout appearance and the full show at L2 Arts and Culture center, but don't wait for us to tell you how it was, get out and see these guys!

Brian Turk grew up in the shadow of the Catskill Mountains, near Woodstock, NY. He comes from a family of music lovers, audiopliles, Dead Heads and avid concert goers.The musical magic that can only be created in the Catsklills, both past and present, is what Brian cosiders the epicenter of his music addiction. The music of The Band, and most recently The Levon Helm Band, is the soundtrack of home for him. Brian's mother took him to his first concert at 5years old...it was Johnny Cash and Roseanne Cash at Jones Beach Amphitheatre. For Brian, music is a family affair. He feels the same way about live music...we all convene to celebrate together. Brian's writing life started when he wrote his favorite author, southern fiction writer Clyde Edgerton, a fan letter at age 13. When most kids were idolizing baseball players and television, he was worshipping writers and musicians. The two became friends and Clyde shared his craft with Brian. The next year Brian attended Duke University's Young Writers Camp. This is the extent, of what Brian considers, his "formal" training in writing. From then on his goal was to capture snapshots of life through words. Brian has been involved with live music in various facets over the years, and combined with his enthusiasm and love for Denver's music scene, he creates a vivid description of what he sees and hears. If you see him out at a show, dancing with a notebook in hand, say hello.