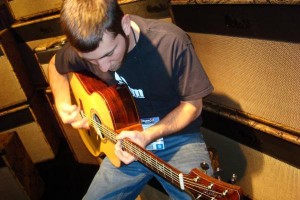 The Scene:  The Larimer Lounge hosted the CD release party for Jonah Wisneski's debut album Light on Friday night.  This is a great venue for up and comers, a kind of training facility if you will. The acts that pass through here are typically lesser-known, independent artists who are trying to get their feet wet and build a fan base.  Once you get passed the burly door guy, the bar area of the Larimer Lounge is quite inviting, with tall ceilings and exposed brick.  The rear of the building houses the stage and then opens into a great, huge outdoor patio.  The stage and dance floor area is reminiscent of a dark fraternity house basement dark with low ceilings edged with Christmas lights and, to be honest, the crowd seemed out of place, too professional looking for this dirty rock club.  The photocopied handbills plastered the walls revealed The Larimer's simplicity and authenticity.  Nothing fancy, just a good place to rock out.  The crowd on Friday had obviously come out to support their friend, Jonah Wisneski. He has been part of the Denver music scene for years, and has finally released an album of his own.
The Opener: Grub Street Writer kicked things off with their unique blend of folk and rock.  Singer/songwriter Andy Palmer's voice startled me with its gruff similarity to Dylan and Tom Waits.  His songs were fun, energetic, and humorous at times.  Guitarist Dan Kerns blasted out some amazing jams, adding a rock element to Palmer's folk undertones.
Jonah Wisneski: Wisneski pulled out all the stops for the celebration of his first solo record. Members of The Fox Street All Stars and Kinetix helped Wisneski and Band of Randoms present his long slaved over material.  It was clear from the get go that a lot of time and effort was put into these songs and they were played with pride.  Wisneski's guitar style was developed backing-up other musicians in the studio and on the road, and while it's nothing too crazy, just a clear, mellow sound, he shows significant promise as a player.
As he took us through his labor of love, the crowd was behind him every step of the way, beaming with pride for their friend.  It is great to see musicians take the leap and put it all on the line for what they love, and Wisneski is doing just that.
Wisneski's music is a conglomerate of blues, jazz, rock and soul.  It is a sound that seems to represent the music scene here in Colorado very well and even strays occasionally into the kind of territory that KBCO fans would eat up.  His music has something in it for everybody and it is well presented and organized.
Throughout the night, Wisneski played with confidence and poise and he seemed ecstatic to be finally releasing this material onto the world.  I couldn't help but think what the future holds for this guy and his band, and if they keep working this hard, I am sure it will be great things.
When he took us down "Route 6," Light's opening track, he did it with a country feel as the twang of a pedal steel pierced through dark room while on one of the albums standout tracks, "Riverboat Queen," he invited a sax player to the stage to bring the funk.  Jammy and loose, this song showcased Wisneski's ability to let go of the reins a little.   At another point in the evening bouncy keys laid down the groove for "Runaround," a song that is sure to please fans of that little band from Georgia, Widespread Panic.  My favorite song of the show had to be the loungy, sexy slow jam "Of All The Things I've Lost, I Miss My Mind The Most."  It was definitely the bluesiest of them all, but it still felt refined and classy.  No matter the musical style that was being showcased, the whole night had a sense of smoothness to it with Wisneski in his blazer and driving moccasins, cool, calm and collected.
A long time coming, this album is proof that Wisneski is a mainstay in Denver's diverse music scene.  It is well-organized and mature.  He clearly took his time, perfecting the songs he put so much heart into and it was well worth the wait.   At first listen it's clear that he obviously took his own advice: "Please grant me patience. Good things come to those who wait."
Energy: B
Sound: C+
Musicianship: B+
Stage Presence: B
Set / Light show: C-
Overall: B

Brian Turk grew up in the shadow of the Catskill Mountains, near Woodstock, NY. He comes from a family of music lovers, audiopliles, Dead Heads and avid concert goers.The musical magic that can only be created in the Catsklills, both past and present, is what Brian cosiders the epicenter of his music addiction. The music of The Band, and most recently The Levon Helm Band, is the soundtrack of home for him. Brian's mother took him to his first concert at 5years old...it was Johnny Cash and Roseanne Cash at Jones Beach Amphitheatre. For Brian, music is a family affair. He feels the same way about live music...we all convene to celebrate together. Brian's writing life started when he wrote his favorite author, southern fiction writer Clyde Edgerton, a fan letter at age 13. When most kids were idolizing baseball players and television, he was worshipping writers and musicians. The two became friends and Clyde shared his craft with Brian. The next year Brian attended Duke University's Young Writers Camp. This is the extent, of what Brian considers, his "formal" training in writing. From then on his goal was to capture snapshots of life through words. Brian has been involved with live music in various facets over the years, and combined with his enthusiasm and love for Denver's music scene, he creates a vivid description of what he sees and hears. If you see him out at a show, dancing with a notebook in hand, say hello.