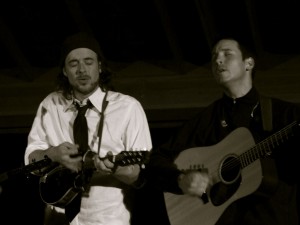 Photo By Jonathan Dowdell
The Scene: For five years now Adam Aijala and Ben Kaufmann of Yonder Mountain String Band have sat down on the stage in the Wildflower Pavilion at the Planet Bluegrass ranch in Lyons, Colorado for the Mabon Festival. The Mabon is an intimate celebration with two of the Front Range's most favored and talented musicians. It is a daylong gala in recognition of the Autumnal Equinox. A small yet amazing event in which we all come together to wish farewell to the summer and welcome the harvest season through feasting, merriment and multiple sets of acoustic music.
The folks at Planet Bluegrass open the gates at 2pm and it steadily fills until show time. EZ-Ups and large tents are scattered throughout the campground. Yard games fill the open space while makeshift bluegrass bands pick away the afternoon. For many the Mabon is by far one of their favorite musical nights of the entire year. Rightfully so, it is one of the most beautiful events I have ever taken part in. A feast is provided by the Planet Bluegrass staff. This year including Harvarti grilled cheese, homemade chili and tomato soup. Fine hoppy beverages are for sale from the time the gates open. And, the gentlemen at the door made it abundantly clear that we would be in for a good time by stating "You're camping? Well, there's going to be a party over there!"
The bonfire was started a little early this year due to the clouds overhead. Once inside the venue itself you are free to roam at your own comfort. I was lucky enough to catch Ben during his sound check and took this opportunity to relax by the river and take it all in. The feast was prepared around 6pm and quickly sold out as the sun began to set over the Rockies. My friends and I were far too caught up in the revelry and forgot to place down jackets on chairs. This resulted in us having to stand off to the side scattered along the back wall. Ultimately this turned into a blessing in disguise, there was much more room to cut a rug back there without getting in anyone's way.
It is such an event that you could bring both your small child and elderly grandparents too. Most walks of life are represented. Young children run through the fields while the older folk mingle in their chairs.
Adam Aijala and Ben Kaufmann: The way the stage set up would lead you to believe that there were much more than two people about to play all of those instruments. The entire area behind where they sit is lined with stringed noise makers of all shapes and sizes. I found a spot in the back of the pavilion conveniently next to the beer stand and one of the church pews. As always they were introduced to a very warm welcome and started right in with one of my favorite Grateful Dead songs.
The opening notes of "Brown Eyed Women" instantly gave me the chills and assured me that the rest of the night was going to be absolutely joyful. The two worked their way through the instruments on stage. Playing both old crowd favorites and new numbers not many were familiar with. Personally, I was more than thrilled that I got to hear one of my favorite Ben songs "Love What I do for a Living." The first time I ever heard a recording of it I had to play it over and over again and have been waiting to hear it done live for quite some time now. The first set was serene and a perfect relaxing way to start the evening as they blended covers, originals and even some classics from the Yonder catalog into the performance. The first set came to an end with a cover of The Beatles "Hey Bulldog" followed by a version of the Danny Barnes tune "Going Where They Don't Know My Name."
During the set break most everyone either retreated to their campsite to refuel or headed to the warmth of the bonfire. The chill in the night air was a delicate reminder that summer was ending and lots of people were taking full advantage of camping out under the stars one last time this season. After about 30 minutes, and a few more ice cold PBRs, I made my walk back to the pavilion just in time to catch the beginning of the next set of music.
This was a powerful set which truly showed both Adam and Ben's musical diversity. Adam started it off with an instrumental number featuring his quick pickin' banjo skills. This set was filled to the brim with an eclectic mix of covers. It included everything from Beck's "Girl" to Jethro Tull's "Mother Goose." Ben even got on the keyboard at one point to rock out the Jackson Browne classic "Doctor My Eyes." The only complaint I heard from a few people including Ben was the crowd volume throughout the night. I recall him asking "What are you all talking about?" at one point in the evening. Aside from that, the second set was energetic and full of upbeat numbers that definitely got some blood flowing through the churchlike pavilion.
The entire night was one of the most well thought out performances I have been too all summer. It's no wonder everyone involved looks forward to this celebration for the three hundred and sixty four days leading up to it. They started the encore with another favorite Grateful Dead song of mine, "Touch of Grey," and I must say that I do prefer the Adam and Ben version a little more than the original. They even touched on the first Yonder album Elevation with another crowd pleaser and one of my top 10 songs of all time; "Left Me In a Hole." Then they finished the show off with the fast paced "Damned if the Right One Didn't Go Wrong" followed by the lyrically brilliant "Casualty." Once again I must stress how well thought out the encore was. It was a perfect way to end the nearly 4 hours of fine picking and amazing display of talent.
Even though the music was over, the festivities were far from done. A fair amount of folks found themselves by the Bonfire reflecting and enjoying the nice autumn night. I didn't know many of the people but a strange sense of friendship was very evident as music has a way of bringing like minded individuals together. The Mabon is almost a family reunion of sorts and it's no wonder to me why the fans and followers of these guys call themselves "Kinfolk."
I walked back to my campsite with only one real thought on my mind: "Holy cow, I cannot wait for next year's Mabon!" A sentiment shared by everyone I had the pleasure of talking with. I wasn't sure I was ready to say "goodbye" to my summer quite yet, but after Saturday night I feel like I got everything imaginable out of the last four months and am looking forward to what another winter on the Front Range will bring. The Mabon festival at Planet Bluegrass in Lyons, Colorado remains one of my musical highlights of the entire year. It is a tradition I hope will stick around for a long time to come, and I for one will continue to make it a staple of my summer as long as they continue to play their beautiful music.
Set List:
Set 1: Brown-Eyed Women, Town, Take a Walk? (New Adam song?), I Love What I Do For a Living, Amanda Rose, Straight Line, Looking For a Way Out (Uncle Tupelo), Anna Lee, Honestly, Used To It (New Ben), Hey Bulldog (Beatles), Going Where They Do Not Know My Name 
Set 2: Adam's Banjo Tune, Sometimes I've Won, Pockets, Just Us, Mary and The Soldier, Girl (Beck), Tall Buildings (John Hartford), Stuck in The Middle (Stealers Wheel), Doctor My Eyes (Jackson Browne), Not One Drop, The Blues My Naughty Sweetie Gives to Me, Fri/End (Thurston Moore), Mother Goose (Jethro Tull), Complicated, All The Time
Encore: Touch of Grey, Dreams, Hole, Damned if the Right One Didn't Go Wrong, Casualty
Energy: A
Sound: A
Musicianship: A
Stage Presence: A
Set / Light show: N/A
Overall: A
I rode my skateboard from school in 7th grade to my buddy Vince's house where he put on the song "Perfect Government" by NOFX and I was hooked. The next day I bought the album Duh by Lagwagon. The next year I saw Against Me! at the Starlight Theater in Fort Collins, my mom dropped me off. I've since devoted every waking hour to anything done with passion. My speakerbox bumps everything from Lil' Wayne to Pablo Casals. I was never very good at making music, but I am damn good at listening to it. I've been filling up yellow notepads with random thoughts and misspelled words for as long as I can remember. I enjoy whiskey of all sorts, Newport cigarettes and the company of my family. I've got an addiction to run-on sentences that I'll probably never cure. A solid handshake with a stranger who has become a friend over a few beers means the world to me. You'll often find me wide eyed and wandering with an ear to ear grin. I live for funky break beats and spreading the love.