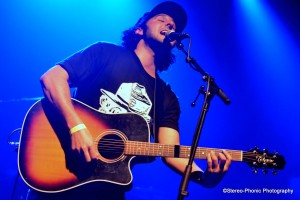 All Photos By Johne Edge
The Scene: The merchandising booth welcomed us to the Bluebird Theater last Thursday night with an "ask about a free mustache" sign.  You received your very own faux mustache encased in a plastic egg with any Mike Pinto shirt purchased (while supplies lasted).  My sister had just arrived back home after a three year hiatus, and we were well lubricated from the small, albeit strong, Mezcal margaritas from across the street. Feeling East Colfax good, we were looking forward to seeing long time favorite Mike Pinto take the stage.
The Opener –  Colorado five piece Apex Vibe opened up the evening.  Tim Sanchez and the boys greeted the evenings concert goers with a blend of hip-hop meets heavy dub that not only filled the time between the doors opening and the main act, but the dance floor as well.  
The Mike Pinto Band – Pinto and his band started their set with "Bad Luck" – an ode to hard times and the subsequent pissing away of paychecks that often follows.  Mike sings, "Go ahead, just leave me, I'll be on the floor if you need me….man, it's been a long day.  I didn't even pay my tab….one more night like this and I'll be checking into rehab…."  The intimate crowd of long time fans quickly packed together in front of the stage and joined Mike in lamenting his hard times.  Ironically however, there wasn't a solemn looking face to be found…most likely due to the upbeat reggae rhythms backing the lyrics.  Much dancing and celebrating ensued as The Mike Pinto Band continued their set with fan favorites "Temptation" and "Never Hold Me Down," before moving onto their latest material.
Bassist Matt Brien and drummer Todd Elrod, formerly of Bargain Music, supplied the driving rhythm for the title track of the band's new EP, The West is Still Wild.  With this duo making up the rhythm section the band seems to have a new layer of sound that is edgier and more rock influenced than many of Mike's earlier works.
But Mike isn't one to forget his roots, and as he gave his band mates a rest he picked up his acoustic and played a few solo numbers.  He started out with "A Thousand Years Ago," living up to a promise that he had made to me in our recent interview.  I bonded with a stranger in the crowd over how that song helped me get through my grandma's death and she pulled up her shirtsleeve to show me a portrait of her own grandmother.  It's moments like this that remind me of how music binds humanity.  Next, Mike lightened up the mood with a dirty ditty, "Bringing It," before settling back into more introspective lyrics with "Shades of Brown."
"It's hard to whistle when you're high…" but Pinto proved that it could be done as he performed the intro to "The Cool and the Deadly," another track from the new EP.  During the next two songs, also from The West is Still Wild, I watched the band grow in size to include keyboardist/trumpet player Max O'Leary and trombonist Josh Molle, both adorned in their SSV t-shirts. The horns replaced what I remember as a guitar riff during "Tricky Nicky" and then added an entire new dimension of sound.  At the end of the song Pinto declared, "this shit is so much more fun with a horn section," and I couldn't agree with him more.   Having listened to Mike since he was a solo acoustic performer, I was happy to see him so at home with his new band of brothers.
The rest of the night passed with tales of bank robbery gone awry ("Bill's Song"), warnings to satisfy your lover ("Dear Senoritas"), and an ode to recognizing your self-worth ("Full Speed").  Lyrically, it's evident that Mike loves to write stories.  Musically, he gives his audience the opportunity to really move.  I loved watching (and participating) in the crowd's constant ebb and flow from swaying to skanking to moshing and back again.
As the night came to an end, I was able to connect with Mike and the rest of the band.  They were heading off to Arkansas and Florida next to continue spreading their unique sound.  If you haven't heard them yet, make sure to give their latest EP a listen.  The West is Still Wild is available on iTunes and at www.MikePintoMusic.com.
Energy: A+
Sound: A
Musicianship: A
Stage Presence: A
Set / Light show: C
Overall :  A