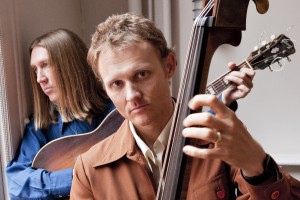 The Scene:  You can find a lot at the corner of Colfax and Josephine: a bus stop, a tall and bright 7-Eleven, things your mama warned you about, and my new favorite venue to see acoustic music. The L2 Arts and Culture Center is refined, comfortable, mature and inspiring. It has the feel of a high school auditorium with its fixed wooden seats arranged in a semi-circle, but this acoustically gifted space was built for fine presentations of the arts. There is no alcohol served here, and there is an unsaid rule that you be on your best behavior. The kind of place where you think clearing your throat will disrupt the whole performance.
This show was the third in a series of ten concerts put on here by Swallow Hill Music this year. The seats were about a third full for the first half of opener Clay Cook's set, but by the time The Wood Brothers took to the stage, at least three quarters were occupied by eager fans. The audience was indicative of the wide appeal The Wood Brothers have. Young professionals, older folk lovers, the discerning Medeski Martin & Wood aficionados, Nuevo-hippies and the NPR tiny desk concert lovers were out in full-force.
This show was the end of a long day for The Wood Brothers. Their enormous tour bus pulled into the circular entrance of East High School as I was getting coffee at Tattered Cover at approximately 10am. After performing their various get-ready-for-the-show duties, The Wood Brothers headed up to KBCO to promote their new album, Smoke Ring Halo. Then it was back to Denver for an in-store appearance at Twist and Shout Records. After playing a 20 minute acoustic set they leisurely and joyfully signed autographs and chatted with fans. It was a little after seven when The Wood Brothers made their way up the street to L2, where Clay Cook started off the 8 o'clock show. There was no sign of their eventful day slowing them down, these guys are professionals.
I was impressed when both Wood brothers and their drummer set up shop near the merch table after the show to sign even more autographs, and get to know their fans. There was true sincerity in the adoration of the fans, and genuine gratitude in The Wood Brothers' acceptance of it. Out promoting their new album Smoke Ring Halo, which was released on Zac Brown's Southern Ground Artists label, the brothers and Clay Cook brought a sense of intimacy which we so often look for in a musical setting.
The Opener:  Clay Cook.  Also part of the Southern Ground Artists label Clay started us off with some stripped down country folk. Though Clay's main gig is playing guitar in the Zac Brown Band he has been a songwriter for quite a while and I didn't realize this until the sound guy requested the John Mayer song, "Neon." I was immediately excited, being a fan of Mayer's first two albums, but didn't see the connection. Upon further research, I found that Cook went to the Berklee College of Music with Mayer, and is credited as a co-writer on many of the songs off those first two albums. Now working on a lot of solo material, Sothern Ground is giving him the freedom to hash this work out on the road. Clay has proven himself in many arenas: multi-instrumentalist, co-writer, bandmate, side-man . . . and is now looking to add solo performer to his list of credentials. As he took us through some of his songs, he added the disclaimer that he may forget the words as they are works in progress. I appreciate the fact that we got to see this rawness, and its juxtaposition to the well-honed sound of The Wood Brothers.
The Wood Brothers:  The Wood Brothers were greeted with hearty applause as they sauntered onto the stage. Chris Wood, known for his work with progressive jam-jazz group Medeski, Martin, & Wood, picked up his massive upright bass and did some fine-tuning while his brother, Oliver, settled onto a stool and responded to our applause with a hugely warm smile. Meanwhile, the new member of The Wood Brothers family, drummer Jano Rix, strapped on an interesting piece of percussion equipment. It was a guitar, worn upright instead of its usually relaxed, horizontal position and attached to it were various objects that jingled and jangled as he slapped on the face of the guitar like a hand drum.
The band seemed as relaxed as the crowd, and just as happy to be in a concert hall on a Friday night. Oliver Wood reminded the crowd how lucky we are to have places like the L2 Arts and Culture center and Twist and Shout, and organizations like Swallow Hill. The Wood Brothers started the night off with their swampy version of "Up Above My Head," a gospel song originally recorded in the 40's, which was the title track on a self-released album of covers from 2009. As Rix beat on his guitar-a-drum, he also leaned into the mic for some spectacular three-part harmonies that proved he was more than just a drummer for the band. This trio was playing the blues, but with hope.
Slowing down a bit, they took us through the title track of their newly released album Smoke Ring Halo, with the drums adding an amazingly potent element to the brotherly duo. Next, Oliver broke out his slide for an upbeat "One More Day" from their first album Ways Not To Lose. The blues poured out of Oliver as he leaned forward, a long leg stretched in front of the stool and we got to see the more experimental side of Chris' bass playing, which I am sure made the Medeski Martin & Wood fans happy. Oliver's slide guitar on the 1950's Gibson cut-away was quick and raw, true to his adopted southern roots and Jano also introduced us to his New Orleans bloodlines with a marching band-like drum solo. With Oliver chanting and drums beating, the voodoo hex came over the crowd as people started popping up and moving to the back to dance! Deciding to keep us in the spell a bit longer, they quickly moved into the haunting and deep "I Stumbled In."
While Chris's involvement initially attracted a legion of jazz minded fans, the group quickly developed a strong blues/roots fan base of their own and we were reminded of those beginnings with Chris' funky, fat and expressive bass lines in "Tried and Tempted." This is when the one man conga line started. An unidentified man strutted around the aisles, weaving throughout the room, obviously in his own movie but with the same soundtrack. Feeding off the intense energy of the crowd they broke into the three most upbeat and danceable tunes off their new album "When I Was Young" with Chris' killer NYC jazz king like intro, "Mary Anna" with angelic three-part harmonies, and "Shoofly Pie."
Oliver ripped on his Guild hollow-body with roadhouse nastiness, and the harmonies on "Shoofly Pie" evoked memories of a sunny, sweet tea soaked, sultry, southern front porch. Chris wailed on the harmonica intro to "Where My Baby Might Be" before adding the bass and causing everyone to blend into an antebellum, Midnight in the Garden of Good and Evil, kind of romp. It is amazing how much feeling goes into a Wood Brothers performance; there is a complete connection with the audience and a feeling of spirituality. They give the joy and pain of the south, taking you to church with their voices and tempting you to sin with their groove.
Songs like "Blue and Green," were performed with detail. Oliver was back on the acoustic for this sweet and powerful ballad and finger picked his way into our hearts. Then there was another explosion. Chris worked his bass masterfully, using both bow and fingers, making synthy beat-box sounds and eventually laying into a funky, thick groove for "Chevrolet." Written by Brit-blues man Robben Ford, and made famous by Taj Mahal, The Wood Brothers played an amazing version of one of my favorite songs. People may have been seated, but they could hardly contain themselves.
Chris took the lead on vocals for "Don't Look Back" and then Oliver brought it back up with a sexy shuffle on "Pray Enough." Oliver Wood is a man who plays his own style of blues; positive and hopeful but with the wisdom and authenticity of pain and his guitar solo on "Glad" proved just that. The trio broke into an electricity-filled "Make Me Down A Pallet On Your Floor," which would not have been possible without the New Orleans swagger of Rix's drumming.
Opener Clay Cook sat in on lap steel for the triumphant declaration of "Made It Up The Mountain." Filled with gospel soul, their voices rang high during this vivacious cut off Smoke Ring Halo. There was a small group of Nuevo hippies that just couldn't stifle their need to get up and give us an interpretive dance which started with "Made it Up The Mountain" and continued into "Atlas." Raising their hands revival style, they danced in front of the stage and at one point the one man conga line and the dancers intersected only to see the conga line move right on past. The Wood Brothers exited briefly, but the deafening cheering soon brought them out for more. Closing with their prolific yet simple "Luckiest Man," nearly half the audience sang along to every word.
Seeing The Wood Brothers at L2 was a memorable experience for all those present—including the musicians. Oliver had a constant monk-like look of contentment and both brothers shot glances of encouragement and respect all night while newcomer Jano Rix looked like he has been fully accepted into this family, and rightfully so. His percussive talents add an element to The Wood Brothers that will surely drive them upward. Teaming up with Zac Brown's Southern Ground label has given them the momentum that has exploded into an amazing new album and a great tour! Their sound is delightfully unique and something I didn't know I had been looking for until I found it. While exiting L2 with local singer/songwriter Olivia Rudeen, I asked her to help me explain their sound. She immediately responded "…well its kinda where Appalachia meets Motown." She is so right, and we are glad The Wood Brothers have created that place and are bringing it from town to town.
Energy: B
Sound: A
Musicianship: A+
Stage Presence: A
Set Light Show: B
Overall: A
Brian Turk grew up in the shadow of the Catskill Mountains, near Woodstock, NY. He comes from a family of music lovers, audiopliles, Dead Heads and avid concert goers.The musical magic that can only be created in the Catsklills, both past and present, is what Brian cosiders the epicenter of his music addiction. The music of The Band, and most recently The Levon Helm Band, is the soundtrack of home for him. Brian's mother took him to his first concert at 5years old...it was Johnny Cash and Roseanne Cash at Jones Beach Amphitheatre. For Brian, music is a family affair. He feels the same way about live music...we all convene to celebrate together. Brian's writing life started when he wrote his favorite author, southern fiction writer Clyde Edgerton, a fan letter at age 13. When most kids were idolizing baseball players and television, he was worshipping writers and musicians. The two became friends and Clyde shared his craft with Brian. The next year Brian attended Duke University's Young Writers Camp. This is the extent, of what Brian considers, his "formal" training in writing. From then on his goal was to capture snapshots of life through words. Brian has been involved with live music in various facets over the years, and combined with his enthusiasm and love for Denver's music scene, he creates a vivid description of what he sees and hears. If you see him out at a show, dancing with a notebook in hand, say hello.