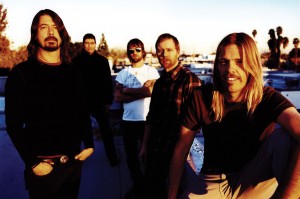 Photo By Steve Gullick
Why You Should Go:  Foo Fighters' current arena headline tour is the latest installment in a juggernaut of a worldwide campaign that included an August 7th headline appearance at Lollapalooza. The tour rides the relentless momentum of Foo Fighters' recently released seventh album Wasting Light, certified gold less than two months after debuting at #1 in a dozen countries. Wasting Light has also generated arguably the best critical notices of the band's 16-year career. The newly released Foo Fighters: Back & Forth documentary, directed by Oscar winner James Moll, has done likewise, with a four-star ROLLING STONE review raving "a classic rockumentary arc… Dave Grohl has lived an extraordinarily cinematic life."
Grohl, Taylor Hawkins, Nate Mendel, Chris Shiflett and Pat Smear will be playing hits spanning the Foo Fighters' catalogue of multi-platinum arena anthems, including new staples such as the 13-week Modern Rock #1 "Rope" and "Walk," the band's latest single.  Opening the show will be two outstanding young bands, Cage The Elephant and Mariachi el Bronx.
Venue:
Pepsi Center, 1000 Chopper Circle, Denver, CO 80204 – (303) 405-1377
Doors:
6:00 PM
*Price:
$25.00 – $54.50
PURCHASE TICKETS
*All times and prices are gathered from other sources and I am not responsible for mistakes or inconsistencies. They are intended only as guidelines. Please, always call the venue if you desire the most accurate information possible.