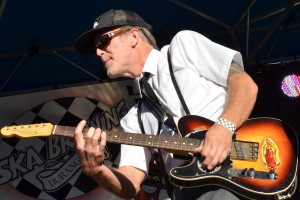 All Photos By Johne Edge
In Dave Thibodeau's mind, it's all about, "Music, beer, bikes, and burritos."  As I sat down with the owner of Ska Brewery, his passions were pretty evident.  His Fishbone t-shirt was mud spattered from his morning mountain biking escapades, his hand held a cold pint, fresh from his tasting room tap,  and the sound-check for the Ska Brewing 16th Anniversary Concert was in full swing.  The only thing missing were the burritos, but with local food truck Zia Taqueria on the premises, it was only a matter of time.
Listen Up Denver:  Thanks for taking the time to speak with us on the day that marks the celebration of the 16th Anniversary of Ska Brewing.  The popular mythology about the beginning of the brewery is something along the lines of:  "In the height of the Third Wave of Ska, somewhere in Colorado, two guys named Dave and Bill discovered they loved gulping down good beer, but they weren't yet old enough to buy it.  Beers were consumed at altitude and Ska music blared as the clouds parted on the second Skaturday of Skatember and it hit them.  If they brewed their own beer they'd have all the beer they could ever want."  How close is this to the truth, and can you tell us a little bit about the early days?
Dave Thibodeau:  It's kind of true.  We wrote a comic book when we first started that told this completely embellished crazy story of how we came to be.  It's semi-true and that's part of it.  Bill and I started it after we figured out how to homebrew in high school.  We found a book on my dad's bookshelf that just said "Brew Log."  We started flipping through it and realized that he was actually making alcohol.  So originally we got in it just to get tanked.
That's how we got into brewing and at the time we were really into Ska music, mostly Two Tone Ska music.  At that time we didn't know anybody else that homebrewed beer and there were no homebrew shops in Colorado because nobody knew anything about it yet.  So we used to give everybody presents for birthdays or for Christmas.  We'd make beer and put a special label on it and everybody thought it was really novel because they'd never seen anybody make beer before.  We always just called it Ska Brewing Company.  The criteria we had every time we brewed was this:  We had to listen to Ska music and drink our previous batch of homebrew otherwise the beer wouldn't turn out.
LUD:  You really led yourself into my next question, which was how did you go about naming the brewery after a style of music?
DT:  We were punk rock kids, but Ska was just more fun, instead of just angry.  We listened to a lot of early punk rock, late 70's and early 80's punk, a lot of the DC stuff, but for some reason Ska music was a lot more fun to brew beer to.
LUD:  So you were a big fan of Ska music before you ever started brewing the beer.  Can you name for us your top five favorite Ska bands?
DT:  I really like traditional Ska.  Prince Buster is top.  I love early, early Wailers and I also really like the two tone stuff.  Third Wave stuff.  I like The Toasters because they lean towards a two tone sound, a traditional sound.  So I would say, Prince Buster, early Wailers, Desmond Decker, Madness, The Beat, and probably The Specials.
LUD:  Playing at today's festivities are The Blue Hornets, The Toasters, and The Nuns of Brixton.  Can you tell us a little about these bands and why you chose them to be here today?
DT:  The Toasters have been friends of ours for years.  They came to town a while back to play and came out to our brewery to take a tour.  We got along with them really well and Buck [Hingley] and I kind of became friends.  It was their 30th year this year and he'd been bugging me about brewing a beer together since their 25th anniversary so we did it and made a funny little movie about it called Brew Minions-it's on Youtube.  We'll be releasing that beer today, it's called SheBeen Black IPA. SheBeen, which is an old Toasters song, is kind of like a speakeasy. I think in South Africa SheBeens were the places the black guys could go during apartheid when there were all of these exclusive white bars around.  I think it's also a big Irish thing.  They have a song about it so we just used the name because it had to do with drinking.
We knew we had to have them at this event and we probably wouldn't have had the anniversary party if all of that wouldn't have happened, but things came together nicely and they agreed to play.
The Nuns of Brixton.  Our head brewer is friends with those guys from Denver.  They're in some other bands that he's pretty into.  Finally, we thought it would be cool to get these guys that are warming up behind us, The Blue Hornets.  They're a traditional Ska band out of Albuquerque and the lead singer, Otto Barthel , was actually in the very first band we brought to town 16 years ago.  They were called Giant Steps and he was the leader of that band.  We were like, "Let's get The Blue Hornets, they've only been a band for a couple of years, and then break it up a little bit with The Nuns of Brixton and have some fun because not everyone can deal with that much Ska, and then have The Toasters close out the day."
LUD:  The labels on your beers and packaging are similar in style artistically to album covers from The Toasters, like Hard Band for Dead and Frankenska.  Who is your artist, and how much influence do you have over what is being produced?
DT:  In the beginning it was Bill and I, but I pretty much deal with the art side of it now.  I check to see that everybody likes the ideas, but I don't actually create any of the art.  A good friend of ours that owns a tattoo parlor in town called "Your Flesh" came up with our True Blonde label, and our Pinstripe label, and our black and white checkered logo.  But he got too busy doing tattoos and then another guy from town name Doran Roberts just blindly approached us. I explained to him what Ska music was and I showed him the comic book and he said, "Just let me do a couple posters for free and see if I capture the idea.  If you like it, then maybe I can do some of your artwork."  Well, he nailed it.  He did these two killer posters for us which we still make.  They're just too cool and retro to get rid of.  He now lives in Portland and he's one of those weird Portlandians.  He now he knows everything about the music.  He's an awesome freehand artist and computer graphic artist.  He's fantastic.
LUD:  Congratulations on your first sixteen years.  What can our readership look forward to from Ska Brewing in year seventeen?
DT:  Hopefully a lot.  We're doing a lot more on the Front Range now.  We're starting to sell a lot of beer in Denver, Boulder, and Fort Collins and I'm hoping that we can do more shows and fun stuff up along the Front Range.
We're not going to come out with a lot of new beers in this 17th year, but we will do some one-off stuff, and the only place we'll sell it is Colorado. So Colorado is going to see a lot from us and the other markets are just going to get more of what they're just getting a taste for.
The six hours we spent post interview were the perfect celebration of Ska Brewery's first sixteen years.  With over 20 guest brewers in attendance, we waived the thought of not drinking excessively as we wanted to try them all.  The sounds of Skalbuquerque's The Blue Hornets got the party going.  Next up Denver's The Nuns of Brixton, who worship The Clash,  took to the stage.  Dressed  in nun habits, Jim Yellnun, Tim Becknun, Rob Froshnun, John Solonun, and Tony Weissenun kept the party going with, yes you guessed it, covers of The Clash.  The evening climaxed with a pint of SheBeen and "Bucket" Hingley and The Toasters ripping through a set that showed why after 30 years they were still able to play to big crowds at over 184 appearances in 2011.  As I put the finishing touches on this interview and get ready to send it off to the editor, I can only think of one thing, "Damn, I wish I had a bomber of SheBeen right now."
Wherever the music is, you'll find me with my camera, shooting on street corners, from barstools at clubs, from the side of the stage at theaters, and from photo pits in places like Red Rocks. Clicking away, trying to capture the emotive essence of music, and all those moments that we forget because of one too many Pabst Blue Ribbons.