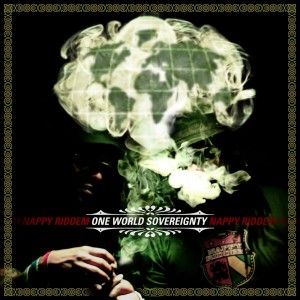 The music from the Fort Knox Five camp just keeps coming.  Last week The Bestia EP from Empresarios became available, and today One World Sovereignty, the debut, full length album from Nappy Riddem drops.  Back in November of 2009 The New Gold Standard 2 was released on Fort Knox Recordings and featured a preview of what you'll hear on this new release.  The sequel to the 2006 hit compilation, The New Gold Standard, showcased all of the artists from the original compilation and also featured new roster additions See-I, the aforementioned Empresarios, and Nappy Riddem.  Nappy Riddem, featuring  Rex Riddem, Mustafa Akbar, and Ashish Hash Vyas had two tracks on the release.  I was so impressed with these tracks that I spent the last two years scouring music on the internet and elsewhere to find anything additional from these guys.  Unfortunately to no avail.  So I waited and watched, and today the wait is finally over.
On "One World Sovereignty" Rex Riddem and Mustafa Akbar, the duo known as Nappy Riddem,  have created a near perfect album.  All killer and no filler.  From the very first notes to the title track that closes out the album, these ten tunes never falter.  Producer Rex Riddem creates driving  rhythms, and Mustafa Akbar delivers vocals in an Afrika Bambaataa come Peter Tosh style.  Think "Planet Rock" meets "Steppin' Razor."  The music is an amalgam of hip-hop, funk, afro-beat, reggae, heavy dub, and big dance beats.  As varied lyrically as they are musically, positive-minded liberation tunes like "One World Sovereignty" are mashed up against dirty dancehall ditties like "Ease Up" and "Angle It" to create an eclectic album that is the perfect soundtrack for the weekend.
Right Click and "Save Link As…" To Download "Rastar" For Free Here
Wherever the music is, you'll find me with my camera, shooting on street corners, from barstools at clubs, from the side of the stage at theaters, and from photo pits in places like Red Rocks. Clicking away, trying to capture the emotive essence of music, and all those moments that we forget because of one too many Pabst Blue Ribbons.