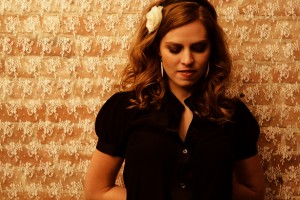 The Scene: There was a convergence of the arts last Wednesday night at the swanky Dazzle Restaurant and Lounge. Songstress Megan Burtt and painter Laurie Maves collaborated in an amazing display of emotion, passion and artistry. What started as a random idea to collaborate on a few songs turned into an intimate evening in one of the best jazz venues in the country. Almost a year ago, Maves realized her personal sketchbook entries were reading like song lyrics and while she claims to have zero musical talent, she felt that these words might inspire music if place into the right hands. These random words, thoughts, and poems of a painter and friend quickly became an interesting project for Burtt. When the two met to discuss turning these raw thoughts into songs, neither thought it would turn into the explosion of creativity that ensued.
Megan took these thoughts of someone else, emotions felt in unseen times, and turned them into something all her own. Megan was clearly inspired by Laurie's words, but more importantly, by the gesture. For an accomplished painter to turn-over her archived words to an amazingly talented songwriter and performer was an exercise in total emotional exposure. These two clearly inspire, impress and have a huge impact on each other.
Megan Burtt: As the two women took to the stage, nearly all the cloth-draped tables were full. Laurie's easel was set up on the stage and she stood ready to paint Megan performing the songs she had inspired.  It was a true completion of the circuit. As Burtt started caressing the keys, the brush started moving across the canvass and the energy flowed in a circular motion between the two and into the audience. There was no separation between any of us and nowhere to hide from the onslaught of feeling.
On opposite sides of the stage, and opposite sides of the spectrum, it was two different performances within the whole. Megan, in a proper dress and stockings, was elegantly comfortable and relaxed. She graciously poured her soul out while seated at the piano.  Laurie, standing in her bohemian military skirt, her two tone hair slightly disheveled, energetic and possibly caffeinated, her emotion was more raw and animated. Both looked at each other with love, complete understanding and amazement. The two juxtaposed characters were linked by the inspiration they gave each other.
Megan's first piece, "In A Box" was a song about being consumed by another person so completely that you yearn to get yourself back. Megan's piano playing was gentle yet confident and as she finished the song, she realized Laurie was crying. It had been three years since Burtt's last piano gig, but she nailed it right from the start. According to Burtt, her playing wasn't as refined as it used to be…but according to me it was moving and well thought-out.
One of the things that Megan picked out of Laurie's sketchbook was a page that had the word "Hummingbird" written over and over again. It reminded Megan of the repetitive and awe-inspiring movements of a hummingbirds wings. Burtt spoke of how the Hummingbird was an unexplainable creature, how it wings must stay in perpetual motion, and of how sometimes we must trust in the unexplainable. With lyrics like "all she knows is her wings will get her by," "Hummingbird" was a song about faith.
With Maves still intermittently crying, Megan could barely hold back tears as he told us the next piece, "Where The Lights Are Dim," was inspired by hitting rock bottom while barely clinging to hope. The night had a sense of ease as the two talked about the experience as it was happening. How amazing it was for Laurie to see her words come to life, and how honored she was that Megan was doing this. They talked about how neither one can fathom how the other expresses emotion so vividly through their particular art. The audience felt the same amazement.
After playing another song written just for this night, "All I Know Now," Burtt talked about a dilemma a lot of artists experience…procrastination. Megan talked about waking up with the intention of creating something great, but instead getting lost in Facebook status updates, the dishes in our sink, or the yoga mat in the corner. Maves talked about the frustration and self-doubt she has regarding her painting. Holding nothing back, these two shared openly and freely-as if there was no audience there. Maves painting quickly took shape and everyone felt the power of inspiration as it coursed through the air. Artists or not, we all related to the basic human emotions that were being displayed and interpreted on the stage. "A Good Distraction" was an upbeat and playful tune, which Burtt followed up with "Concrete," a harsher tune drenched in realism.
Megan Burtt plays music with perspective, insight, and clarity well beyond her years. She is a deep woman who completely understands pain, joy, loss and success. Her voice is sweet and powerful, and her lyrics always intelligent. Next, was the only piece not written for this project, "One Wing."  An inspirational song that appeared on Megan's album This Ain't Love and symbolizes perseverance, it was great to hear this soulful solo piano version in the intimate confines of Dazzle. "Firewall," the last song of the night, was inspired by self-doubt.
I first met Burtt at The Rocky Mountain Folks Festival this summer, where she performed with her full band; The Cure For Love. There I saw a confident and enthusiastic young woman who rocked a stage, switching from acoustic to electric guitar throughout the set. Tonight I met a different Megan, the one that wears her glasses atop her curly hair while she analyzes every nuance of human emotion.
As the last verse of the night was sung, Laurie put the final stroke on an amazingly vibrant painting of a lollipop-headed Burtt seated at the piano. Maves art was as graceful, energetic, and emotional as the songs that had filled the air. Megan made a poignant statement to close out the night: "If you honor the muse of creation, it just happens. You just show up and trust."  Inspired by the energy of the evening, and the intimacy of Dazzle, I asked Megan if she could take some time to have a candlelit chat with Listen Up Denver.
Note: Stay tuned for the transcript of the interview that will run later this week.
Energy: B
Sound: A
Musicianship: A-
Stage Presence: B
Set / Light show: C+
Overall:  B+

Brian Turk grew up in the shadow of the Catskill Mountains, near Woodstock, NY. He comes from a family of music lovers, audiopliles, Dead Heads and avid concert goers.The musical magic that can only be created in the Catsklills, both past and present, is what Brian cosiders the epicenter of his music addiction. The music of The Band, and most recently The Levon Helm Band, is the soundtrack of home for him. Brian's mother took him to his first concert at 5years old...it was Johnny Cash and Roseanne Cash at Jones Beach Amphitheatre. For Brian, music is a family affair. He feels the same way about live music...we all convene to celebrate together. Brian's writing life started when he wrote his favorite author, southern fiction writer Clyde Edgerton, a fan letter at age 13. When most kids were idolizing baseball players and television, he was worshipping writers and musicians. The two became friends and Clyde shared his craft with Brian. The next year Brian attended Duke University's Young Writers Camp. This is the extent, of what Brian considers, his "formal" training in writing. From then on his goal was to capture snapshots of life through words. Brian has been involved with live music in various facets over the years, and combined with his enthusiasm and love for Denver's music scene, he creates a vivid description of what he sees and hears. If you see him out at a show, dancing with a notebook in hand, say hello.