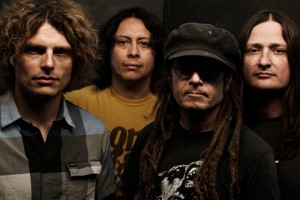 Accidents happen, but the accidental conception of the raw and fierce punk band OFF! in 2009 has, so far, rendered no regrets.
While legendary Circle Jerks/Black Flag singer Keith Morris and the accomplished Dimitri Coats, best known as the frontman for the hard rock group Burning Brides, were working on the latest Circle Jerks album (which later fell apart) the two mastermind amigos decided to experiment with their own creations.
No one — not even those directly involved in the project — expected that what took place that day would later become the bones of the fiercest band in the current American punk revival.
"This band is a complete accident," Coats said in a recent interview with The Marquee. "We were very serious about what we were building at the time, but we didn't know it would end up being a band that we would be [in] together. When I was writing that stuff with [Morris] I didn't foresee myself being the guitar player. I was ready to hand it over to another band. What a thrill that I get to see it through like that?"
With over thirty years of experience under his belt, Morris fronts OFF! with his signature style of brutal and confrontational vocals. Meanwhile, Steven McDonald of Redd Kross handles low-end duties and Mario "Ruby Mars" Rubalcaba of Earthless, Rocket from the Crypt, and Hot Snakes, takes on the drummer post.
With such eclectic and accomplished backgrounds of each member, OFF! was almost guaranteed to be different from the rest of the members' other musical endeavors.
Finish This Article Over At The Marquee Magazine Site . . .

Catch OFF! Performing Live:
The Marquis Theatre – October 8th
The Black Sheep – October 9th
The Marquee is an independent, Colorado-based, PRINT & ONLINE Free Music Magazine. The Marquee strives to be the Farmer's Almanac of the regional music scene — providing readers with facts, tid-bits, in-depth feature stories and a Calendar section that is unparalleled on Colorado's Front Range, covering every live music venue from large venues such as Red Rocks Amphitheatre to small clubs and coffee shops.