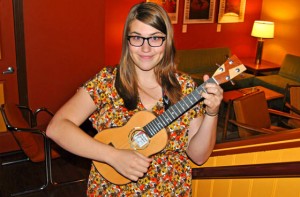 The Scene: The Walnut Room was not only filled with eclectic music last Saturday night, but also with the sounds of laughter. Danielle Ate The Sandwich is known for her witty lyrics, but she proved to be a hell of a comedian between songs. The Walnut Room is a great venue for acoustic based music, a true listening room. I have never gotten a PBR for 2.50 in a place that had such clean restrooms and great sound! The room was blessed with an intelligent looking crowd, and the show was just as quirky as I expected and hoped.
It was a very loose evening, with lots of talking on the stage. The first opener, David Philp, explained every song in detail in his British accent while the middle act Chella Negro was hilarious.  At one point she even referred to herself as "Chella Smoked The Bowl." But the award for "Queen of The Witty Banter" goes to Danielle Ate The Sandwich. I would have paid twice the ticket price just to hear her and her band joke around on stage! There was a point when I cried from laughing so hard, but don't be fooled by the foolishness, Ms. Ate The Sandwich's music is nothing but Folk bliss, and there is nothing funny about the musicianship possessed by her and her band.
Opener: David Philp started things off with some stripped down guitar and singing. Not a crooner, Philp comes from vintage British punk roots. His voluminous and well-manicured gray hair, hip skinny jeans and designer shirt betrayed the fact that he had been living in LA for the past twenty years. His aggressive and rudimentary guitar playing, on a custom 7 string, was complimented by his raw voice. Still punk, but with a folk influence, he energetically played material from the past five years or so.  A bulk of his career has been spent with The Automatics, but now he is crafting more subdued songs.
Opener: Local lady, Chella Negro, walked on to the stage with strength and confidence. No school girl, she looked like a hipster queen of the folk roller derby ball. Her Cleopatra bangs framed the expressive eyes that looked up at the ceiling, or anywhere but the audience, while she sang. Playing a song about local vegetarian hangout City O'City, her booming voice and well developed guitar playing evoked images of coffeehouses of the past. People and their guitars can sometimes be monotonous, but every song Negro played was refreshing and unique. Her guitar playing was detailed and textured with well-controlled rhythmic peaks and valleys that complimented her well-articulated lyrics. Her personality was as robust and prominent as the sounds she threw from the stage.
Danielle At The Sandwich: Danielle Ate The Sandwich is more than just a musician, she is an entertainer at heart. I cannot stress enough how much her stage presence and intelligent banter are just as powerful as her music. A 25 year old ukulele player may not be what you think you are looking for, but her music will fill a void you didn't even know was there.
She opened the show solo and serenaded us with an amazing rendition of "Dream A Little Dream of Me," which has been sung by many but perfected by Ella Fitzgerald.  Her band took to the stage for "Two Bedroom Apartment" and the addition of the backing band added gusto to the already solid stance Danielle and her Ukulele take. Her clean and warm voice swirled through the room, as ubright bassist Dennis Bigelow worked the strings with the subtlety not to overpower, but the firmness to add thump to Danielle's creations. All of the musicians playing with Danielle were perfect for her gentle yet striking tunes. Jon Powers used predominantly brushes on the drum kit, and violinist Chris Jussell brought a feel of refinement and sweetness to the mix. Jussell was also Danielle's main cohort in the verbal antics of the evening.
Danielle and her crew next performed "American Dream;" a lighthearted yet realistic synopsis of the humor in everyday capitalistic life. As Bigelow helped on the chorus, he seemed like he stepped out of a barber shop quartet.  Next was her upbeat ditty "El Paso" followed by "The Moon." As Danielle cracked us up with her smart sense of humor, saying how she would "date the shit" out of Chris Brown, I realized it was her connection to popular culture that made her so unique. Most folk singers don't tap into the pulse of what is popular for most 25 year olds, but Danielle is a virtual library of hip-hop and movie quotes. After breaking out into a freestyle rap, she changed the pace with "Faith in Man," with both Jussell and Bigelow helping on harmonies. With Danielle smiling and dancing I saw just how tight-knit these musicians are, and new-to -the-family drummer Jon Powers fit right in. Adding a cover of John Legend's "Ordinary People" proved her connection well beyond the folk world.
Ms. Ate The Sandwich's lyrics are not as light, silly, or upbeat as they always sound. "Born In the Wrong Body" is a song Danielle used to process her experience with a trans-gender friend. Danielle is not all laughs, but her pleasant disposition shines through regardless of what she is singing about.
The musicians were in perfect sync as they lead us through "Canada" and "17 and 53." Danielle's strumming and fingerpicking made a ukulele sound more detailed than you usually hear, and the accompaniment of the strings and brushed drums made even Danielle herself reel at how good it sounded. As she glanced around at her band mates, you could tell this is the sound she wants to create and her broad smile could not be controlled. The finale of the evening was a perfect combination of stellar musicianship and humor, a cover of Salt-N-Pepa's "Shoop." Danielle can get down, her lyrical flow was perfectly paced, and her moves were quite sexy. Bigelow fumbled the last rap a wee bit, but still wrapped it up perfectly!
Danielle Ate The Sandwich won't be playing as many shows the rest of this year, since she will be writing a new album. In the four years she has been performing, she has grown in leaps and bounds. A virtual YouTube goddess, I can only see her visibility and abilities rising. Get out and see her before she holes up for the winter!
Energy: B
Sound: A
Musicianship: A
Stage Presence: A+
Set/Light Show: C
Overall: A-

Brian Turk grew up in the shadow of the Catskill Mountains, near Woodstock, NY. He comes from a family of music lovers, audiopliles, Dead Heads and avid concert goers.The musical magic that can only be created in the Catsklills, both past and present, is what Brian cosiders the epicenter of his music addiction. The music of The Band, and most recently The Levon Helm Band, is the soundtrack of home for him. Brian's mother took him to his first concert at 5years old...it was Johnny Cash and Roseanne Cash at Jones Beach Amphitheatre. For Brian, music is a family affair. He feels the same way about live music...we all convene to celebrate together. Brian's writing life started when he wrote his favorite author, southern fiction writer Clyde Edgerton, a fan letter at age 13. When most kids were idolizing baseball players and television, he was worshipping writers and musicians. The two became friends and Clyde shared his craft with Brian. The next year Brian attended Duke University's Young Writers Camp. This is the extent, of what Brian considers, his "formal" training in writing. From then on his goal was to capture snapshots of life through words. Brian has been involved with live music in various facets over the years, and combined with his enthusiasm and love for Denver's music scene, he creates a vivid description of what he sees and hears. If you see him out at a show, dancing with a notebook in hand, say hello.