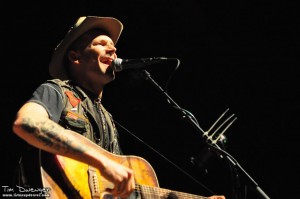 All Photos By Tim Dwenger
The Scene: Ooooh boy!  What a scene it was Thursday night at The Ogden.  There were Ten Gallon Hats and Tattoos, Hillbillies and cute little Rockabilly girls, big burly beards and Mohawks.  A little bit of just about every look you can imagine was packed into The Ogden for Hank III's Attention Deficit Domination show.  We walked up at about 20 minutes to 9 and the street out front of the theatre was crawling with Hank III fans looking for tickets, chatting with friends, and smoking cigarettes as security ran metal detectors over everyone and patted us down thoroughly before letting us through the doors.  It was some of the tightest security I've seen at The Ogden and judging by the moshing and the beer cans that flew through the air during the show, it was merited.
Hank III: As the crowd's energy was reaching a fewer pitch and raucous chants of "Hank, Hank, Hank" filled the air, Hank III and his band wandered out onto the stage at about 9:30 and kicked right into some hard-chargin', shit-kickin', old school country.  This wasn't the kind of country that makes it on the radio these days, but rather the kind of country that fuels bar fights and raging hangovers in out-of-the-way roadhouses in places like the Deep South and West Texas.
With a five piece band (Pedal Steel / Guitar, Banjo, Fiddle, Upright Bass, and Drums) backing him up, Hank did his best to get the rowdy crowd riled up a little more as he and the band ran through fan favorites like "Pills I Took," "Long Hauls & Close Calls," and "Three Shades Of Black."  At one point he even saluted his Denver faithful by saying that year in and year out they are always there for him and that makes Denver a great place to play each and every time.
From our perch up in the balcony we were out of the thick of things and avoided getting sucked into the mosh pit that consumed most of the lowest level in front of the stage for much of the night.  During "The Rebel Within'" and "P.F.F." the mayhem spread to the second level to the dismay of several folks who got pulled in against their will.  While I didn't actually see any fists fly, there were some harsh words exchanged and more than a little pushing and shoving.
Through all the chaos in the crowd Hank and the band kept right on plugging through a 90 minute country set that never let up as they piled "Mississippi Mud," on top of "Six Pack Of Beer," and "Country Heros."  It was one hell of a good time that showed us all that Country Music can still have soul.
As the Country part of the show wound down, Hank III strapped on an electric and launched into a short Hellbilly set that appropriately kicked off with "Go Fuck You."  A couple of songs later, everyone left the stage for a 5 minute break and a good portion of the crowd poured out onto Colfax and headed home well before the night was over.  When the lights went down again, a video projector fired up and played a movie above the drummer's head "about the coming apocalypse and the events that have led up to it."  As Hank and his drummer chugged through more than hour of thunderous metal, lit only by a single green light, images of Ike, the Cold War, The Reagan Years, and more, bombarded our retinas.  The sonic onslaught never let up and every hair on my body vibrated as the sound waves tried to blow the back wall off the room.  While I'm not sure I loved this part of the evening, it was something impressive to witness.
About midnight, two and half hours into the night, the band returned and the metal portion of the show got even louder and more punishing.  At this point only about a third of the crowd remained and about thirty minutes later, we decided to head out too.  For all I know Hank III is still tearing up the PA at the Ogden, but I guess I would probably be able to hear that from here.  It was an evening like none that I have ever experienced, that's for sure!  While it might take me a while, I'd be up for catching Hank III again someday, and if you haven't I recommend giving it a shot next time he comes through town.  Just be sure to bring earplugs and stick to the balcony if you don't want to end up in a mosh pit!
Energy: A+
Sound: A-
Musicianship: B+
Stage Presence: A
Set/Light Show: B
Overall: A-
Music has always been a part of my life. It probably all started listening to old Grateful Dead, Peter Paul & Mary, and Simon & Garfunkel records that my parents had, but it wasn't long before they were taking me to concerts like Starship, Crosby, Stills & Nash, and Huey Lewis & The News. I got the bug to write about music after reviewing an Eric Clapton concert for a creative writing project in high school but didn't really take it up seriously until 2002. Since then I have published countless articles in The Marquee Magazine and done some work for Jambase.com, SPIN Magazine, and various other outlets. I started Listen Up Denver! as a way to share the music information that is constantly spilling out of my head with people who care. Please enjoy!