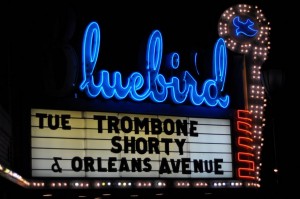 The Scene: I was stunned, a Tuesday night at The Bluebird and it felt every bit like a Saturday.  Everyone in the place was geared up and ready to party.  Though the crowd definitely leaned toward a mid-thirties average age, there was no shortage of energy in the room.  There was a long line to get in at 8, and for most of the night the bar was two deep.  I'm sure there are a lot of tired folks at work today, especially that couple who crashed into the bar with their arms around each other and managed to order two Whiskey Soda's just before the encore . . . Trombone Shorty brings out the New Orleans in everyone I guess.
Opener: Los Amigos Invisible.  I wasn't familiar with their music, but from the first disco infused notes, I knew that they would get the crowd going.  Charismatic front man Julio Briceño switched effortlessly between Spanish and English lyrics as his band blended elements of Latin Jazz with Funk and Disco to produce a sound that had even the most stoic in the crowd tapping their toes.  Throughout their 60 minute set, the band ran through material from throughout their 20 year career and even dropped in a few choice covers and teased tunes like "Get Ready For This" and "I Like to Move It," to the delight and surprise of the crowd.  They are a true party band and it was a real treat to get to see them strut their stuff for a packed house.
Trombone Shorty & Orleans Avenue: From the moment they took the stage, Trombone Shorty and Orleans Avenue had everyone in the room eating from the palm of their hand.  Troy "Trombone Shorty" Andrews emerged from back stage in all black with a pair of shades on and proceeded to blow the roof off The Bluebird from his first Trombone blast.  Though he stuck to the Trombone for the first several songs of the set, it wasn't long before he showed us he could absolutely kill it on the Trumpet as well.  Throughout the night, he switched back and forth between the two instruments and spent a fair amount of time behind the mic singing and rapping as he danced around the stage looking like he was having the time of his life.
Though the set featured several tracks from his Grammy Nominated album Backatown, including brassy scorcher "Hurricane Season," and the hard rockin' radio ready "Right to Complain" the band wove some Jazz standards into the mix that kept those less familiar with his original material in the loop and singing along.  A powerful version of "St. James Infirmary" featured Troy alternating brass runs with verses from the traditional tune and he even got the audience in on the action when he broke into the call and response chorus from Cab Calloway's "Minnie the Moocher" – "Hi-Di-Hi-Di-Hi-Di-Hi, Hi-Di-Hi-Di-Hi-Di-Ho."  Later in the set Troy tipped his hat to Louis Armstrong with a riveting version of "Sunny Side of the Street" that featured one of the highlights of the night for many in the room when he held a note on the trumpet for what must have been two minutes or longer.  Though it escaped many around me, the secret to to being able to hold a note this long is the art of circular breathing where the player breathes in through the nose while simultaneously breathing out through the mouth.  It's quite a talent, and one that Troy has clearly mastered.
A quick tease of The Black Eyed Peas "Let's Get it Started" signaled the "Dance Contest," another highlight of the show where Troy called on members of his band to strut their stuff by singing "Hey [name] can you back it up, [name] can you back it up."  While honorable mention goes to Tenor Sax player Tim McFatter and Percussionist Dwayne Williams (who got down on all fours and stuck his ass in the air and "backed it up like a dump truck") the clear winner was bassist Mike Ballard who took the opportunity to solo for several minutes while dancing all over the stage to his own beat.  It was a memorable moment for all who witnessed it.
As the show wound to a close the band ran through Rebirth Brass Band's signature tune "I Feel Like Funkin' It Up," and Troy showed off his dance moves a little as he moonwalked across the stage and threw in a few more Michael Jackson like dance moves to the delight of the still packed house.  Two hours after they had started, they left the Bluebird a sweaty mess of smiles and outside the venue the only question on the lips of many was "when will they be back?"  It seems after two hours of some of the best Funky Jazz there is these days, Trombone Shorty and Orleans Avenue still left them wanting more.
Energy: A+
Sound: A-
Musicianship: A
Stage Presence: A
Set/Light Show: B-
Overall: A
Trombone Shorty

Los Amigos Invisible

All Photos By Tim Dwenger
Music has always been a part of my life. It probably all started listening to old Grateful Dead, Peter Paul & Mary, and Simon & Garfunkel records that my parents had, but it wasn't long before they were taking me to concerts like Starship, Crosby, Stills & Nash, and Huey Lewis & The News. I got the bug to write about music after reviewing an Eric Clapton concert for a creative writing project in high school but didn't really take it up seriously until 2002. Since then I have published countless articles in The Marquee Magazine and done some work for Jambase.com, SPIN Magazine, and various other outlets. I started Listen Up Denver! as a way to share the music information that is constantly spilling out of my head with people who care. Please enjoy!