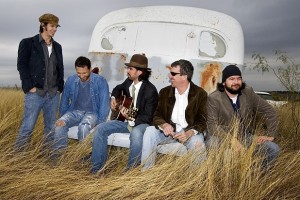 The Scene: Welton Street was literally buzzing with electricity Friday night. The sound was coming from the huge mobile production trailer parked outside of Cervantes Other Side. It was the first night of The Band Of Heathens Double Down in Denver spectacle, and they brought a production team with them. Double Down in Denver was not just a two night run, but a promotional frenzy. There was a local camera crew shooting the night for a DVD , and the shows will also be released as a live CD. Once I finally made it in to the packed venue, the first thing I noticed were the chandeliers hanging from the ceiling above the stage. Soft lighting and incense filled the room and it was immediately clear that a lot of effort had gone into setting the mood as images of Martin Scorsese's film of The Band's The Last Waltz flashed through my mind. The Band of Heathens name was everywhere, and the line to the merch table was longer than the line at the bar! These Austin roots rockers obviously have a well-established fan base here in Denver and I felt a little lost, like I had missed the boat, but they quickly schooled me on what they are all about.
The Opener: Polytoxic got our asses moving right off the bat; a perfect opener for the night. We don't see as much of these guys around town anymore, so when Tori Pater, CR Gruver and The Rythmic Chadzilla convene as Polytoxic, the crowd comes out for a rare treat! I realized that the last time I saw Polytoxic on this stage was New Years Eve, seven or so years ago, when they were shooting a DVD of their own. Tori Pater is a force in the Denver music scene, and his smoky voice and acoustic guitar grooves reminded me of why as he and the band ran us through a set of amazing booze drenched southern roots funk!  CR Gruver brought his NOLA organ jams and Chadzilla worked the hand drums with palm and stick creating a hypnotic groove that lasted for the full hour. No talking, no bullshit, just a continuous set of dance provoking jams that ended all too soon! It was "Game on Motherfuckers," and the only thing that would have made seeing them again any better would have been if painter John Bukaty was bobbing with his hat on backwards alongside us. Denver loves you Polytoxic!
The Band Of Heathens: There is nothing heathenish about The Band of Heathens appearance. Sure, some of their faces may be furry, but these dudes are just plain pretty! The entire stage was surrounded by beautiful women three deep, mouthing the words to every song, just waiting to catch a glance from the stage.
These Austin boys brought a formidable arsenal of guitars to Denver with them.  At one point I counted more than 15 scattered across the stage, but there were more out in the trailer. As the three founding members and songwriters, Ed Jurdi, Gordy Quist and Colin Brooks traded licks all night there was a runner who was grabbing more guitars from outside between songs. Obviously intent on creating just the right sound, it is this attention to detail and musicianship that have thrown this band to the forefront of their scene.
The music The Band of Heathens creates reminds me of two of my favorite bands: The Band and The Black Crowes. Similar to The Band in terms of their 1970's roots Americana feel with the southern grit of the Black Crowes with a more upbeat and almost poppy vibe.
Their amazing energy and stage presence kept us moving all night, but they slowed their second set down a bit showing us there versatility. The Band of Heathens are defined by the killer guitars and voices of the three guys up front, but three more very important men lurked in the shadows: bassist Seth Whitney, drummer John Chipman and Trevor Nealon on organ. These boys had great interaction and communication, showing how involved they all are in this band. Writing is shared, instruments are constantly being switched, and smiles are shot from man to man. If you are looking for a night of real beer soaked roots rock, combined with the laid back vibe of 1970's Laurel Canyon, well then The Band of Heathens are what you are after. Just plan on sweating, dancing and being sucked into the sexiness of the night!
Energy: A
Sound: A-
Musicianship: B+
Stage Presence: A
Set/Light Show: A
Overall: A

Brian Turk grew up in the shadow of the Catskill Mountains, near Woodstock, NY. He comes from a family of music lovers, audiopliles, Dead Heads and avid concert goers.The musical magic that can only be created in the Catsklills, both past and present, is what Brian cosiders the epicenter of his music addiction. The music of The Band, and most recently The Levon Helm Band, is the soundtrack of home for him. Brian's mother took him to his first concert at 5years old...it was Johnny Cash and Roseanne Cash at Jones Beach Amphitheatre. For Brian, music is a family affair. He feels the same way about live music...we all convene to celebrate together. Brian's writing life started when he wrote his favorite author, southern fiction writer Clyde Edgerton, a fan letter at age 13. When most kids were idolizing baseball players and television, he was worshipping writers and musicians. The two became friends and Clyde shared his craft with Brian. The next year Brian attended Duke University's Young Writers Camp. This is the extent, of what Brian considers, his "formal" training in writing. From then on his goal was to capture snapshots of life through words. Brian has been involved with live music in various facets over the years, and combined with his enthusiasm and love for Denver's music scene, he creates a vivid description of what he sees and hears. If you see him out at a show, dancing with a notebook in hand, say hello.