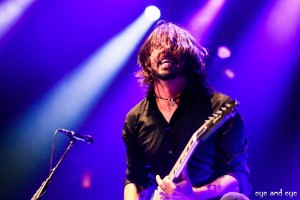 Photos By Ben Wilson & Tim Dwenger
The Scene: This was an arena rock show in every way.  From the moment we drove onto the Pepsi Center grounds for the Foo Fighters and witnessed an obviously drunk couple fighting outside their car, to the vomit in the bathroom, there were reminders of the arena and shed shows I went to throughout my youth around every corner.  Don't get me wrong, the crowd wasn't all wasted meatheads pounding cheap beer and swigging from flasks, there was also a large contingent of the same well, or at least expensively, dressed 30 and 40 something couples who I saw at U2 back in May.  Rounding out the demographic were a smattering of representatives from the 20 something club crowd with their uber short mini-skirts, stilletos and fo-hawks.   It was a relatively conservative crowd overall while there was some fist pumping and the requisite public drunkenness, things remained pretty tame despite the churning.
Opener: Cage The Elephant. To be honest this set didn't do too much for me.  Maybe it was the mix, maybe it was the fact that the crowd around us wasn't that into what was going on up on-stage, whatever it was, these guys left me a little flat.  We walked in about 10 minutes into their set and while lead vocalist Matthew Shultz threw himself all over the stage, somehow the energy wasn't really conveyed to the vast arena.  Though I won't admit to loving it, I will admit that their 40 minute set got stronger as it neared the end and the three song finale of "Ain't No Rest For The Wicked," "Shake Me Down," and "Saber Tooth Tiger," made me want to check these guys out in a club where their raw, brutal energy would be coursing through the air.
Foo Fighters: Dave Grohl and his band mates exploded onto the Pepsi Center stage to a deafening roar just a few minutes past nine and launched right into "Bridge Burning," the opening track of their most recent album, Wasting Light and they didn't slow down for more than 2 and half hours.  Through it all we were bombarded with enough sensory stimulation to satisfy all the but the most acute ADD sufferers.  In addition to two large screens on the sides, there was an array of video screens that floated above the band and moved for seemingly every song to give the impression that the stage was in a constant state of flux.  While images of a hyperactive and passionate Grohl dominated, Taylor Hawkins, Pat Smear and the other Foos were given some screen time as well.
Just a few songs into the night, I was reminded just how big this band when the tore from the electrifying "The Pretender" into "My Hero" which culminated in one of the loudest group sing-alongs in the history of rock-n-roll.  Nearly every voice in the place was screaming along with Grohl to the point where they almost drowned him out.  As the last notes of the song echoed around the rafters and empty seats near ceiling, Grohl just stood there soaking it all in for what seemed like a few minutes before telling us that we better be ready to call in sick to work cause "I'm not gonna walk off the stage until I feel like I'm gonna fuckin' puke."
Now, while most of Grohl's stage banter did seem a bit trite and rehearsed, the eager crowd ate it up, begged for more, and happily showered adulation on the man who rose to fame as Nirvana's drummer.  The middle of the set sandwiched several tracks from Wasting Light, including "Arlandria" and "White Limo" between songs like "Learn To Fly" from 1999's There Is Nothing Left To Lose and "Cold Day In The Sun" from the 2005 double album In Your Honor.  While the band concentrated on tracks from their current album, they were sure to give the fans what they came to hear and dropped at least one song from every studio album in their catalog into the set.
One of the highlights of the show came during "Stacked Actors" as Grohl sprinted down the 30 yard ramp that connected the stage to the soundboard and took up residence on a little stage that sat in the middle of the floor of the arena where he instigated a screaming guitar duel with guitarist Chris Shiflett that culminated in the stage slowly rising 15 or 20 feet off the ground as Grohl raged through his final volley.   It was arena show antics at their finest and even though every note of that duel was probably well rehearsed, it was entertaining.
As the set wound down, despite Grohl's fierce protests that they would play all night, the band unleashed a high energy version of "Monkey Wrench" on the crowd and followed it up with "Let It Die" and the song that Grohl claims as his favorite, "These Days."  The set ended with "This Is A Call," which was dedicated to a girl along the rail who had been to 46 Foo Fighters shows, a brief cover of Pink Floyd's "In The Flesh?" sung by Hawkins, and finally "All My Life" from 2002's One By One.
As the crowd begged for more, a grainy, night vision image of Grohl and Hawkins came up on the screens as they asked the audience how many more songs they should play.  For what seemed like an eternity, the pair argued back and forth and teased the audience with different numbers ranging from two to five.  As the image faded away Grohl appeared at the back of the arena and walked through the crowd to the mid-floor stage where he took an acoustic guitar from a roadie and mounted the platform as it ascended into the sky.  From atop his perch he played a three song acoustic set that featured "Long Road To Ruin," "Best Of You," and "Times Like These."  During "Times Like These" he stopped to tell a story of how there have only been a few moments in the bands history when he felt like he was truly a rock star.  One was driving into the Meadowlands in New Jersey and seeing people tailgating in the parking lot, and another was right then when he looked down to the floor in front of him and saw a couple making out as he sang.  The couple, who were standing about 4 feet behind us, blew kisses to Grohl as he pointed them out and then resumed their make out session.  Yet another arena rock moment.
Just as we thought the song was going to fade out, the band kicked in and Grohl took off toward the stage for another 3 songs that closed out the show.  After "Dear Rosemary" the band ran through a cover of Tom Petty's "Breakdown" and then finally wrapped things up with The Colour And The Shape classic "Everlong."  Was it the best show ever, no, clearly not, but it was entertaining.  It was a true arena rock show that took advantage of the space and the considerable resources that were available.  Grohl may be a bit of an egomaniac, but one things for sure, he is one of the few true rock-stars of our generation and that is something to give him a ton of credit for.
Energy: A
Sound: B
Musicianship: B+
Stage Presence: A+
Set/Light Show: A+
Overall: A-
Music has always been a part of my life. It probably all started listening to old Grateful Dead, Peter Paul & Mary, and Simon & Garfunkel records that my parents had, but it wasn't long before they were taking me to concerts like Starship, Crosby, Stills & Nash, and Huey Lewis & The News. I got the bug to write about music after reviewing an Eric Clapton concert for a creative writing project in high school but didn't really take it up seriously until 2002. Since then I have published countless articles in The Marquee Magazine and done some work for Jambase.com, SPIN Magazine, and various other outlets. I started Listen Up Denver! as a way to share the music information that is constantly spilling out of my head with people who care. Please enjoy!